Flowers, Leaves and Limes
Good Monday morning! I am on day five of an antibiotic and feeling better. As I said before, I try very hard not to take antibiotics because I don't want to alter my gut flora if I don't have to. Do you try to preserve your gut flora too? I know my friend Carey is very diligent about hers. 🙂 I've been drinking Kefir every day to to try ensure that some good bacteria will still stay on in my body while the antibiotic is using its big guns on the bad stuff. I'm so thankful to be up and around and not feeling like life is literally ebbing out of my body. Michael caught the bug and got well. Sara caught the bug and got well. I was not getting better, which clearly does not bode well for the state of my immune system, but this was not a huge surprise to me. I was diagnosed with Sarcoidosis over a decade ago and that is an immune system disease. I got sick with Sarc right after I was pressured to have a Hepatitis vaccination (another thing I'm wary about) because of our line of work. Years later I read that Sarcoidosis was increasing in medical personnel who had been vaccinated against Hepatitis. But….this is not going to be one of those old lady posts where I outline all the things wrong with my health.
Being a bit behind after 3 weeks of sinus infection and a titch of pneumonia, I have at least 3-5 things to attend to every day of this week except Friday. A crazy week ahead that I wish I could pare down, but all the appointments are mandatory. I just felt like getting on the blog here and saying hello and posting a photo of an arrangement my daughter Sara created recently.
It's a fabulous table-top arrangement made of flowers, leaves and limes. And a succulent or two, and some dry stuff. She's not here right this minute or I would have her give me the proper names for all these elements below — I'm pretty sure she wouldn't say "flowers, leaves, limes and some dry stuff."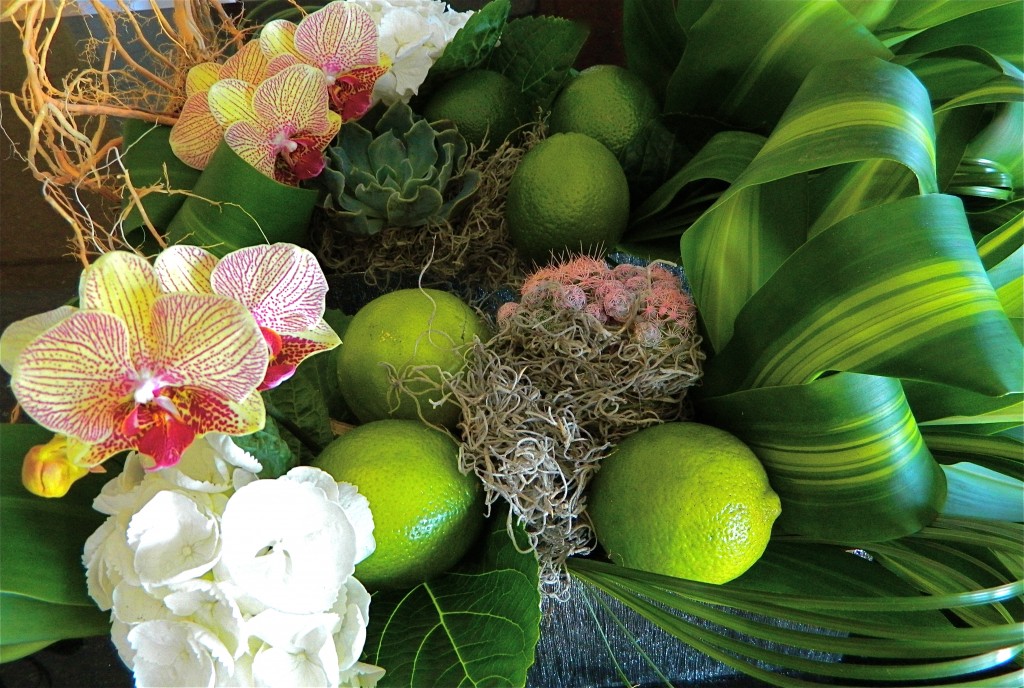 Anyway, I thought of how life is like this. Don't we all have some gorgeous figurative florals in our lives, those things that take our breath away and make us so happy we're able to see and appreciate the glimpses of beauty we're given? Like friends? Grandchildren? Stunning sunrises? The love and mercy of God?
And don't we all have some figurative leaves in our lives? Just plain green things that are all around us and often go unnoticed because they're just always there in abundance? Like air to breathe? Like ordinary duties to tend to day in and day out? Like messes that have to be cleaned and food that has to be prepared?
And how about limes? Do you have some limes in your life? I don't mean literal limes, I'm talking about those things in our lives that are nourishing but are a little hard to swallow. Things like hardship that has been allowed because it will make us more loving and patient if we bear it while staying close to the Lord. Irregular people can be limes in our lives. I hope I'm not somebody's lime, but I think I might be! Being in God's waiting room while praying in hope and expectancy can be a lime-like thing. It's good for you, but not your first choice.
I think we can take the beautiful blooms and the ordinary leaves and the sour limes we've been given, and let God make a beautiful arrangement from them. Sometimes he'll use some succulents too, as in the photo above — things that grow even though the rain is scarce. And what if He throws in some dry stuff? Can't dry stuff that isn't very pretty or useful on its own add to the beauty? I think it can! I have plenty of dry stuff in my life that I'm hoping He uses for His glory.
I can think of one thing that should not be used in a unique arrangement like the one above. Anything moldy. That would have to be thrown out right away, so it doesn't ruin the rest of the stuff. So while the Lord might use flowers and leaves and limes, I'm pretty sure He wants moldy or rotting things thrown out immediately. Lies, complaining, bitterness, cruelty, unfaithfulness…those sorts of things that never add to the beauty.
Anyway, this weekend Su and I will be having our MRIs to prepare for our June 10th knee replacement surgeries. Then we have to attend an exercise class to help us prepare for good recoveries by strengthening our muscles now. I think that would be a lime — a little hard to take, but very nourishing. 🙂
I pray you have a blessed week. Thank you for stopping by here.
What are the flowers, leaves, limes, or even dry stuff in your unique and gorgeous life arrangement?