No matter how exciting it is to plan a trip and anticipate what you might see and do once you go, there's nothing like coming home. Home to your own more comfortable bed, your own drinking water, your own normal sized toilet, your own familiar floors that don't rock beneath your feet.
Earlier this month I took my two foster residents on a long-awaited and much planned for week-long cruise to Alaska. My friend Carey offered to come along to help, which ended up being invaluable. And my friend Denel from California joined us, which was a wonderful treat. (If you've been reading here long, you know that Denel and I have been trying to take yearly trips together, flying to meet somewhere for a long weekend to catch up and marvel again at being friends since we were seven. Based on our maiden names, we've called them our Lupi-Soo conventions. Now that Carey was joining us, we thought it only fitting to add part of her maiden name to ours, so this was our Lupi-Soo-Berg gathering.)
Here are a few pictures.
This is Tracy Arm Fjord below, which was so much more gorgeous than this simple shot portrays. We got up early on this morning so we could be stationed on the viewing decks of our ship (Royal Caribbean's Jewel of the Seas) as we slowly cruised up the fjord. We gazed at dark teal, opaque, glacier-silted waters, icebergs floating silently by us the size of small cars or large mattresses, long-faced, shaggy mountain goats hundreds of feet above us, standing on cliff ledges no wider than your leg, sea otters the size of small Labrador retrievers undulating through the glassy sea near the ship, and the Sawyer Glacier, which you may be able to see if you click to enlarge the photo.
One of the people I was with wasn't at all happy about having to get up in the morning to look at such beautiful things, but I think the rest of us thought we could have stayed here for days to drink in the splendor.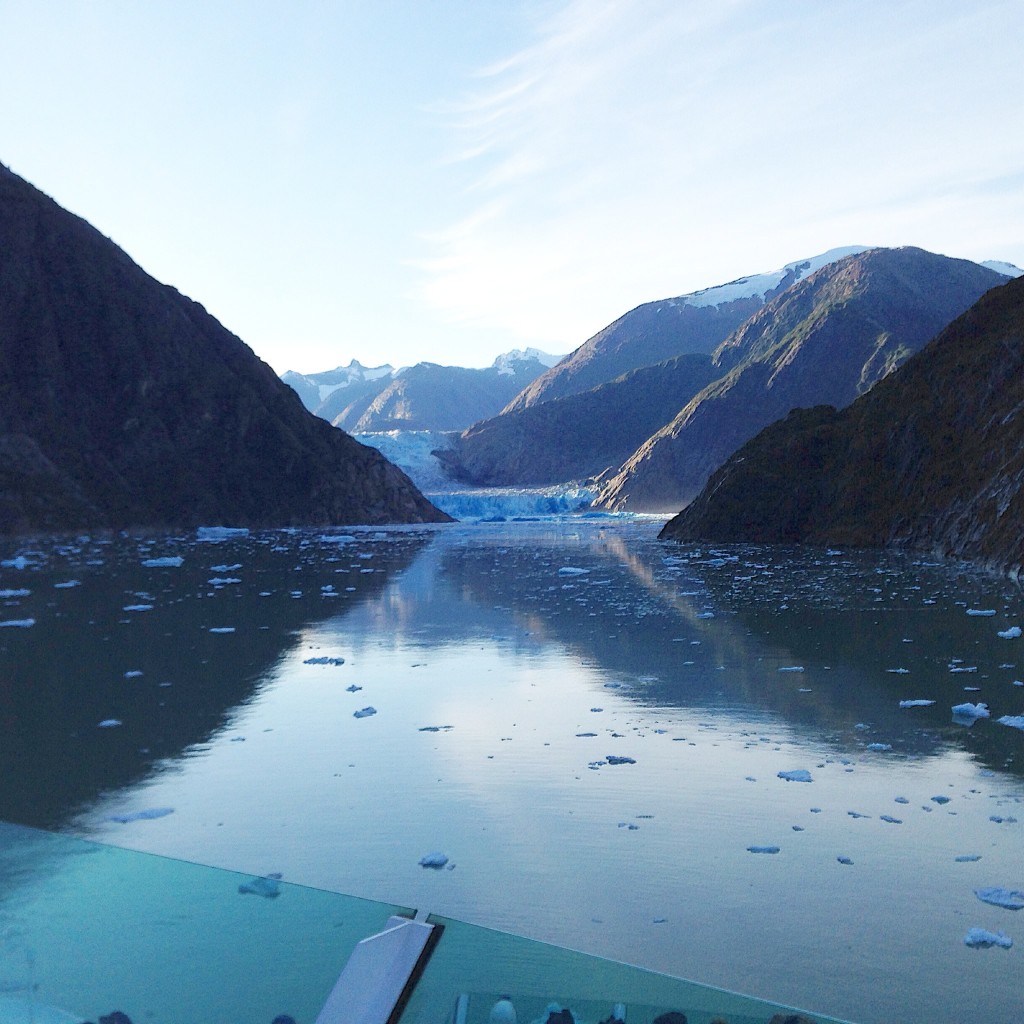 This is the stateroom Carey and I shared, which was pretty comfortable, if you don't count the very very very very firm beds and the floor beneath our feet which kept moving. We all took Bonine each day to prevent any seasickness and that worked for three of us. Unfortunately on the days we were at sea, in the open Pacific rather than in the protected Inside Passage, Carey and Denel both got a bit sick from the slow but fairly dramatic galloping motion of the ship.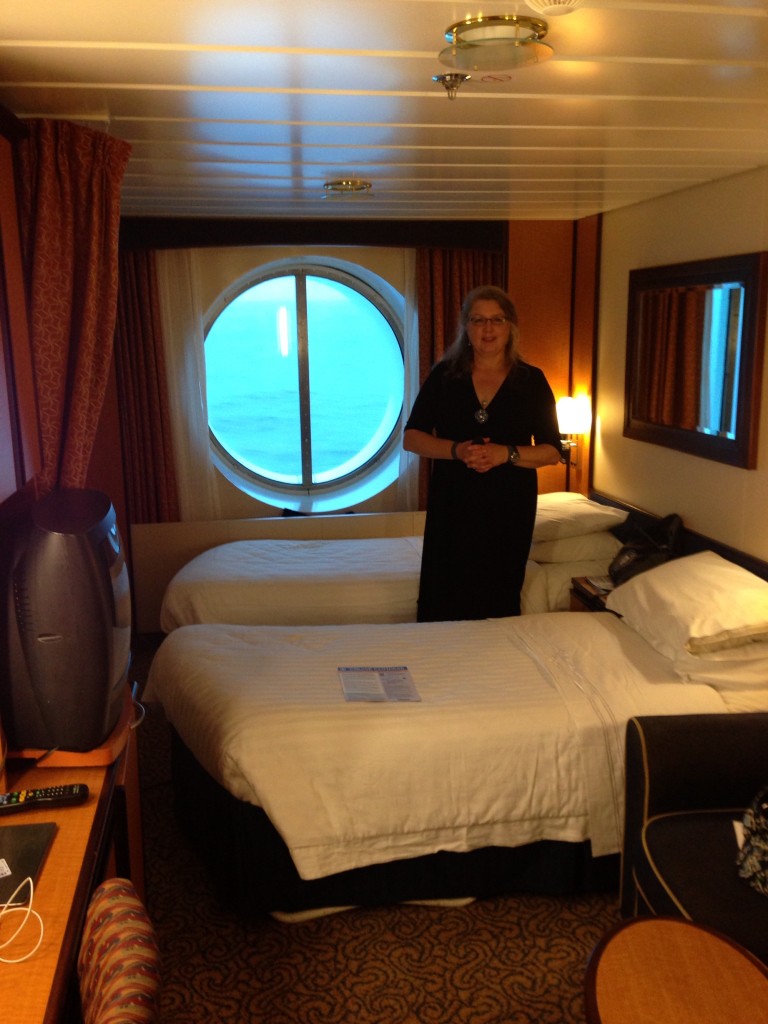 If any of you have cruised before, you probably have experienced the efficiency and attention to detail your cabin steward gave to your stateroom. They also leave adorable towel sculptures on your beds.
This is right outside Juneau. Betsy has been with me for 12 years and Carrie for over 7.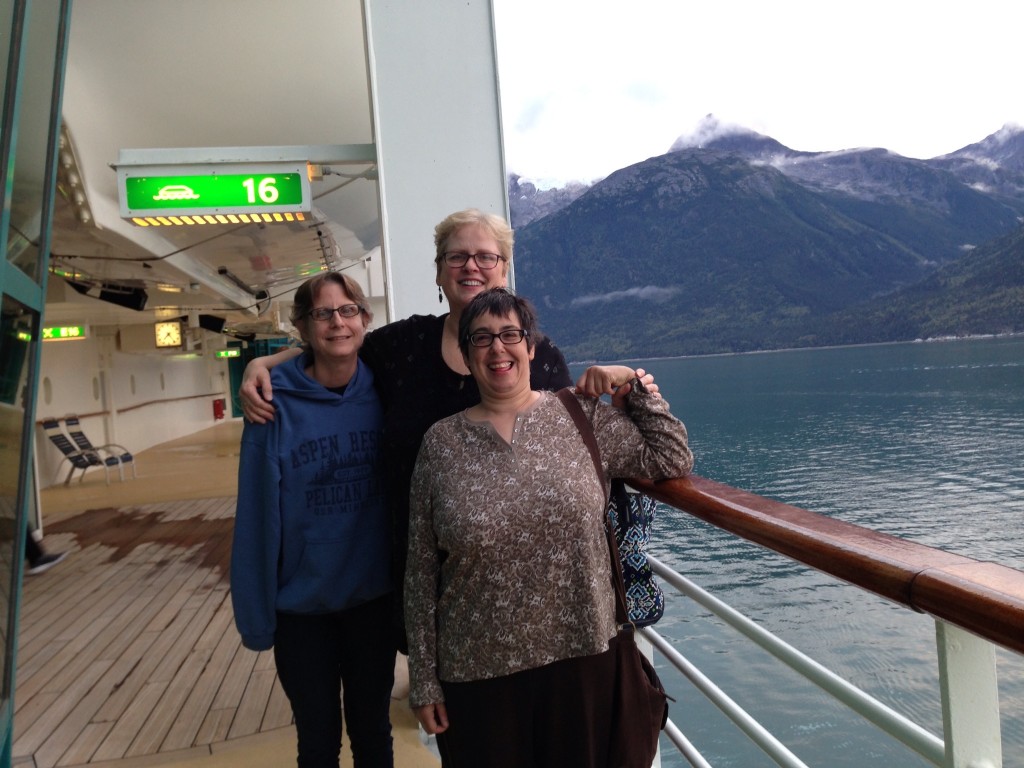 The food on a cruise is almost beyond belief. I remember Michael and I saying to each other on our first cruise years ago, "This is not real life," and on each subsequent cruise I've heard that same thrumming thought. There are people in the world who don't have one daily meal to count on, much less mountains of fresh fruit and eggs and meats and pastries from which to choose each morning. I never know quite what to do with that conflict: enjoy the abundance in front of me and send a check to ministries who feed people? Not travel at all? Feel guilty for being born with these choices? Somehow I always feel like I'm probably doing the wrong thing.
That being said, I took a few pictures of our food, especially since Betsy wanted me to email her mom what we were eating. I will spare you the lobster, beef tenderloin, French onion soup, chopped asparagus salad, creme brulee and Thai vegetables with jasmine rice, and just share one appetizer I had. It was a wild mushroom with wine sauce over puff pastry appetizer, which even the best food critic would have a hard time describing. Absolutely delicious.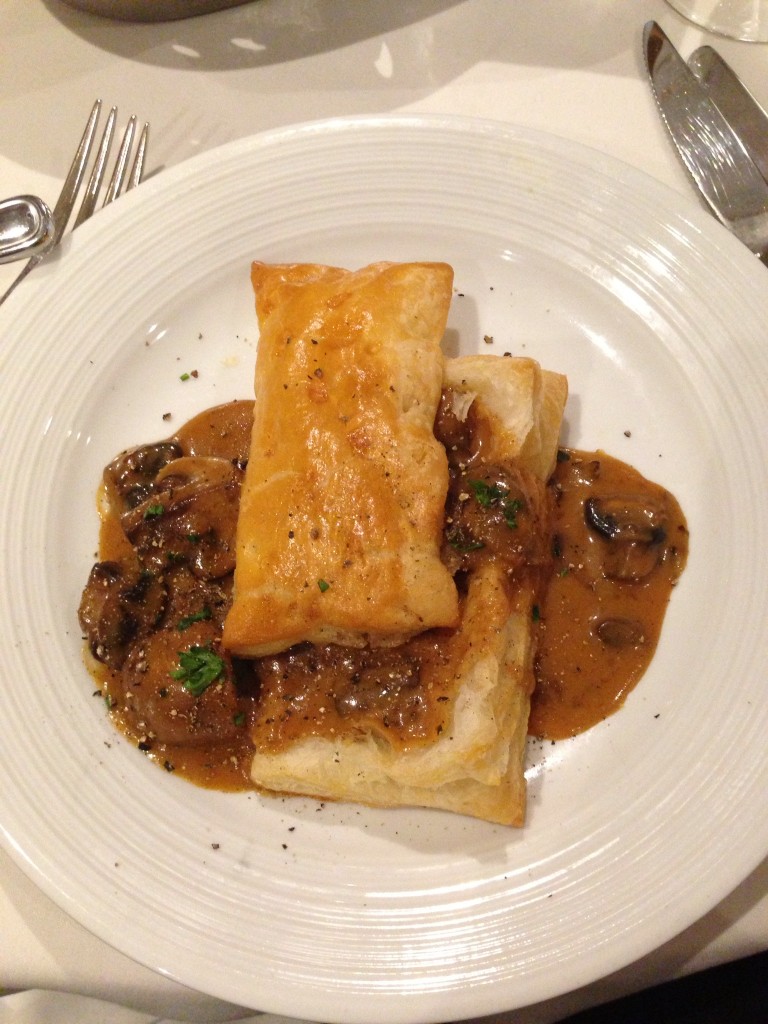 And here we all are on one of the "formal nights." From left to right, Carey, Carrie, me, Betsy and Denel.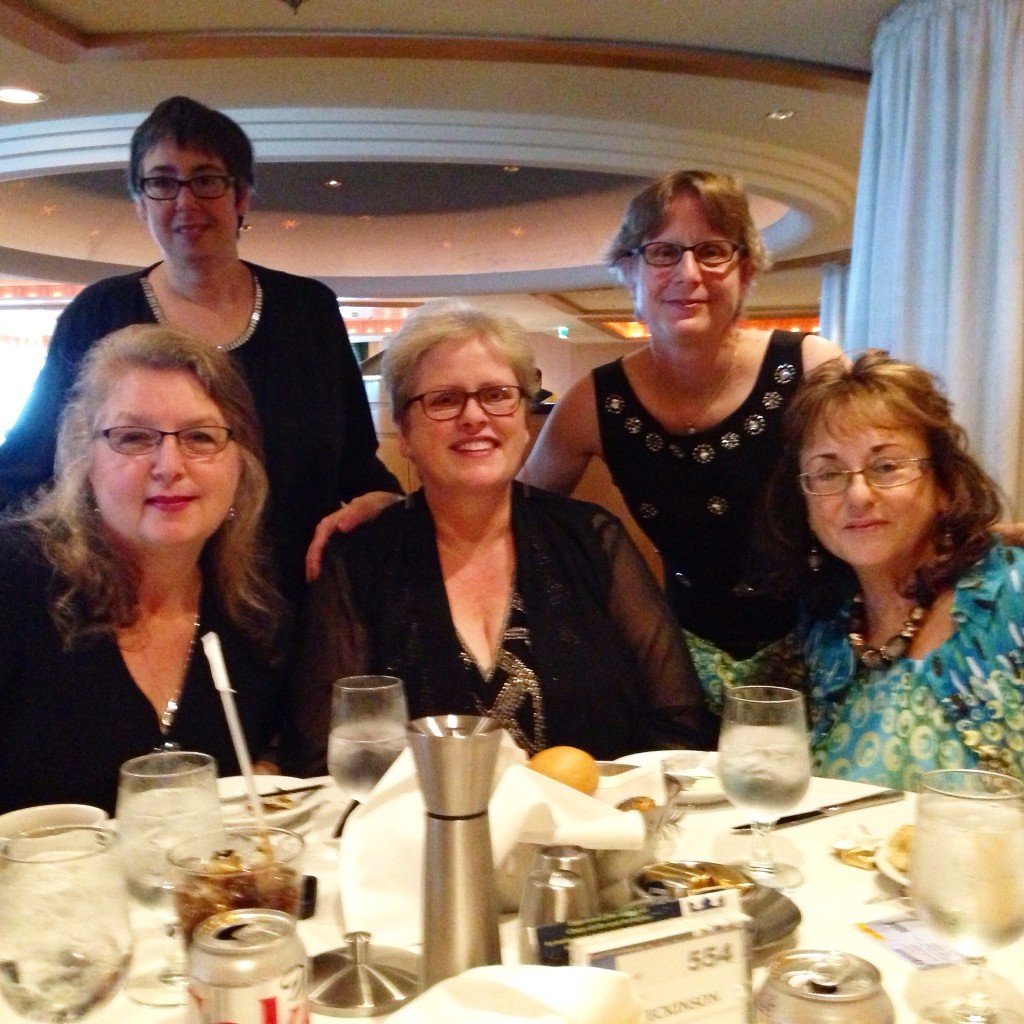 Here are a few other things some of us saw on our cruise: butterflies the size of your hand lighting on an arm, seventy-six souvenir shops in Juneau, Mendenhall Glacier, humpback whales breaching, lazily slapping the water, and feeding in tandem, brown bears eating salmon on the shores of the Inside Passage, almost nothing but rain and low clouds in Skagway, hundreds of acres of breathtaking flower gardens on the island of Victoria, British Colombia, 12-foot gray swells outside our stateroom window, and snow-capped Alaskan mountains that made me think of Psalm 121.
One of the things I learned on our cruise was how I'll do future trips with my foster gals. They were not interested in the scenery at all, and didn't have the good time I had hoped they would have. They were bored and disappointed that there weren't more opportunities for shopping. Over the years Michael and I have taken them on many vacations, and I learned on this one that they really only want to shop. You'd think I would have figured this out before now.
So in the future, I'll plan shorter weekend trips for them, where we'll go to a place they can buy souvenirs. They let me know that this is what would make them really happy, not trips to see grandeur and gorgeousness.
I will probably save those kinds of trips for myself. I'm thinking the Atlantic crossing of the QE2. I'm thinking European river cruises. I'm thinking little stone cottages in the Highlands of Scotland and walks on the beaches and cliffs of Cornwall. I'm thinking of guided trips to Israel and driving a rental car by myself all through the Alps.
For now though, these will just have to be dreams. Michael has been gone for 32 weeks today. And that's the lonely reality that keeps cutting the line of my dream balloons, sending me falling harshly back to hard earth, where he no longer lives.
Anyway, back to every day life, which is a blessing of its own. I have foster care meetings this week, Community Bible Study has begun again, there's fall air pouring into our open windows, leaves are turning color everywhere I look, and there are plaid flannel sheets on the bed….
How about you? What do you have planned for the week ahead?