Helen's Gift
The day before yesterday I went out to get the mail, and sitting on our front deck was a good-sized package from Switzerland. My sweet blogging friend Helen had emailed recently and asked for my address, so I knew something was coming. Maybe a piece of Swiss chocolate or a quilted Christmas decoration? Helen loves to quilt (and knit, and sew, and read, and run, and translate difficult documents since she's multilingual, and raise her family, and travel), so I thought it might be something homemade, even.
But never did I expect to receive the lavish gift she sent me. A large lap quilt, with all the right colors, with exquisite stitching and precision, and with Helen's compassion and love sewn throughout.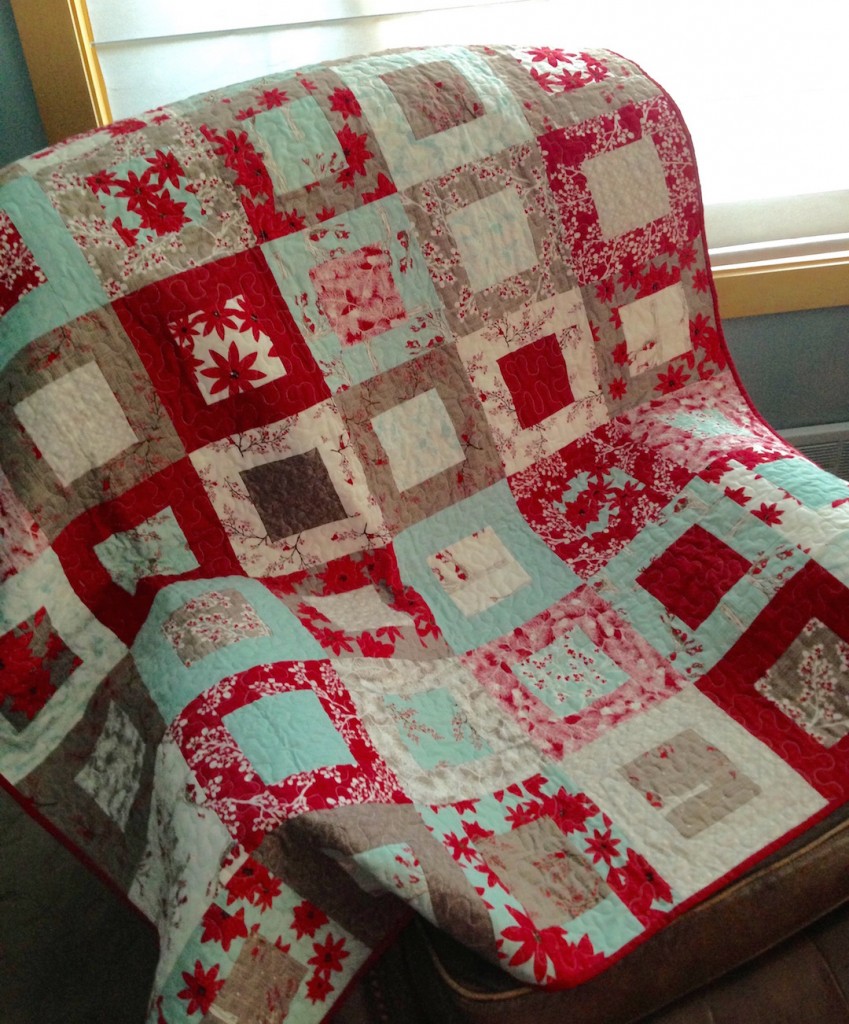 This work of art will look perfect in my living room, which has taupes and reds and walls that are robin's egg blue. It would look perfect in my office, which has red and cream toile wallpaper and aqua velvet curtains. And it would be wonderful in my bedroom, to put across my lap when I'm reading, or writing in my gratitude journal.
Here's the reverse side — have you ever seen anything so cheery and striking? And you can enlarge these photos to see the amazing stitching swirls Helen did. Perfection.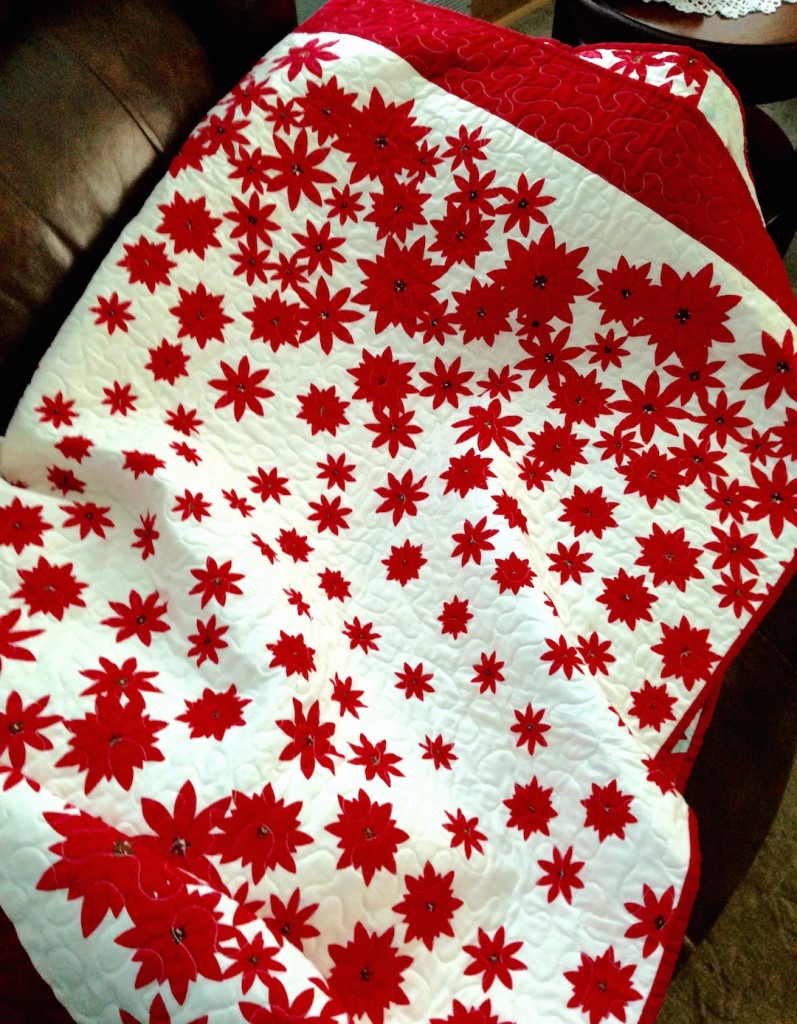 And as I was inspecting the quilt, jaw dropped and eyes welling, I saw some birds. Red birds. Cardinals. Anyone who knows me knows I love cardinals, and they signify hope and God's help and presence in my life. If you haven't seen it, I wrote a little children's story about a family called the Buehlers, which is really about our family, here.
Here's a view of some of the cardinals.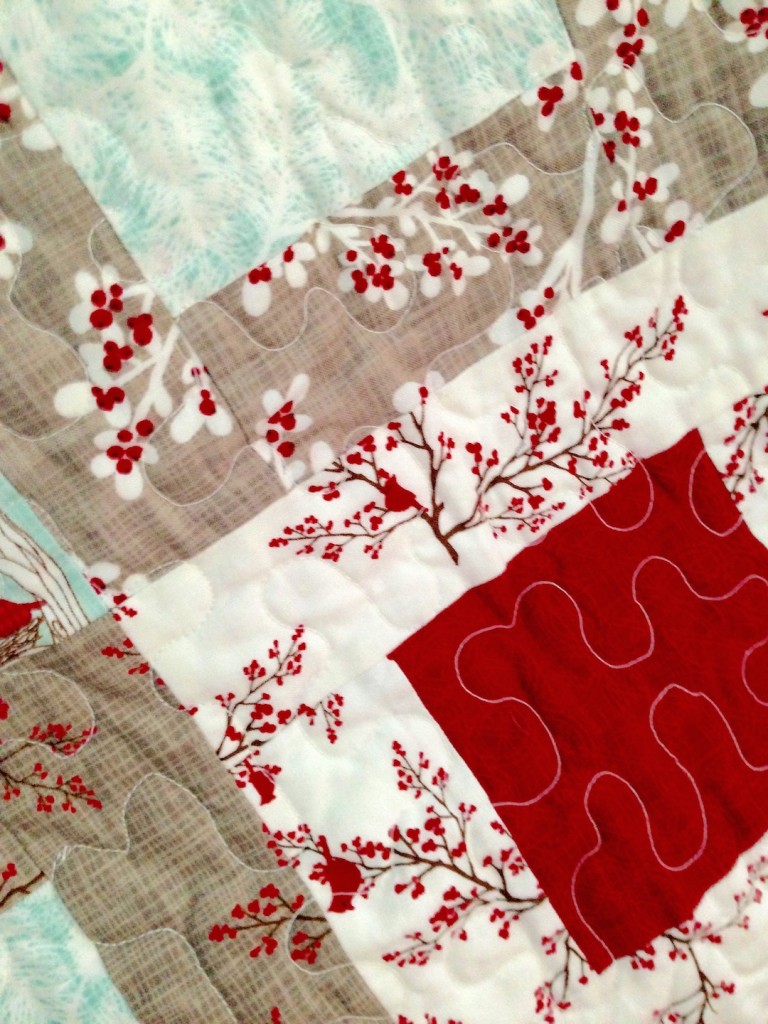 Last night after my Fosters went to bed for the night, I got into my plaid flannel nightgown, made some popcorn, put my feet up in the recliner, and watched my favorite show on TV. I put Helen's quilt over my lap and thought of Michael, because in her note Helen said she began working on the quilt before Michael died, knowing from reading my blog that things had gotten very difficult as Michael's health continued to decline.
I love when something has multiple deep meanings for me. I will use this quilt often, if not nightly. I will remember the loving handwork of a friend far away with a beautiful heart, and of the hope that's always there in God even when we think that hope is hidden. In a way, I feel like I'm being covered by a prayer, Helen's prayer, that God would help me walk this sometimes lonely path of widowhood.
When I sit with my quilt, I will also pray for Helen. I will ask the Lord to bless her in every way possible, and that He will blanket her (x 1000) with the warmth, beauty and comfort that she has given to me.