Pottering About or Puttering a Bit
I have several things on my to-do list this morning, but have taken to puttering around the house instead. Or pottering. What do you say? I think pottering sounds old-fashioned and I like it. But puttering is more familiar to me, so…. I'll just use both.
Here's what's on my list that I would like to accomplish today: 1. Call some tree people because I have some trimming in my yard I don't think I'll attempt to do myself.  2. Pick up a prescription for my foster gal.  3. Call on a medical appointment I need to schedule — one that needs to be done every ten years and I can't believe ten years has gone by and I'll have to drink that awful tasting stuff again and I pray I can get it down without throwing up in the kitchen sink and perhaps this will be the last time I ever have to have this invasive test done because maybe in ten years I'll be with the Lord. 4. Make some progress on the big organizing job I'm doing in my office closets. 5. Take many bags of items to the Goodwill. 6. Clean the kitchen. 7. Shake and wash some rugs. 8. Pay some bills. 9. Read.
While I was puttering in the dining room, I thought I'd take some pictures of the beautiful flowers Sara put on the table last night with some leftover flowers from a floristry job she did recently. This is my favorite red — dark and rich, cool and moody and mysterious. The blue and white bowl is a beautiful gift from my friend Su, who blessed me recently to overflowing on my 63rd birthday.
Su and I had the nicest time together. We met outside, six feet apart, at the highest, hilly part of the cemetery, where old trees overhang the lanes and tall grave markers covered with lichens eerily lean and topple. We sat in our camp chairs and visited, and Su served me so many delicious things on a tray with fall-themed napkins. A Cuban sandwich, fresh fruit, artichoke dip with crackers, California rolls, and for dessert an eye-rolling peanut butter and chocolate layered delight. Two hours passed in what seemed like minutes, and we had to reluctantly leave and go back to our non-cemetery lives. I was humbled by the thoughtful gifts she picked out for me, and this blue and white dish with a friendship quote I love was one of them. I could use it for a ring/jewelry dish, but I don't take my rings off. I could use it for a soap dish, but I want to be able to see the words. I think I will just keep it out so I can be reminded of a decades-long friendship that has been over and under and through the woods, and has come out as a treasure to both of us.
I have two sets of little cardinal salt and pepper shakers, and I can't decide which ones to have on the table, so I just keep both sets out. Aren't they adorable? They make me smile.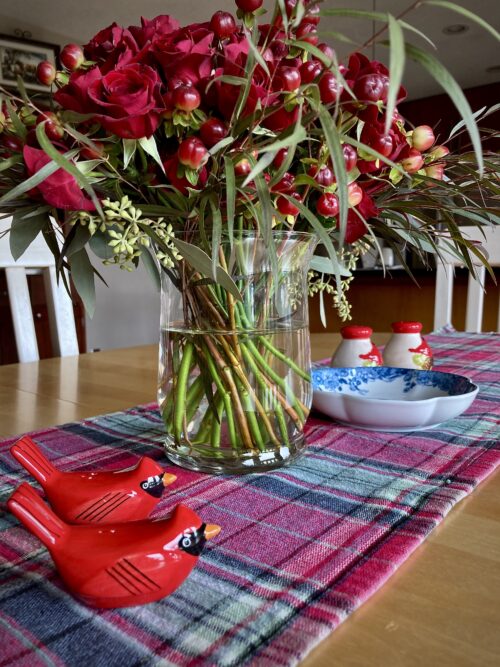 One of the most unique birthday gifts ever was from my daughter Sharon, which I will share about in another post. She gave me some land (no joke) in Scotland, the country of my heart.
My three daughters and I met last night for our voting meeting of the book club we're going to have together for the coming winter months. It was so nice to be with the three women I love most in the world. And we all got along, which is such a bonus! I made this dish, which was something I made often when they were little. We had some fresh cut cantaloupe, some sliced chicken, and for dessert some chocolate chip banana bread with Georgia pecans, made as a birthday gift for me by one of Lloyd's neighbors.
Each of us presented three books and told briefly about them, and we voted on one title from each of our three. The four books we chose will see us through the end of January, and then if all goes well we'll continue after that, probably reading from the others that were presented, since all twelve looked so good.
Our reading list for the next four months (we'll read one book a month, then get together to chat about it) is: October (Sharon):  I'll Be Gone in the Dark, November (Sara):  My Grandmother Asked Me to Tell You She's Sorry, December (me): Dream Big, and January (Carolyn): I am, I am, I am.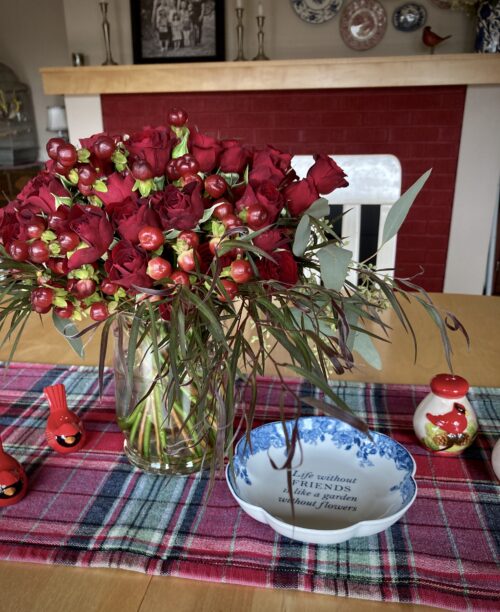 My son-in-law Chris continues to slowly improve after his kidney transplant on August 5th. It hasn't been smooth or comfortable sailing, and there are still challenges. His appetite is very suppressed and he is losing more weight than he should, but the Mayo Clinic experts say this isn't unusual. He gets very tired, and doesn't have the energy we'd heard many transplant recipients feel after a new kidney moves in and cleans house. Hopefully that will come. But Sharon told us last night that after taking three blood pressure meds for a long time, he is now taking zero blood pressure meds. This young male kidney from Colorado named Magnus has taken over the regulation of Chris's blood pressure so efficiently, his BP is now around 117/78, which might even be too low for someone his size.
Have you ever considered what one kidney can do? I had never, until of course I gave one away, and prayed for someone to give one to my son-in-law. Take care of your kidneys and you will never be sorry — drink lots of water. I've been drinking 80-120 ounces of water a day for as long as I can remember, not doing drugs or drinking alcohol, and I think it might have been a good thing.
Chris was taking 13 anti-rejection drugs and has been able now to go off of two of those. Hopefully at the end of a year he will be taking the bare minimum and will begin to feel more like himself.
It has now been almost six weeks since my left kidney Justine has been in her new person in Madison, and I feel pretty good. I get more tired than I'd like, but I am patient with myself, with the healing that's happening, with the adjustment Verna is making as she takes on all the kidneying herself. The three spots of irritation I was feeling deep inside (which I learned were probably surgical staples purposely left at the renal artery, ureter and lymph node sites) have eased considerably, and I'm so grateful for that. I pray for my recipient often.
I have a dear friend named Kay, and she and I have known each other for years through Community Bible Study, and she and I do a summer Bible study together each year, along with several other wonderful women. She was seriously injured in a biking accident recently, and the internal bleeding that was found at the hospital was the blood supply to one of her kidneys, which is now a loss. She was told her body will absorb the dead kidney, and of course the remaining one will increase and take over. She went through surgery and is still having a difficult recovery at home, so if you're reading this, will you lift Kay up in prayer? She and I are now One-Kidney Kindreds, and who knows what might come of that? Maybe we'll have a traveling One-Kidney Show someday, although for the life of me I can't fathom what that would entail. It's scary how the brain works when you get old. It doesn't do what you want it to, and the things you don't want it to do (like envision a traveling One-Kidney Show), it does.
Okay, I'll go back to my pottering and puttering.
How is your Monday going? Thanks for stopping in, and may God give you His unshakeable peace in these shaky times,