Ten Things My Mom Taught Me
This is a repost from May of 2013…. been missing my mama these days.
Did you have a nice Mother's Day on Sunday? If you're a mom, did someone give you a card or a hug? If your mom is still living, did you spend time with her or give her a call?
My daughters blessed me on Mother's Day with cards, a soup/salad cookbook, lip gloss, and some home-fried corn tortilla chips, homemade salsa and homemade guacamole to munch on while we visited. That was my mouthwatering Mother's Day dinner — piles of fresh salsa with cilantro or chunky guac balanced on still-warm chips, about seventy-nine of them, with some iced tea. Yum.
My own beautiful mama died in February of 1993, so it's been a long time since I've picked out a Mother's Day card. I think of her so often, and thought in her honor I'd share some things she taught me:
1.  Always cook twice as much food as you need at every meal, just in case an army stops by unannounced. I think Tupperware was invented for my mom, because she was unable to make a meal without a huge heap of leftovers. She was definitely one of those 1950s/1960s moms who showed her love by serving good food, with second and third helpings urged.
2.  One of the joys in life is to take a drive in the cool of the evening while eating an ice cream cone from 31 Flavors. I was the youngest of three children, but I was born late in life to my parents, and I thought going for a drive was totally boring. What does a seven year old want to do with her free time? Probably not sit in the backseat of a behemoth Buick LeSabre station wagon for two hours while her parents gawk at fields, trees, houses and flowers. I think that's why ice cream was always involved, so they could bribe me to go along without pouting. Now that I'm older, I love taking drives too. It's always a treat for Michael and me to take a drive up the North Shore of Lake Superior — the blue splendor never gets old.
3.  Little girls' hair looks best without bangs. My mother could have started a rabid anti-bang movement had her personality been a little more fiery. You can see here and here how her "foreheads should been seen and not covered" philosophy was enforced with her only daughter.
4.  Blues and greens are classic, soothing colors to decorate with.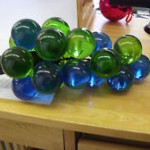 In our home we had avocado green carpeting, a blue and green floral couch, a deep blue velvet chair and ottoman, dark green painted kitchen cabinets, blue and green kitchen wallpaper, textured blue wallpaper in our foyer, blue and green glass grapes on our coffee table, and a dark green recliner in the living room. I didn't pay much attention then, but those colors must have seeped by osmosis into my bone marrow because to this day they're my favorites.
5.  Always buy Duncan Hines cake mixes, never Betty Crocker or Pillsbury. I rarely make a cake with a mix, but when I do, I'm a total Duncan Hines snob, turning my nose up at the other brands in the baking aisle. There really is a difference. 🙂
6.  Doing something artistic or creative each week feeds the soul. My mother had creativity oozing from her pores. She was musical, artistic, and crafty. She had long slender fingers that danced over our Hammond B-3 organ keyboard and she could of course read music but never needed to. Once she played a song, it was in her brain forever and she could play it thereafter in any key. She loved taking classes to learn how to china paint, macrame, decoupage, and knit. I still have china plates hanging in my house that were her first attempt at painting, that look like a master did them. She loved needlepoint and rug hooking and sewing. I didn't know it then, but I can see now that my mother loved beauty, and was innately drawn to create beauty in our home.
7.  Morro Bay, California, with its huge, brooding rock and morning fog, is one of the best places on earth. While my friends who had younger parents were being taken on water-skiing vacations to Lake Nacimiento or to beach houses in San Diego, my parents loved the little central coastal town of Morro Bay. It was sleepy, foggy, cooler than our city in Los Angeles County, and they dreamed of living there someday. They both eventually did, but only after they divorced.
8.  A clean, clutter-free house really does make life easier in the long run. I was not a fan of my mother's clean-up-a-mess-as-you-go policy when I was little, preferring instead to "store" things under my bed or in the back of my closet. Today, clutter-free is what I crave, and I think a little maintenance every day is better than an exhausting overhaul once a month.
9.  Grandchildren are some of the greatest treasures God gives. Had there been such a title, my mom would have worn the sash and crown awarded to The Ultimate Grandmother Supreme of the Universe. She loved her grandbabies, sacrificially devoted her time to them, taught them how to cook and bake, powdered their bottoms with Estee Lauder dusting powder after a bath ("because they'll sleep better if they're dry and powdered!"), and had them spend the night often. I wish I were half the grandma she was.
10. Being a good friend means listening, laughing, encouraging, sharing, remembering, and being real. In spite of her many gifts, my mom wasn't an overly confident person. It's like she was unaware of how deeply she was affecting peoples' lives. I thought having 100 friends was a normal thing when I was a little girl, because both my parents knew how to be loyal friends and were sought out by many people. I look back in my memories now and see that my mother somehow always made her friends feel as though they were her favorites. And she wasn't duplicitous at all so it's not like she planned this. I think each friend truly was her favorite friend; she knew them well and made time for them and laughed and cried with them. After my parents' divorce and my mother's nine-month emotional collapse, my mom's loving and generous employer Helen Hasabales hosted a Virginia Sooter Day, to help welcome Mom back to work as an organist, and to the land of the living, basically. Over one-thousand people signed the guest book on that day. I will never forget how my humble mama touched lives, mostly without ever knowing it.
So I guess I have a few of these lessons my mom taught me down pat. I have tested her Duncan Hines theory numerous times and totally agree. Morro Bay is truly a wonderful little town and I wish I could visit more often. Have any of you been to Morro Bay? And having grandchildren is one of the happiest things that has ever happened to me.
But many things my mother demonstrated I am only now beginning to learn. Hopefully.
How about you? What are some things your mom taught you?