This is a repost from the archives… this happened years ago, but the memory of this evening still makes me giggle.
Earlier this week it rained and the temperatures dropped. The wind blew and a hint of winter was in the air. Michael had been outside and he came in to tell me that there was a critter in the front yard, over by the neighbor's fence. I asked him what kind of animal it was and he said a muskrat. A muskrat? I thought. In our front yard? I don't think I've ever seen a muskrat before and wouldn't know one even from a photo.
I followed Michael outside into the cold drizzle and this is what he showed me: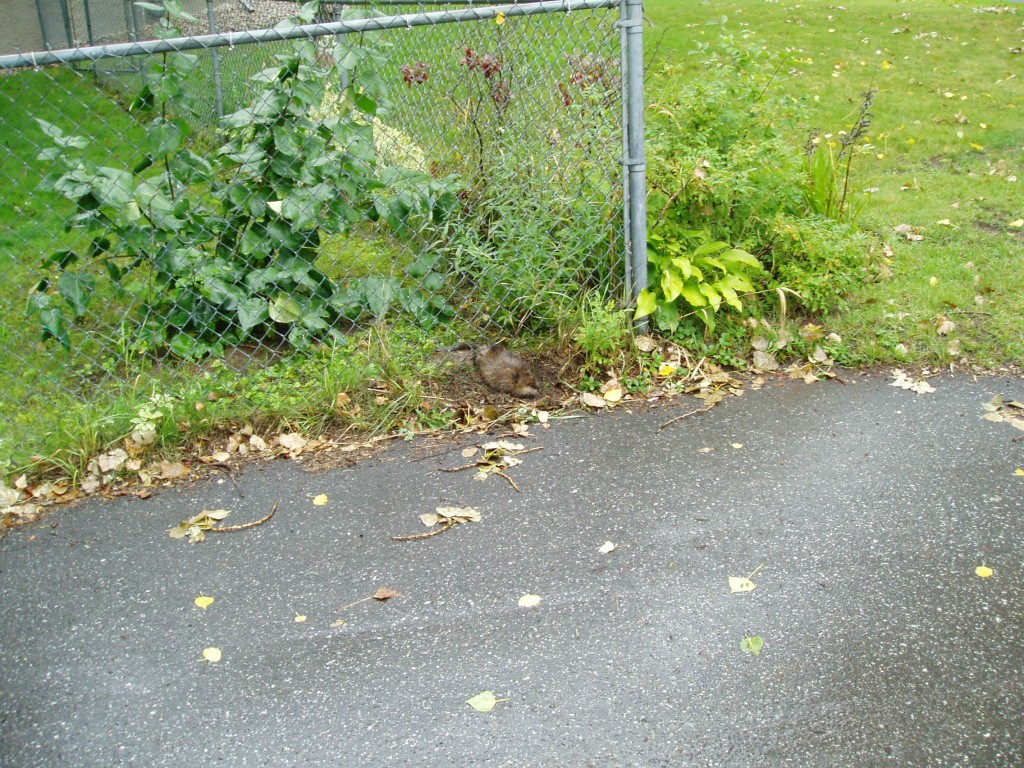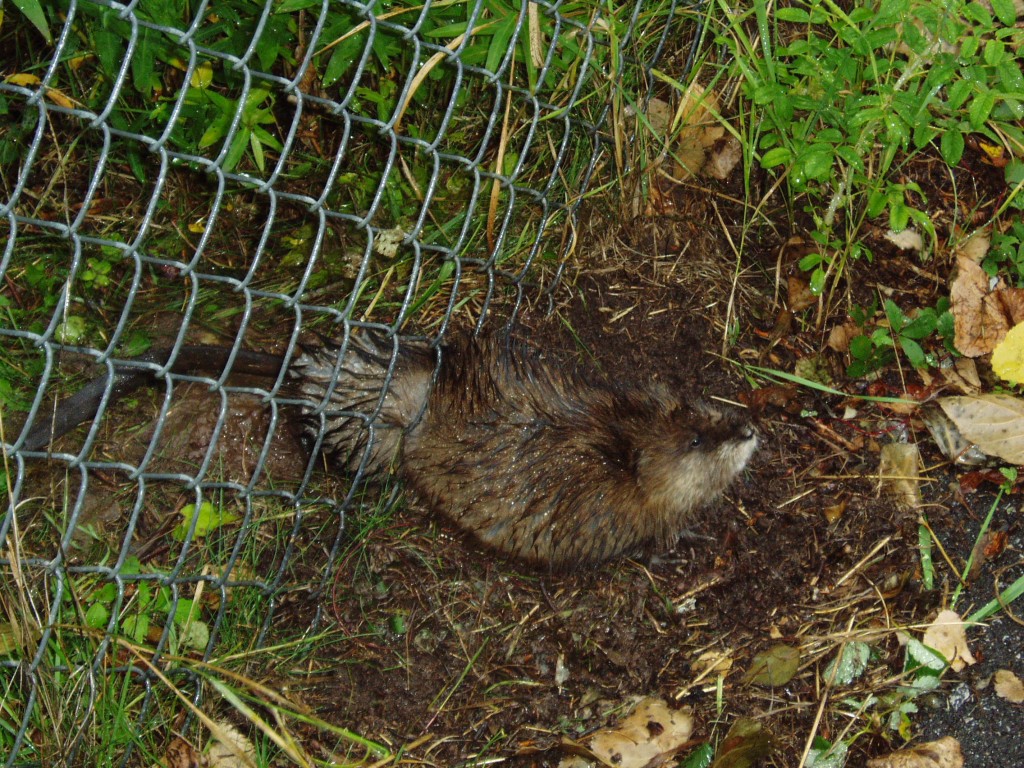 Do you see the round furriness and the long, hairless tail? (You can click on the photos to enlarge them.) As we approached I thought it looked like a beaver, but once I saw the tail I knew it wasn't. At this point we thought this little beast was just resting near the fence and we didn't want to get near her because we figured she could viciously attack us at the speed of light and permanently disfigure our faces. So we backed off. She was calmly sniffing the air and sitting in the rain and I wondered where she had come from, and what she was. Michael left to run his errand and I went back inside to check online to see what I could learn. Sure enough, not a woodchuck (which was another thought we had), but a Minnesota Muskrat. They swim in lakes and ponds, and they dig and they make messes of people's yards. They are also known to be carriers of rabies and leptospirosis.
Michael returned a little while later and came in to tell me she was still there. So back out we went into the rain, and it was then we saw her wriggling, and we could now tell she wasn't resting near the fence, she was stuck in the fence. Apparently she had tried to squeeze herself through, gotten the front half of her thick-furred body through one of the square holes of the chain link fence, but couldn't get the back half through. We bent over and talked to her and clapped our hands and said in high-pitched voices, "Come on, you can do it!" to give her a bit of friendly encouragement to try again, but she wasn't having it. She began to look tired and she closed her eyes.
I did not like this one bit. A large rodent was painfully stuck in a fence bordering our yard, and if we didn't do something, she would die there. In the cold and rain. And away from her family and the soothing warmth of her cheerily blazing hearth.
"She's going to die here!" I said to Michael. "What can we do?"
Please forgive my husband for what he said next. He grew up in Minnesota where he has hunted and fished since he was a little boy. It's the culture here.
Michael responded helpfully, "We could kill her."
I cringed. "How?" I asked timidly.
"Hit her over the head."
Oh, no, we don't, I thought. Not on my watch. I'm not a fan of anything that ruins yards and spreads diseases, but seeing her stuck so tightly in that tiny square of wire made me feel strange twinges of compassion for this little animal, and we were not going to kill her. Moths? Smash 'em. Mosquitoes? Whack! Flies? Swat them dead! But Minnesota Muskrats? No killing.
What were we going to do with her, then? Well, if you are Michael and Julie, you spend thirty minutes in the rain, going back and forth with various unlikely implements, trying to help the poor muskrat get free.
First, I took a shiny yellow gardening boot that belongs to our daughter Sara. I grabbed it because I was looking for something to prod the muskrat's rear end with, something not too sharp to cause more pain than she was already in. So I let myself in the neighbor's back yard through their gate, and cautiously proceeded (in my slippers, in the rain) to the trapped muskrat. I inserted my hand into the boot and used the toe to gently prod and push her rump, to help her squeeze through the fence. She turned in a flash of fur and tried to bite me, but of course she couldn't because she was stuck, and I was on one side of the fence and her little yellow beaver-like teeth were on the other. The other defensive thing she kept doing was swatting both her front paws quickly down on the ground in front of her. I kept gently prodding with the yellow boot, but I could feel that this little muskrat was really, really wedged in tight. And her hind quarters had begun to swell. Oh dear! I thought. What are we going to do?
Back into the garage. This time Michael found a large pronged garden hoe. He carefully placed the prongs under the upper part of the wire square she was stuck in, hoping to pull upward to bend it slightly enough to release her. This was a strong fence. He pulled, I pulled, she wriggled, to no avail.
"Do you have any thick gloves?" I asked Michael. He had begun to shiver a bit and our muskrat was looking feeble, closing her eyes. Back into the garage. We looked for gardening gloves and couldn't find any. So I went into the house and found a pair of my winter leather gloves, and a large pair of Thinsulate mittens. I put them both on my hands and tromped back out into the rain. I went into the neighbor's yard and bent down to push, but she was so swollen it didn't work.
Next I came back into our yard and decided to gently pull her out. But that meant dealing with her little yellow teeth. So I crooned to her as I carefully placed the leg of the vinyl yellow gardening boot over her head to keep her from seeing me. She did not appreciate having a yellow gardening boot put on her face. Do you want to know how I knew this? Let's just say I could tell. She did settle down and once she did, I grasped her front sides and tried to pull her out. I believe she moved forward an inch or two, but she made the most pitiful little muskrat whimpers and I stopped. I tried again, but couldn't move her any further. She was truly stuck fast.
Michael and I were praying out loud now. "Lord, please help us get her out!" Michael hadn't really wanted to kill her to be unkind — he was wanting to put her out of her misery. As we worked together to see what we could do for this helpless creature, he kept praying and we kept brainstorming.
"Do you have wire cutters?" I asked. He did. Back into the garage, and he came out and handed me this heavy, long-handled, mammoth tool that I knew I would be unable to use. I tried. I went back into the neighbor's yard, and from behind I placed the wire cutters on one of the wires that made up the little square she was caught in. I exerted all my strength and could not snap that wire. I was starting to feel very sad. We kept praying.
I came back into our yard and was almost on the verge of tears. It was getting dark and we were expecting company for dinner. I had Chicken Parmesan to finish and Panzanella to toss. I thought I'd try the wire cutters one more time.
As the muskrat sat there looking exhausted, I bent down and placed the cutters on a wire right above her back. "Lord, give me strength!" I said as I squinched my eyes shut and brought those handles together with all my might, and snap! the wire was severed. Wow! Now we brought out the pronged garden hoe again, placed it under the newly cut wire and pulled upward, hoping to bend it enough to enlarge the hole a bit. No good.
I then took the wire cutters and placed them on the other connecting wire above the muskrat's back. Once again, click! — that wonderful sound, and I had cut right through. Michael gently placed the prongs of the garden hoe under the area where these upper wires of the square had been cut, and pulled upwards, grunting with the effort. The hole was getting bigger! He pulled again — now it was a little larger. I went back to the neighbor's yard, my slippers completely muddy by now, and used my double-gloved hands to push her rump through the hole.
It worked! She was free. Free to spread rabies, leptospirosis, to make tunneled messes of people's yards, free to trundle back to Birdinal Creek at the back of our property and do whatever it is muskrats do.
She didn't run at first. She sat still for a minute, breathing heavily, and we wondered if she had been permanently injured from her ordeal. But soon she started waddling away, toward our back yard and down toward the creek.
"Thank you Lord," I said with relief, and as we put away our wire cutters, pronged garden hoe and Sara's shiny yellow boot, we were both smiling and feeling so happy. The dinner got finished and we had an enjoyable evening of nice visiting with our old friends Bob and Linda.
I am a little worried that I'll have to explain to the neighbor why his fence was cut, but I'll deal with that when I must.
And to end this little adventure, I leave you with the song that came to mind as Michael and I were working hard to free this little muskrat from her fence trap. I remembered the words from The Captain and Tennille's song as the rain was soaking us, and I said to myself if this story has a good ending, I'll find the song online so I can share it on my blog.
Those of you born in the seventies or later may not remember this song, but I have vivid memories of it.

*       *       *       *       *       *       *       *       *       *       *
I've been asking God to increase my capacity to love. I want to love Him above all, and I want to love people better than I do. I know He answers prayers like that.
And maybe while He's at it, He's giving me some muskrat love too. 🙂