Tomorrow is my oldest daughter's birthday. She made me a mama when I was still technically a teenager. 🙂
I've been trying to pin her down on what kind of family celebration she'd like. A dinner out at her favorite restaurant with the whole gang? A home cooked dinner at my house with the whole gang? A dessert gathering at my house with the whole gang? We usually celebrate birthdays with the whole gang if we have our druthers.
Sharon is being a little ambivalent about what kind of a birthday bash (bash is a very strong word here) to have, and I wonder if it's because she's moving into a new demographic. When we talked on the phone last she mentioned this fact herself, that for the next fifteen years she will be checking a new box when filling out forms that ask for age ranges. She will be putting an X in the 35-50 box now. Which means that I am no longer a teenager. I am very, very old.
Here's a photo of Sharon and me on her third birthday. We had just come home from Germany and our lives had turned topsy-turvy, but a friend helped us feel hopeful and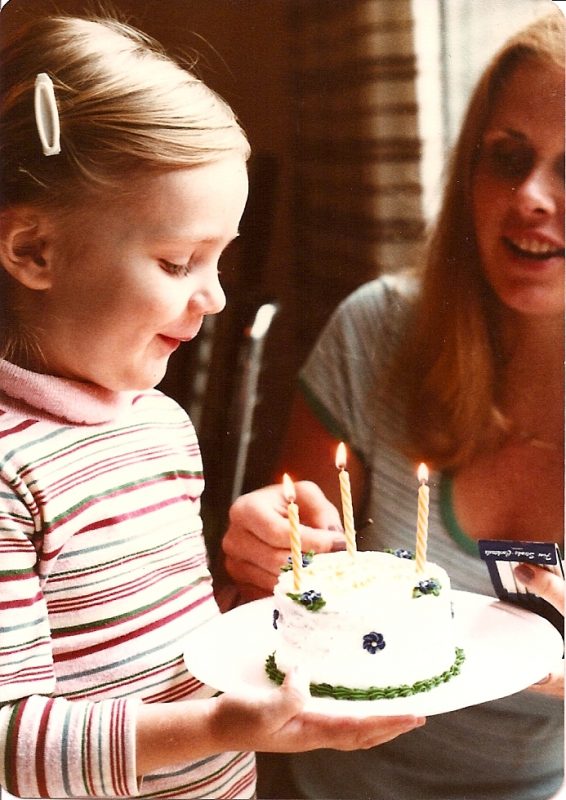 hosted a nice little party for Sharon, with a diminutive little girl-sized cake.
If you could see the ultrasound photo of the little baby girl Sharon is carrying right now (they're calling her Baby Shamrock to keep us from pestering them about what her name will be), you'd see that her profile already looks just like her mama's profile did in this photo when she was three.
This little girl grew up to be a very tall, quick-witted, tender-hearted, generous, lovely, outspoken, curious, intelligent, incredibly creative woman.
When we were homeschooling years ago, she conducted an extensive telephone survey (without my knowledge), calling hundreds of people from our local phone book and asking them if A) they believed in the existence of the Loch Ness Monster, B) they did not believe in the existence of the Loch Ness Monster, or C) they were unsure about the existence of the Loch Ness Monster. She then compiled the results of her survey and fashioned a bar graph on a large poster board, and presented her findings to us at dinner one night.
She had an entrepreneurial streak even as a young girl. She started making bookmarks out of card stock, drawing colorful designs on them and laminating them with sticky clear adhesive sheets, and then going door to door in our neighborhood, selling them for $1.00 each (also without my knowledge). Carolyn and Sara saw how Sharon was making more money in an afternoon than their entire week's allowance, so they joined in with her making their own bookmarks to sell.
Sharon came from a family of knitters. Is there a knitting gene? Only time and science will tell. But if there is one, then she inherited it from my mother, and when she was about 11 years old she showed an interest in the yarn arts, and seemed to want to be doing something nimble and creative with those long fingers of hers, also inherited from my mother.
She took a knitting class and was the youngest one there. In a group of older women she made her first project — a dishtowel for me that discouraged her because it had a hole or two. She laid knitting aside for several years and focused on her education.
When Michael's mother died in 1997, Sharon was the grandchild who wanted Bernadine's huge stash of yarn. She was in college then, earning her degree to teach Social Studies to high schoolers.
Sharon married a fine man, had some fine children, and taught high school for over a decade before deciding to pursue the job that was literally springing up all around them in their Maryland basement.
She quit her tenured teaching position and began hand-dyeing yarn and selling it online to customers all over the world. (She sold her business and is now onto other things just as exciting!)
Now Sharon and her family live near us again. I'm so happy about that! There's no greater blessing than having your whole family nearby, so you can watch them grow and spend time with them and read books with them and go on summer family vacations to the lake with them.
All those traits I saw in Sharon as a child — the creativity, the curiosity, the desire to work with her hands, her penchant for gathering information and always wanting to impart it to others, her generous nature….all these have come into play as she runs her business and offers yarn to the knitters of the world in colorways that sometimes astound me.
She might be the Yarnista to many others, but she will always be Beloved Daughter to me.
And now that she's moving into a new demographic, I thought it was fitting to do a little stroll down memory lane and mention her here on the blog.
Don't tell her though. Shhhhh….