It's a deeply grey, windy morning. I can see the three tattered flags on my across-the-street neighbor's backyard flag pole, and they're crazily whipping and snapping. The top flag is the American stars and stripes, the next one down is the flag of Norway (they are Olsons), and the bottom flag is for our Minnesota Twins baseball team. All three are in shreds from a year of wind and snow and sleet and sun, so I'm guessing he will put new ones up this summer sometime.
What if we all had flag poles in our yards? And we were to choose three flags to fly, to represent our loyalties? I think it would be fun and interesting to see what people choose. My friend Su doesn't have a flag pole, but she does have a flag bracket (I'm not really sure what they're called) on her front porch, and she changes out the flags she hangs there. She has lovely seasonal flags, an Irish flag, and I think at least one that has a joyful Christian message. Maybe she'll chime in here and remind me what her flags say/represent. It gives the front of her lovely house a cheerful, welcoming look to it.
I think I would hang an American flag, a flag with a cardinal on it, and at the top, some kind of flag that marked my home as belonging to Jesus Christ. I don't think even ten years ago I would have considered that making known my Christian faith on the outside of my home would invite vandalism or retribution of some sort, but as I'm typing this, I realize things have changed, and it wouldn't be a surprise to expect backlash of some sort from my flag choices.
I certainly didn't plop down on my bed this morning, open up my laptop and intend to write about flag poles. If you had to fly three flags on your property, which flags would you choose?
This week has been a dark one for me. When suddenly my outlook narrows and all I have is what feels like a forced tunnel vision regarding something particularly difficult going on, I feel paralyzed. Emotionally, spiritually, physically. I was supposed to go to my SAGs dinner this week with my dear friends, but something happened and I couldn't go. So in pain and fear, I sat like a statue and barely prayed in my mind, "Help us Lord. Help, Jesus." And those prayers were so faint and feeble they felt like almost nothing at all.
I tried to take my own advice and just give thanks and wait. I failed at the first part, and the second part just happened as I sat in the dark, not interested in anything I'm usually interested in. A murder mystery on TV? Ridiculous. A book? Absurd. Thinking about the pleasure I take in puttering around in and keeping my house, or a walk in the cemetery, or a lunch out? All bleak.
After a couple of days passed, the darkness turned to grey, which was an improvement. I felt like I could wash some rugs, take a bath, make some meals, do my CBS lesson. Today things still feel very tentative, but I am putting one foot in front of the other. And I look forward to sitting down in my bedroom chair to read my Bible and sit with Jesus. I hope He speaks something powerful to me that pertains to this situation, but if He doesn't, I know He'll be here with me. That will be enough.
Before the darkness, I took a rare selfie and put it on Instagram. Then I played with a fun app called Prisma that transforms your pictures into works of art. Some of them look like your photo has been made into a watercolor, some are very abstract, some look like comic books, some like pen and ink drawings. I sent a couple of them to daughters, because, ahem, who sends pictures of themselves altered with Prisma to their friends and acquaintances? "Hi Amy! I hope you're having a great day! Here's a picture of me with pink hair." No.
Here are four of the views Prisma made out of the one selfie I took. The one on the bottom right looks like a watercolor painting, I think. I didn't love the zombie one, so omitted that here. I like these "photos" okay because they hide my double chin a little and my hips don't show. 🙂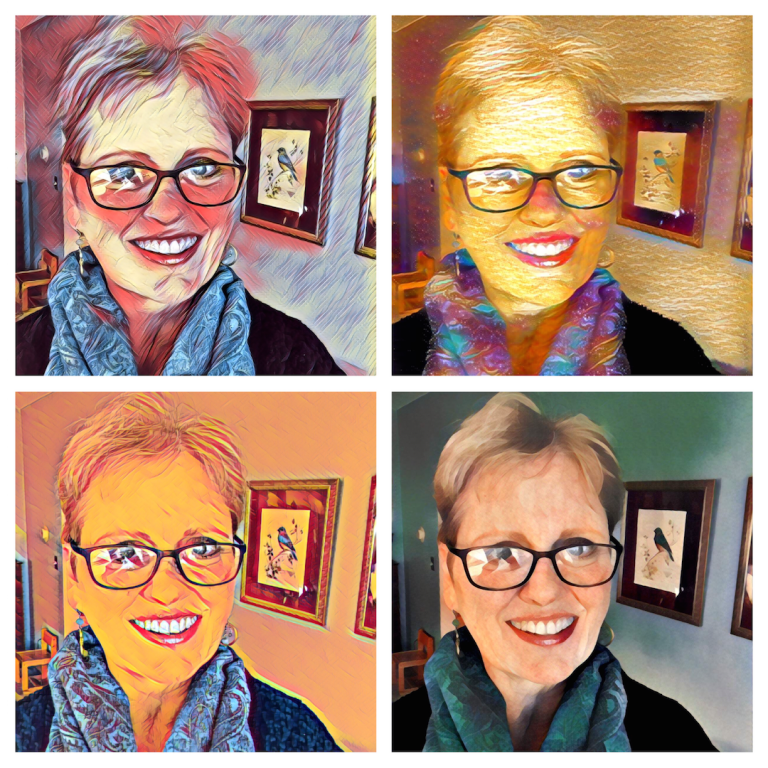 I just finished the book A Soldier of the Great War by Mark Helprin and have never read a book like it. It was 880 pages and I almost abandoned it several times because I didn't want to read all about war strategies, but right when I couldn't take another page, something so profound and beautiful would be said that carried me through another fifty pages. Here's a description of what the book is about:
"As a young man, Alessandro Giuliani foresees Italy's entry into the Great War and joins the navy rather than waiting to be drafted into the more dangerous infantry. This reasoned and logical course of action has no place in a world gone mad, and Alessandro's life, loves, friendships and fortunes all take bizarre and often tragic turns. Still, Alessandro is able to find beauty not so much because he is a professor of aesthetics (though he is) but because he is profoundly spiritual. As he nears the end of his life story, Alessandro tells his young companion, "And yet if you asked me what [the truth] was, I can't tell you. I can tell you only that it overwhelmed me, that all the hard and wonderful things of the world are nothing more than a frame for a spirit, like fire and light, that is the endless roiling of love and grace. I can tell you only that beauty cannot be expressed or explained in a theory or an idea, that it moves by its own law, that it is God's way of comforting His broken children."
I don't align myself with Alessandro's spirituality 100%, but I do believe beauty is one of the ways God comforts His broken children. I have experienced it again and again, and seem to know this truth more intensely and frequently than I ever have. I used to say "oooh" and "aaah" when I saw glowing red leaves on a maple tree in autumn or Morro Rock on California's Central Coast, or when I smelled the skin of a newborn or saw the latest photos the Hubble was sending back from space, but now these things make me want to bend at the waist and wail. I almost can't bear them, in the most wonderful of ways. I feel undone by what I see of God in His creation, and I want to respond to Him but almost have no human way that's adequate. Wailing comes close.
Today my grandson Mr. McBoy is coming over to help me with a few things.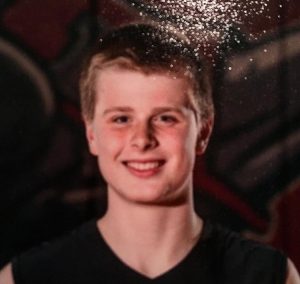 The snow in our yard is gone, so he and I will bond over picking up the evidence of Millie's well-working digestion. He is already 6′ 3″ and is only 14 years old. He'll go through the list I have for him, and then I'll make him lunch and we might talk a bit, I hope. Looking into his face is a surreal experience for me, because out of all my wonderful grandchildren, he looks the most like my side of the family. Looking at him is like being able to see my dad as a boy, is also like seeing a male representation of myself, and it all seems oddly familiar. The faces of children are portals to so much that can't be articulated.
I have also begun to enjoy the smell of essential oils being diffused in my home. I don't sell them, but I did sign up for my own account so I could buy them more reasonably. My favorite right now is Idaho Blue Spruce, which makes me think of Michael and the walks we used to take in the woods around our area. He used to pick the end off of a blue spruce branch and inhale the fragrance deeply with a hearty "Aaahhh," and then reach out and put it under my nose so I could do the same. We thought it was the perfume of heaven come down.
Time to start my day. I hope you have a peaceful weekend and some beauty to gaze upon.
God rest and keep you,