House Stuff and Heavenly Hopes
Spring seems like a good time to tend to house projects put on the back burner during the long winter, so today two of those projects were done.
Michael and I moved into this house (named Gilead by my friend Ember) on May 31, 2012, so it has been five years since our second floor windows have been washed on the outside. Gah. The easy-to-reach ones have been done, of course, but neither Michael or I were ladder-worthy, so I let things go. Have you heard of the term "house blind?" It's when you live with something in your home for so long, you stop seeing it. I had stopped noticing the dirt on the outside of my bedroom windows. I looked out of them every day and marveled at the lovely view of Lake Superior so close by, but I had become blind to the dirt that five years of snow and sleet and rain and wind have plastered to the panes.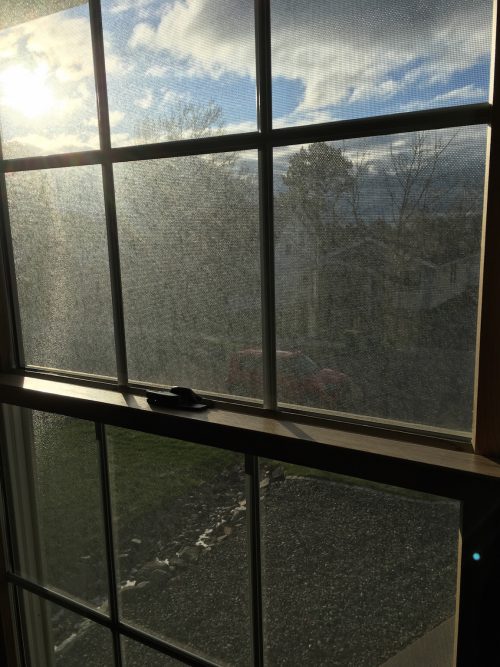 This was before the window washers arrived this morning. It's an upstairs view toward the east, as the sun was coming up over the big Lake. Can you see the film of dirt on the glass?
The two cheerful young men removed and wiped down all the screens, jockeyed around on the ladders they'd leaned against the house, and deftly moved furniture around on the inside, and in less than two hours we had glass so clean we couldn't tell there was glass. They told me they had tried many cleaning agents, and the very best is five squirts of Dawn dishwashing liquid in three gallons of hot water. "It gives the best glide" for their squeegees.
Obviously, the before photo is on the left, and the after photo is on the right.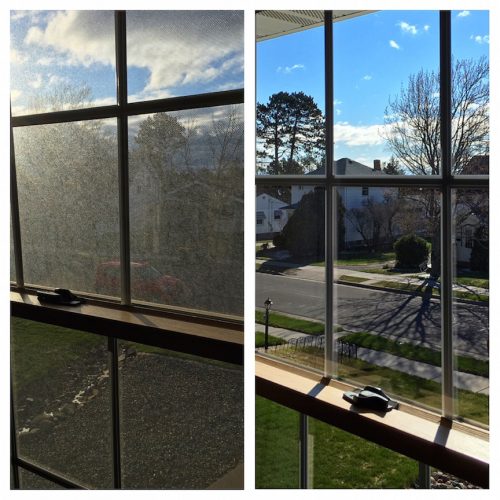 The second project that was completed today was a new garage door installation. Soon after Michael and I moved in, I noticed that the man door of our garage was beginning to rust at the bottom where the snow piled up. I made a mental note about painting it with a rust-proof paint, but then Michael's health took a steep decline over the next couple of years, and I never got around to it. By last winter the rust had spread and I knew I had waited too long.
Here's a photo of the rusty door, along with some tools sitting in front of it: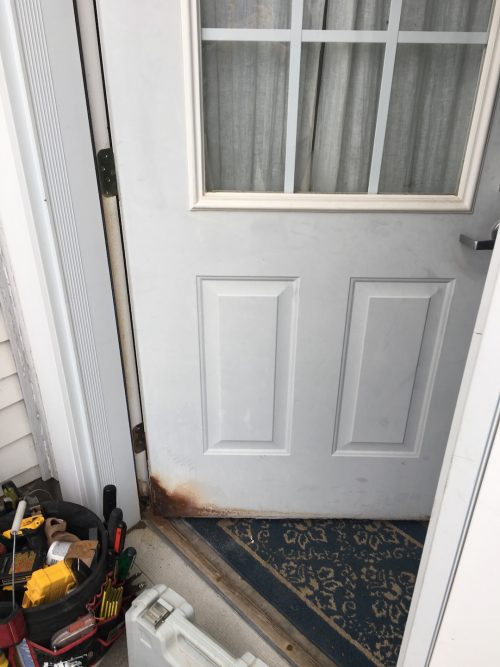 I called four companies for estimates on this job, and the prices ranged from $750 to $1831. To hang a door! I was ready to go with the lowest price when my son-in-law Jeremy saw the door on Easter and said, "Please let me replace that garage door for you!" He has a wife, five children, a job, a house in progress, and a baby on the way, so even though I was grateful for his offer, I told him I was getting ready to hire one of the companies who had given me an estimate.
Jeremy texted the next day and asked again, saying he really wanted to take care of this for me, and I accepted. I felt a little guilty for adding more to his plate, but I knew he would do a good job and it would save me a few dollars too.
I let Jeremy pick out the door, but requested only that the windows be higher on the door than the last one. I didn't want to have curtains festooned with spider webs in the garage anymore. I love the door he picked, and am thrilled with the job he did.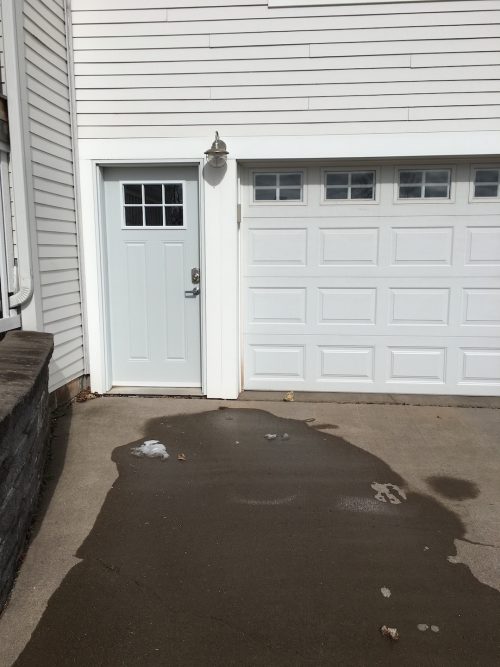 I think the higher window panes sort of mimic the ones in the larger garage doors.
For a woman who loves color, I have a very white house. The siding is white, the doors are white, the gutters and trim are white. I considered putting shutters on the house when we bought it, but I've grown to like the look.
Sara and I watched a movie the other night that I'm still thinking about. Have any of you seen Lion?  Here's the trailer if you haven't heard of it. The power of love in that movie made me feel just a little undone.
On Wednesday I went to the grief support group I've been attending for over a year now. It was sparsely attended because of the ice storm going on that morning; instead of the usual 12-16 seniors who come, we had four. It was actually very nice, and then afterward the four of us went out to lunch. We sat together and shared stories, pasts, pictures on our iPhones, and food for almost four hours, and the time just flew. I have come to care deeply about the friends I've made in this group. We all seem to read each other almost effortlessly…there's something about shared and understood grief that helps people to bond, I guess.
Tomorrow I have an annual report to write for one of my foster gals, a morning walk in the cemetery with my friend Su, and a catch-up dinner at The Olive Garden with my friend Sue. I'm thanking God ahead of time for the privilege of all three. Grace upon grace!
As of today, I have now lived 809 days without Michael. Each day brings me closer to seeing him again, and I try to remember this when I open my eyes in the morning and look across the acreage of my king-sized bed, or when I hear a song we both loved to belt out together in the car. Sometimes I try to picture what Michael must look like now that he has met his Savior face to face. When he used to sing and worship here on earth, the expression on his face was so earnest and full of joy. I can't imagine what he must look like in full vitality and health and true happiness. And I try to imagine what Jesus in all of His glory looks like too, but I know I don't even come close. Matthew tried to describe Him in chapter 17, but his words fall short too — they must.
I do know that where Michael is, there's no dirt obscuring the views of anyone's mansion windows. There is no rust on the doors there. (See Matthew 6:19-21). There will be no cemeteries in which to walk, because there will be no more disease and death. What a powerful God we have!
Well, once again I didn't get to some of the things I've been meaning to share about here. I tend to get so wordy, and that hinders me from writing about what feels like a long spiritual journey. Who wants to read hundreds of words about such things? Only a few, and I'm grateful for you seven who stop in now and then. 🙂
God's peace to you,