Ten Ways to Love — A Repost
I published this post years ago, but I thought I would share it again. Looking through the lens of a widow changes everything, of course, and reading back through these words makes them all the more poignant and profound to me. (I included the kind comments you all left when this was first posted…)

*         *         *         *         *         *
Here are ten ways to love:
1.   Listen without interrupting. (Proverbs 18)
2.   Speak without accusing. (James 1:19)
3.   Give without sparing. (Proverbs 21:26)
4.   Pray without ceasing. (Colossians 1:9)
5.   Answer without arguing. (Proverbs 17:1)
6.   Share without pretending. (Ephesians 4:15)
7.   Enjoy without complaint. (Philippians 4:15)
8.   Trust without wavering. (1 Corinthians 13:7)
9.   Forgive without punishing. (Colossians 3:13)
10. Promise without forgetting. (Proverbs 13:12)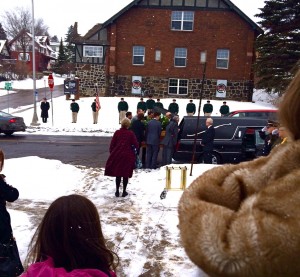 Now that I'm a middle-aged woman I can look back on the early years of our marriage and recall so many ways in which I failed to love. And not just in marriage, but in friendship and family too.
I wasn't terribly bad at #3, #6 and #10. But at times I have been a dismal failure at #1, #4, #5 and #7.
I'm blessed to have many young women in my life — my own daughters and also dear friends through Community Bible Study or church. If there's one thing I wish I could pass on to younger women (and to young men as well) and have it stick, it's that in a FLASH the end of your life will be upon you. It may not seem like time is flying now, but you've just got to take my word for it, it is.
My deepest regrets have come from my failure to love. How grateful I am that I'm still here and each day's sunrise brings new opportunities for me to show how much I love my family and friends.
If we don't love, we will have much sorrow. It's as simple as that.
Perhaps one of life's greatest challenges is loving the people who are really difficult to love, especially those who have mistreated us. I find it helps to remember that I have been one of those difficult people to love, probably more times in my life than I'm even aware. Yet God put gracious, loving people in my life who loved me anyway.
My husband Michael knows these ten ways to love. He may not be able to name them, and probably isn't mindful of how beautifully he lives them out, but he's the first person I thought of when I read the list above.
On Sunday Michael and I went to church and then picked up lunch on the way home. In the early afternoon we decided to take a nap, and as we laid together we talked of things on our hearts, and prayed for the people we love.
As I snuggled my head close to Michael's neck I told him quietly, "I am so happy about you." He blinked, smiled and said, "Really? Me?"  And I nodded my yes.
Then his smile disappeared and he sort of whispered, "I'm not much use to you anymore." I knew what he was referring to — his Parkinson's disease, and all the ways it has been "the gift that keeps on taking."
So I quietly said to Michael as we laid there, "Are you kidding me? You have given me your whole life. You have worked hard for our family, going out into the below zero temperatures to install new siding on houses and to build new buildings. You never complained, not one time. You have been an always-present daddy to our wonderful daughters. You have loved me when I wasn't that lovable. You have been faithful to me, never touching another. You have Q-tipped my face and rubbed my feet for hours, and still scratch the ridges in my ankles after I take my SmartWool socks off. You have prayed with me when I couldn't pray by myself. You believed God was at work when I couldn't see it. You have kept me warm at night for 30 years. You have apologized when it was called for. You have been one of the quickest forgivers I've ever known. You have always joined hands with me when it was time to give. You have been a very strong man, because it has taken someone very strong to be husband to a wife like me. You never spoke of leaving. You make me feel loved every single day. You still remember to hug and kiss me every day. You make me laugh. You make me realize that I am one of the few women in the world who has been blessed with a truly good man."
A few seconds passed after all this, and Michael pulled me close and said, "Thank you."
And in my heart I looked up and said to my heavenly Father, "No, thank You."