Trees, seals, graves, friends and a virus
How is everyone doing? I stopped counting the days a long time ago. I remind myself that with a warm home, a job I do from home, stable health, and an impossible jigsaw puzzle to do, I have much to be thankful for.
Then I remind myself that I cannot see my grandchildren even though they are within practically arm's reach, and that they are growing up and changing without me being able to see them up close. Then I remind myself that they are going to forget that they love and need me, until they don't love and need me anymore. And it won't matter to them that I love and need them. Then I remind myself that I can't have lunch with friends, can't have dinner with my daughters, can't drive to Tennessee to spend time with my sister-in-law now that my brother has died, can't go to the library and peruse the shelves. Then I remind myself that so many I know have lost jobs, and so many I don't know have lost loved ones. Then I remind myself that I can't go to church and gather and kneel and pray with my church family. Then I remind myself that I can't happily plan a menu and invite friends over for a nice meal around my table, enjoying conversation and laughter and the preciousness of their presence.
You can see how upbeat and productive I am. My inner life is truly remarkable. Sabotage… that's what I'm doing to my brain, I guess.
Being an introvert, the first few weeks seemed almost like normal life to me. But now all these facts I'm reminding myself of have taken their toll, and I feel pretty down. Just the time to take to my blog and post something, right?
So I thought I'd share some pictures from the recent trip Lloyd and I took to my home state of California. We were there for almost two weeks, right as everything began to shut down.
I grew up in SoCal, but never made it to Sequoia National Park. We decided to visit there for two days and it was a definite highlight. We both agreed we should have planned for a much longer stay. It was spectacular being in the Sierra Nevadas and seeing these trees that were here when Jesus walked the earth.
This is Lloyd and me standing in front of the largest tree on the planet. The picture doesn't even come close to showing how magnificent and massive they are. As we drove higher and higher (almost 9000 feet elevation), we gasped and gaped each time we rounded a curve and saw one of these giants in amongst the other trees.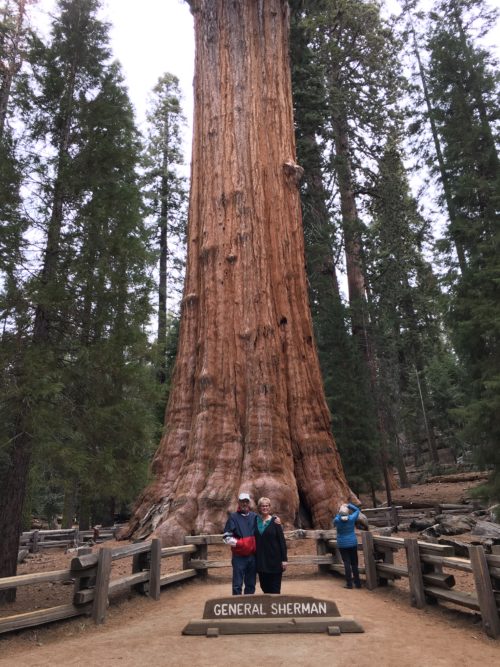 We pulled over to take the picture below — I think you can click to enlarge. The gray squiggles in the middle of the photo are the switchback road we drove to get to the higher elevations.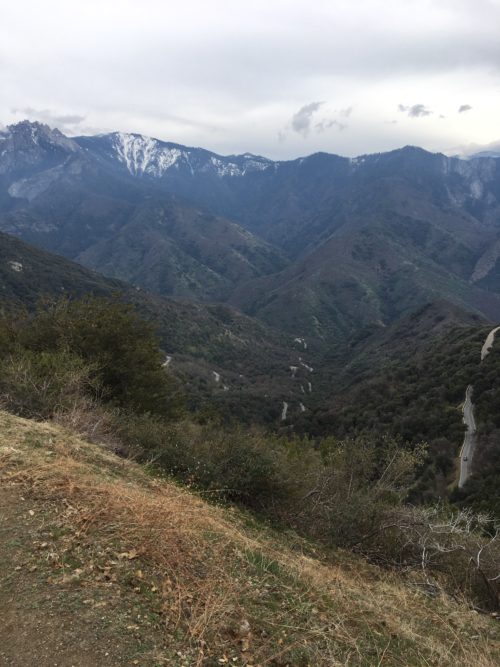 Toward the end of our trip we drove Pacific Coast Highway north to San Simeon, where Hearst Castle is. My parents and I visited there many times, and it felt strange and sad and exhilarating to see it again, sitting way up on the hill. Lloyd and I had hoped to see an elephant seal or two if we squinted our eyes, at the Piedras Blancas elephant seal rookery just north of San Simeon. Imagine our awe when we got out of the car and saw hundreds and hundreds of them sleeping on the beach. We were so struck by the seals we had to read up on them when we returned to our hotel. The males can be 5000 pounds, and I can see three in the picture below. The time we spent here was also a highlight of our trip.
When I was growing up in Covina, California, my parents and I would vacation in Morro Bay two-three times a year. Morro Bay is a sleepy little town on the Central Coast, and some of my happiest memories are from visiting there. Morro Rock is supposedly a volcanic plug, whatever that means. I just looked it up — it means this rock is a "remnant neck" of a volcano that was here millions of years ago.
Whenever my mom and dad and I would drive the five hours north to Morro Bay, I watched anxiously to see the rock and the three PG & E smokestacks as we would approach the town. Those monuments meant a fun stay in a hotel, foggy weather we loved, a walk on the Embarcadero, salt water taffy for my mom, a walk on the beach to gather sand dollars, drives up the coast to see Hearst Castle, eating at The Breakers, my parents eating clam chowder and me having a burger, dreaming with them that we might someday live there. They never made that leap because of my dad's good job in Covina, but I remember the Morro Bay visits as happy times before my parents divorced and our family disintegrated.
I was thrilled to be able to show Lloyd Morro Bay and walk on the beach with him. We gathered sand dollars and marveled at long-beaked, solitary curlews that walked around in the sand close by.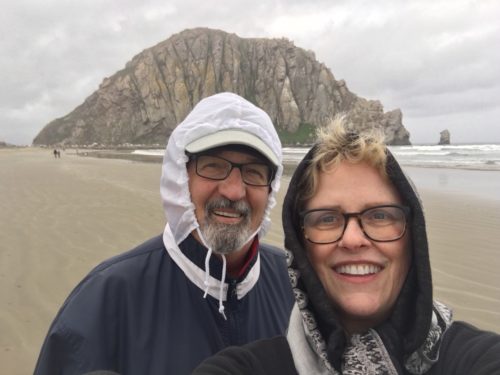 We also visited my mom's grave in Covina. She is buried next to her parents, Edward Bennett and Oma Leora McInteer.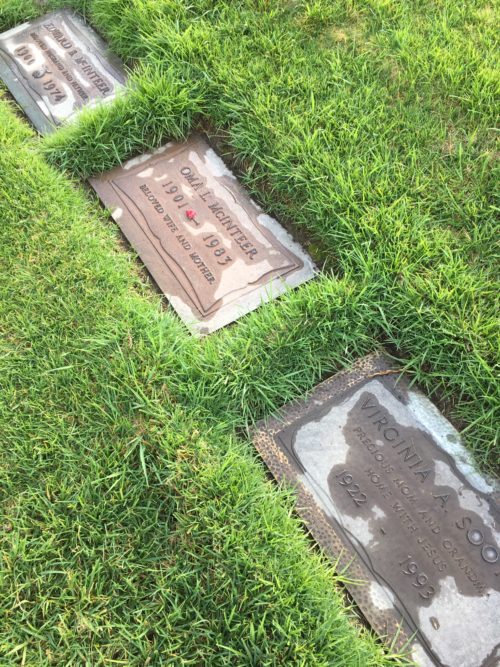 While in the Morro Bay area we went to Los Osos, where my dad is buried.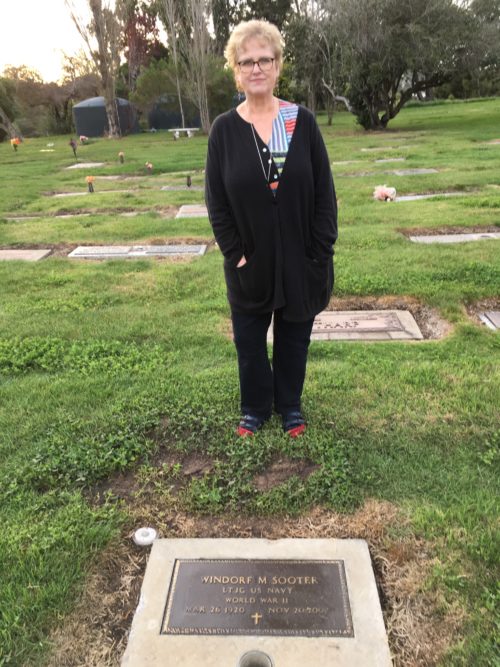 We were blessed to spend two days and nights with my beloved childhood friend Denel. She and her husband Jerry have retired and bought a condo on the ocean in Solana Beach, just north of San Diego. Lloyd and I slept in their guest room and had the sliding glass window open a bit at night, listening to the crashing waves nearby.
This is Lloyd in Solana Beach — just look at what Denel and Jerry get to see every single day. We walked the beach with them and I rolled up my jeans and put my feet in the Pacific for the first time in decades. I used to swim in that ocean as often as I could. In fact, I used to swim as far out as my ten-year old strength would allow, until I couldn't reach the bottom when I dove down, or see the faces of people on the beach when I turned to look back.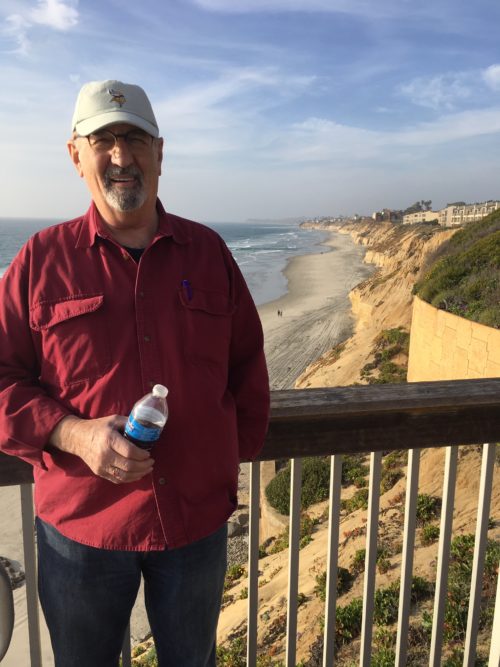 How could we go to Southern California and not visit Disneyland? I went to Disneyland at least once a year and sometimes twice in my younger years. I know it like the back of my hand, and wanted to experience it again, and see the new rides. It was a rainy day and we took umbrellas, but even the rain and visiting on a weekday didn't prevent the lines of some of the most popular rides from having 90 minute waits. So we chose not to wait that long, although had I been by myself I would have done it. Denel and I went to Disneyland as children together, and she drove up to Anaheim from Solana Beach to go with us. The day after we were at the Magic Kingdom, the park closed.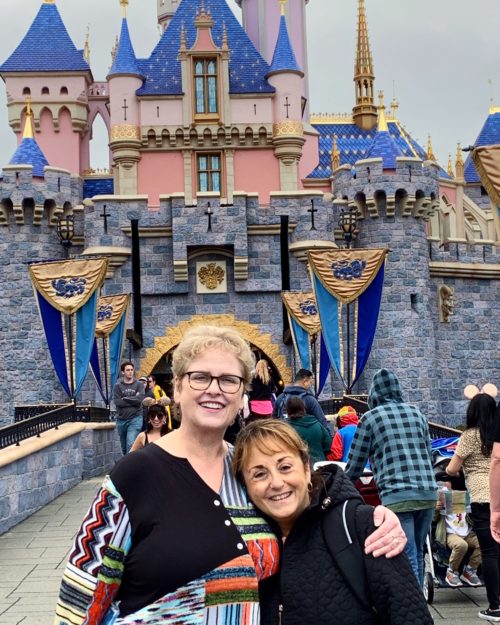 Denel and Jerry also took us to The Flower Fields in Carlsbad Ranch, and that was such a treat. Never have I seen so many ranunculus flowers, nor varieties of poinsettias. It was mind-boggling and lovely. These are my favorite poinsettias: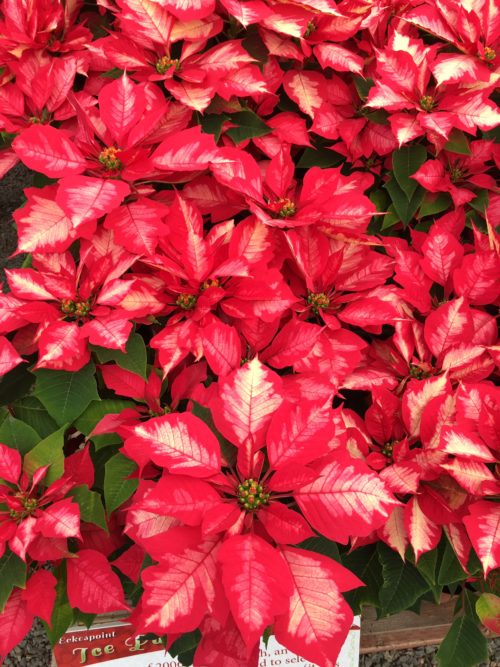 We also visited my dear friend Diane and her love Danny. They have retired to Palm Desert and we stayed two days and nights with them in their beautiful home in a gated community called Sun City. I met Diane when I was 19 years old and we were both attending a Lamaze childbirth class in Yuba City, California, near Beale AFB where our husbands were stationed. We have been devoted friends for over 40 years.
Diane and Danny (below) took us to the Palm Springs Aerial Tramway, and we boarded a rotating tram car in the desert and in ten minutes were almost 9000 feet up, where there was snow and pines and views of the Coachella Valley I could have enjoyed for the whole day.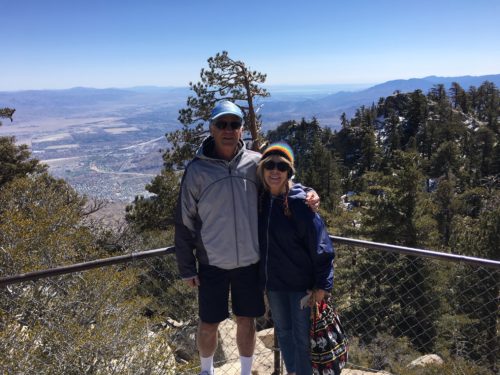 Everyone in the desert gets very creative with their landscaping since having green grassy lawns to water isn't recommended. I think Diane and Danny's back yard is unique and beautiful!
One of the best parts of the trip for me, was being able to spend time with my father's widow Dorothy. Dorothy is one of the finest people I've ever known. It would take an entire blog post to tell of how she cared lovingly for my mother when she was ill, how she loved and served my father, how she blessed our family so richly. She lives in Atascadero with her son Jim and his wife Kim and their amazing family. We were welcomed there for lunch and when we left, Lloyd and I got in the car to drive away and I sobbed. I love her so much and know this was probably the last time I'll see her on this earth. Dorothy used to paint, and the portrait is of her late father.
I have so many more pictures, but just thought I'd share a few from each area we visited. As we neared the end of our trip, we called ahead one morning to see if we could get an early check-in at the last hotel we were to stay in, in San Diego. They had closed indefinitely and never even emailed or called to let us know our reservation was voided. We took that as our sign to leave a day early, as everything in California was closing down and we wanted to get home to Minnesota. We had heard of "ghost flights" with hardly any passengers, but we were able to reschedule and get the last two seats on a packed Delta flight. We arrived in Minneapolis late, so stayed in a hotel overnight, grocery shopped the next morning, then drove north. I dropped Lloyd off at his cabin and continued on to my house by Lake Superior. We quarantined for almost two weeks before we were together again. We have been married for six months now, but we still have two homes. We spend three or four days together, then three or four days apart. It works well for us.
Today, I am taking my foster gal on a nice ride in the country, and we will stop at a burger place with carhop service. She is anxious to order their onion rings, a hot dog, and one of their famous fresh berry milk shakes. I think I might have a burger myself. 🙂
How are you holding up? Have you been doing anything creative? Watching anything good on TV? Lloyd and I have really liked a British series on Netflix that my friend Pat recommended called "Endeavour."
God bless you all…