From the archives…
Her name tag said Kelly. She was a ticket agent in a smart navy blue uniform with green trim, behind the Eastern Airlines counter in the Atlanta airport. It was 1979 and I was 22 years old, a heartbroken and exhausted young mother with two tiny daughters in tow, eleven pieces of luggage to keep track of, and a bleak-looking future before me.
When my then-husband Glenn decided to rather suddenly end our marriage in Germany so he could be with another woman (who also needed to end her marriage), I just had to get home to Southern California. The Air Force required meetings and copious amounts of documentation to warrant their issuing airline tickets earlier than the planned three years we were all to be stationed in Germany. By the time a few weeks had passed and the Base Commander gave the go-ahead, I was anxious to depart and to return someplace where we were wanted. I'm not sure my mother wanted us to move lock, stock and barrel into her quiet West Covina home for six months and nearly turn it upside down with sorrow and baby and toddler paraphernalia, but she was gracious to welcome us and let us stay for a time, so I could find a job and get on my emotional feet.
The Air Force travel agent (if there is such an animal) issued our tickets, and the itinerary was mind-boggling.
Our first flight was from Frankfurt to McGuire AFB in New Jersey, a long flight filled to the brim with military personnel and their families. I'd been issued two tickets, so two year-old Sharon and I had seats, and eight month-old Carolyn was on my lap for the entire eight and a half hours. Thank God she was a nursing babe.
We were not allowed to deplane in New Jersey, and the big jet then took us to Charleston AFB in South Carolina in about an hour and a half. Here our military transport ended and we had to find a way to get to the civilian airport in Charleston, with all our possessions. We had two bags for each of us (because we had to bring everything we owned, aside from furniture, which would be shipped across the Atlantic in six weeks), a diaper bag, my purse, a folded high chair, an infant car seat, and I can't remember what else — I just know there were eleven pieces. I will never forget that. Can you imagine trying to travel with eleven pieces of baggage today? Impossible, and not even allowed.
As I stood on the sidewalk at Charleston AFB with Carolyn on my hip and Sharon holding my hand, surrounded by our bags, a man approached me and asked if I needed to get to the civilian airport. He was driving a bus there and kindly loaded everything up and we were on our way. Once we reached the smallish airport in Charleston I knew we'd have a layover but I must have put it out of my mind since the first time I'd seen the tickets days before. The girls and I settled in to a row of connected airport chairs and my eyes probably bugged out of their dark shadowed sockets when I looked up at the screen and saw that our layover was nearly six hours.
Yes.
No place to go, no cribs for sleeping little girls, no real restaurant to speak of. And of course no cell phones in 1979.
I did my best, cheerfully reading to the girls, making a big deal out of snacks and water, taking frequent potty breaks and changing diapers, helping Sharon curl up in a chair to rest, and leaning back in mine so Carolyn could doze on my shoulder. My sweet little daughters were so good. They were tired, but were cooperative and easy to console. It makes me tear up just to think about it now.
When we finally boarded our next plane we were headed, not for Los Angeles which was my neck of the woods, but for Atlanta, because that's the way the Air Force travel agent planned it for us.
Because everyone knows the best route for a single woman with two little children and a bunch of baggage is Frankfurt–>New Jersey–>Charleston AFB–>Charleston civilian airport–>Atlanta, Georgia–>Los Angeles, California.
This flight was about an hour, I think. We waited six hours to fly one hour. In Atlanta we now had a four hour layover. And I remember thinking we had landed in the biggest airport in the world. The concourses seemed endless and the crowds were thick. Our ticket changed to Eastern Airlines (now defunct) and we got in a long line to check in and get our boarding passes. Again, this was before the days of online or kiosk check-ins.
By the time we neared our turn at the ticket counter, Sharon, Carolyn and I had been traveling for over nineteen hours. Sharon was almost sleeping on her two year old feet as she shuffled along beside me, holding my hand. Carolyn was fitfully sleeping on my shoulder as I held her and my purse and the diaper bag, and who knows what else. When the attractive blond woman named Kelly called me forward and took my ticket, she must have seen the exhaustion in my face, and assessed my situation quickly. "How are you this evening, Julie?" This was going to be the red-eye flight from Atlanta to LAX, but until Kelly had greeted me I'd lost all sense of time. The compassion in her eyes and concern etched on her face was too much for me. I started to cry, and I told her right then and there that my husband had decided to take up with someone else and had sent us home from Europe. Kelly deliberately put down the paperwork, stilled her hands and looked straight into my eyes and said with quiet fierceness, "How. Dare. He." I can't even convey how much her words meant to me. She was outraged on my behalf and for my little girls, and what happened next I will never forget.
Kelly quietly issued me FIVE seats on the flight from Atlanta to Los Angeles, all across the center of an L-1011. And I didn't have to pay anything extra. I'd never been on such a big plane. Here's an old picture so you can see the five seats at the center of the L-1011.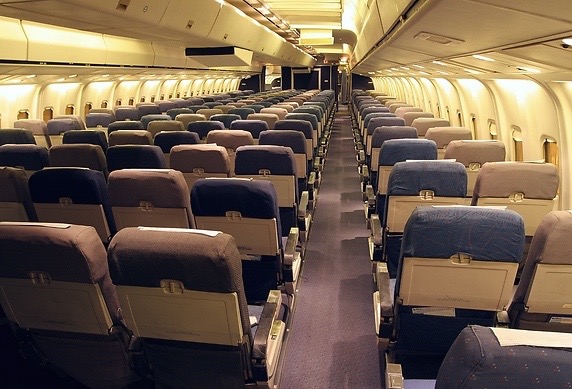 Then she closed her side of the counter and let the other agents continue issuing boarding passes, and she led me and the girls to a comfortable bed in a private employees' lounge, where she brought us blankets and pillows and encouraged us to get some sleep. Kelly assured me she would come get us in time to board the plane. So we slept in this blessed, quiet place for over three hours, and I thanked God for Kelly.
When Kelly came to wake us in time to board, she escorted us onto the plane before anyone else, like we were some kind of VIPs. Even the First Class flyers were still waiting to board. She gave us more blankets and pillows and I was able to sit in the middle of the five seats, and Sharon and Carolyn each had a bed made of two seats on either side of me. They both slept almost immediately.
As Kelly was about to go back to her job behind the Eastern Airlines ticket counter, she bent over toward me and wished me well on this flight and in my life. I couldn't thank her enough.
I have told the story of my encounter with Kelly many times. Several people have speculated that she might have been an angel because of the ways she ministered to us, citing Hebrews 13:2, which says,
"Forget not to show love unto strangers: for thereby some have entertained angels unawares."
I'm pretty sure Kelly wasn't showing such love and kindness to me because she thought I was an angel. I wasn't. And am not one still. But even though I wasn't the one showing such love and care to her, I never completely discounted the fact that Kelly could have been divinely dispatched to come to my aid on that grueling trip. A ministering angel, perhaps. Or perhaps she was just a really wonderful woman who used the authority she had to soften my way.
Forty-one years have passed, and I have prayed that God would bless Kelly for the way she took care of Sharon, Carolyn and me. If Kelly is still alive, she's probably in her early seventies by now. I hope someone is making sure she sleeps well and is gently covered at night. I hope there have been friends who've come along side her and expressed their outrage at any injustices Kelly has had to endure. And I pray that all the things she did for me during that short time, giving me five seats on the plane instead of two, finding a quiet place of rest for us, going out of her way to help and comfort us during such a terrible time, are multiplied back to her a thousand times.
I've known a handful of Kellys in my life, but the Kelly who worked for Eastern Airlines in Atlanta, Georgia was the kindest Kelly I've ever met.