Someone old, something new, something blue, something adorable.
It's a gray and rainy afternoon, and all the snow in our yard has finally melted after having piled up storm after storm all winter long. My grass isn't green yet, but it will be soon. The deer have been in the yard eating my plants down to the nub, so I cut up some Irish Spring soap and sprinkled it around the ones they seem to like best. A friend from our senior citizens grief group told me about this deterrent, and it really works. The deer don't like the strong smell.
Our beloved miniature German Schnauzer Mildred is gone now. She was just under sixteen years old, so was quite the old lady in dog years. Millie began having issues in early March that made us watch for suffering. On the 13th and 14th we could clearly see it was time to help her, and Sara and I took her to our vet's office. We were with Millie to the end, petting her and kissing her and reassuring her, crying softly and deeply. It's surprising how a scruffy and quirky little dog can leave such a void. We miss the click-click-click of her nails trotting around on our hardwood and travertine floors. We miss seeing the enthusiastic wag of her stubby little tail every time she saw us through her cloudy eyes. We miss her Schnauzery eyebrows and mustache.
We have Millie's ashes in a little wooden box now, along with a paw print the vet made for us. We plan on doing what we did with Edith's ashes when she died a few years ago — we'll spread them over Michael's grave when summer is here and the grass is thick and green. Both dogs adored him so much, but Millie did especially.
We gave our doggie steps (Millie used them to get into Sara's bed) to Carolyn's family dog, Walter the pug. We donated Millie's dog food and other doggie accoutrements, and now we are a dogless home. People have asked if I'll be getting another dog, and I tell them no. I've been a dog-lover and owner my whole life, but I've reached an age where I would like to have the freedom to travel more when I can. I'm dreaming about and semi-planning a solo trip to Ireland in 2023, if things in the world allow it. And Scotland and England and Switzerland and Israel, while I'm dreaming.
When Michael and I moved into this house by Lake Superior in 2012, our living room paint was what I would call a robin's egg blue. It wasn't something I would have chosen, but we liked it and it worked fine with the art and furniture we had, and it really grew on me. It's been ten years now, and the walls need paint. I have been looking online at the color Oval Room Blue for months, and finally decided to use it in the living room. Here is the old color with a patch of Oval Room Blue. I got a large swatch from Farrow and Ball, who makes the color, and had it matched at Sherwin-Williams. It was perfect.
I think the color looks colonial, is soothing, unique. It's dark enough for my ever-present desire for jewel-toned and moody walls, but not too dark. If you google Oval Room Blue paint you'll see lots of examples of how it looks in different rooms and lights.
I'll show you the finished look later in this post.
Not long ago I asked my grandson Elijah if he owned a suit. When I found out he didn't, I asked him if he would like to go suit shopping and I was so glad he said yes. He's going to be nineteen in a couple of months and I'm always looking for ways to invest in my grandchildren, financially and spiritually and in any way the Lord leads me.
Elijah and I drove downtown and the men's shop had a buy-one-suit-get-a-second-suit-for-a-dollar sale. How could we not take advantage of that? Here is handsome Elijah in one of the suits he chose, being fitted for the tailoring it needed. He is a very tall and slim young man, and I think he is a wonderful blend of his parents, Jeremy and Carolyn.
Elijah picked out two shirts, two ties, and the look was completed with a new pair of Italian leather shoes. Even if his current work doesn't call for this kind of attire, I told him every young man needs a suit — for weddings, funerals, interviews, etc.
Elijah is interested in math and science and all things space. I had him over for lunch not long ago and he told me all about the newly launched James Webb telescope which will send back pictures that reveal more than Hubble has. I learned the new word Beryllium after being with my brilliant grandson.
Back to my living room. I'm really minimizing things in my life these days, and the minimal look in decorating suits me as well. The room isn't huge, so having less things on the wall and on surfaces is visually calming.
I also plan to steam clean my carpets soon. It has been years since it was done and needs it badly.
The dark red leather chair is new — I was visiting my dear friend Diane and she and her husband had two of these chairs. I loved them so much I ordered one of my own, and it took a year to arrive, due to the whole supply chain phenomenon going on in the world. I'm so happy with it, and decided to bring my little toile footstool from my bedroom to the living room for a little whimsy and support.
I will probably never part with the three bird prints on the other wall. If you are new here, here is the unbelievable story of how that trio of paintings almost never came to be.
And on the back of the couch is a cherished gift from my English friend Helen who lives in Switzerland. We "met" each other online years ago, and she is so dear. She's a brilliant creative — she quilts and knits and sews and writes.
After Michael died in February of 2015 a box arrived at my door, and this quilt on the couch was in it. I was overcome by Helen's generous gift and treasure it each day. You can click here to see details of her beautiful work.
We still have one little pet in our home, our beloved parakeet Phoebe. She is seven years old. Phoebe brings such cheer into our kitchen and dining room areas, alway alert to the people who enter. She breeps and chirps more when we're nearby, and sidles over on her perch to get close to us if we walk by.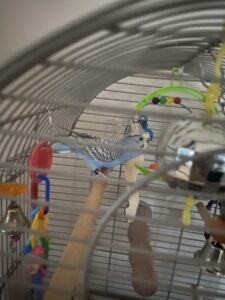 Phoebe does something that always makes us smile, and I say it's her way of coping with the world. She puts her soft little head underneath a bell in her cage, and holds very still. Sometimes she goes to sleep with this bell on her head.
We all have our ways of coping, especially during these last two years. Some of us sleep more, retreat, watch TV, eat, read. I do all of the above, except perhaps the sleeping more part. I'm definitely not sleeping more. That's another story for another time.
How have you coped these past two years? Have you thrived? Have you flagged a bit? What are some of the coping strategies you've employed, if any?
When I see Phoebe calm herself and even doze with this tiny bell on her head, I wonder if she's on to something.  🙂
Have a lovely spring everyone,