This morning when we got up it was zero degrees outside (minus 18 Celsius), and Lake Superior was steaming. It's a gorgeous sight, especially with the clear sky and the sunrise over the vast expanse of water, yet for some reason January's approach always fills me with a bit of dread. It's our coldest month, and even though this might sound a little dramatic, it feels dangerous to me. The best part of January is my middle daughter Carolyn's birthday on the 12th; the rest of the month can't pass too quickly for me.
Yesterday I took most of our Christmas decorations down, and today the tree, already bare of its ornaments, will go into the box and down to the basement for another eleven months. I like getting our normal space back after Christmas, breaking down the boxes for the recycler truck, moving the living room chairs back to their places, and putting away our Christmas CDs. Do you leave your Christmas things up past the new year? I knew someone who loved her tree and decorations so much she always left them up until February.
Also, we have a winner for the Cardinal Caption Contest! It's Kay, in Cornwall, England! Her poem of what the little jaunty cardinal in the photo might be saying brought smiles all around, and even my daughter Sara said at the breakfast table this morning that she thought Kay should be awarded the prize. If you haven't read the poem Kay composed, be sure to look in the comments to the last post. 🙂  Kay will receive a $10 gift certificate to spend as she pleases at Amazon.com. Thank you all for your very clever captions — I thought all of you deserved a prize.
Next, have you heard of the One Word trend? I think it's been going on for a few years, and I'm thinking and praying about what one word should be the focus of my life for the coming year. I have known for a long time that the Lord seems to be bringing me low in so many challenging and marvelous ways, so I've considered that my one word might be lower. I have also seen that I am more fear-based that I ever thought I was, so I think the word trust would be appropriate too.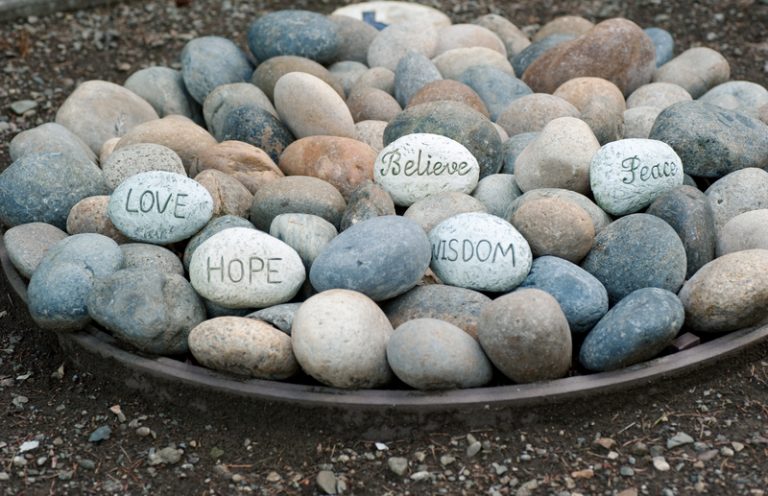 One decorating blogger I enjoy has chosen the word up for her one word in 2013. There are several that come to mind for me, and I'll share about it when I'm sure of what it will be.
Pray. Encourage. Honor. Forgive. Listen. Decrease. Praise. Humility.
Have you ever chosen one word to focus on for a coming year? If so, what was your word? If not, are you considering trying it this year?
Today a furnace repairman will be coming to our home, and this will make the eighth time someone has come to see what can be done. Many changes have been made: dampers adjusted, zones rezoned, zones unzoned, temp limits replaced, air filters checked and replaced, and thermostats rewired. Our furnace unit itself is fine. It seems like it could be the air flow to our registers that's the problem, but none of the three companies who've come out seem to be sure yet. They're all baffled. If it means actually tearing into the floors of our bedroom and bathroom (which is a huge space, but only has six heating registers and apparently should have more) to install more registers, I admit I think I'll be truly upset and discouraged. Having our furnace work perfectly for three days and then start blowing cold air is very disconcerting, over and over again. Each time it performs as it should I'm practically in tears of relief, saying, "Thank you Lord!" and realizing what an overlooked grace it is to have heat at the touch of a switch. Then each time I feel the heat stop and the cold air begin to blow and see the thermostat temperatures drop, I feel vulnerable and anxious, and this morning when it happened again I started to cry. January is not the month for complicated furnace failures for a Minnesotan. If any of you reading this would be willing to pray that the Lord would give wisdom to the people working on it, I would be so grateful.
Last night Sara and I went to see Les Miserables and I loved it (although some pretty bawdy scenes make it an inappropriate choice for young people, I think). The book has been one of my favorites for years and I've read it three times. It might be time to open it again. Michael and I saw the play at the Queen's Theatre in London in 2007 and were awed by every part of it, especially the continuously revolving stage and the powerful music. Last night I rummaged through my purse when the tears started to fall, and couldn't believe I didn't have Kleenex, which I'm never without. Fortunately Sara had one, and by the time the movie was over I could have wrung it out from crying into it so much. Les Miserables is such an epic story of grace! One humble man's act of grace and forgiveness literally changed many lives over the course of many years. It's a lesson I want to remember forever. Are any of us wondering what to do today? Whatever tasks are before us, giving grace should be part of each and every day, especially toward the people we live with.
Well, I have much to do today. Our kitchen sink is piled with dishes that I didn't feel like tending to last night. There are three baskets of clean laundry in our room waiting to be folded and put away. There are chicken breasts in the fridge that should be made into a nice New Year's Eve meal. There is laundry to do for our Fosters, a tree to be dismantled and stowed. Paperwork to be conquered, a letter to write, dogs to be petted, a husband to be hugged. And hopefully, please God, a furnace waiting to be fixed, once and for all.
Tonight when the stroke of midnight hits, Michael and I will not be awake (Lordwilling) clinking a glass together, or watching the coverage from Times Square in New York, or even attending a Watch Night Service like we did in church years ago [where, for your information, a group of friends and I dressed up as Gladys Light and The Hips and sang (lip-synched, actually), clapped and danced wackily in unison to this song. We padded our hips grotesquely under our black stretch pants (because we were The Hips), wore sun glasses and generally stunned the more staid members of our congregation.] But tonight, I hope to be soundly sleeping when the year changes over, with two scruffy dogs at our feet, and a dependable furnace humming along.
I never quite know exactly why I keep a blog. Is it because I'm a word person and if I don't have an outlet for my thoughts I'll someday shut down? Is it because I'm vain and think what I have to share is actually of some import? Is it because I'm actually supposed to be doing this, for some strange reason? I don't know. Whatever the motivation, I want to say to you all today that I'm thankful you stop by here now and then. I love it when you leave comments, and am so glad for the friendships I've made here.
I wish you and all your loved ones a very blessed 2013.