Julie's Swiss Muesli
(updated from the archives….)
I have no idea if this is true, but I recently heard a well-known financial advisor say on television that she believed America would be facing bread lines in coming years due to the state of our economy. Correct me if I'm wrong, but the last time Americans waited in bread lines was in the late 1920s and early 30s. I refuse to worry about this, because there's nothing I can do except try to live carefully and generously. My life is in God's hands, and if part of His plan for me is to someday wait in bread lines, I will.
I think it's appropriate to give thanks for food while we have it in abundance. We have so much variety and so many delicious things to choose from, and we can easily take for granted what many in our world only dream about.
Have you tried a Honeycrisp apple lately? I paid $1.00 each for them at the grocery store yesterday and didn't care — they're wonderful eating. What about fresh, raw pecans? I try to eat some every day. I'm thankful for sharp cheese and tomatoes that are deep red, not pale pink and anemic looking inside. I'm grateful for shredded purple cabbage and warm, fresh-baked bread. I like balsamic vinegar and capers and hazelnuts and pineapple! And what about Haagen-Dazs Chocolate Peanut Butter Ice Cream? You're missing out if you haven't scouted that out in the frozen aisle — in our city it sells out fast at every store we frequent, and Michael and I grin stupidly at each other when we go shopping and actually find a pint of it left on the shelf. See the ribbons of peanut butter winding their way through the chocolate?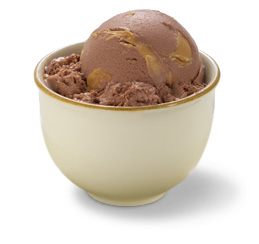 But even the tastiest food can sometimes be nothing special to look at, as in today's recipe. My Swiss Muesli is cold, gray and lumpy, but mmmmm is it good.
Apparently Muesli was invented by a Swiss physician for his patients around 1900. I wonder what medicinal qualities he thought Muesli had? There are dry varieties available in cereal boxes these days, but this recipe I'm sharing here is closer to the original, gloppy mixture – it's made with milk and yogurt and needs to be stored in the refrigerator. I don't think I'll take a picture of the Muesli in our fridge right now, because it looks, well, cold, gray and lumpy. It would never hold a candle to the ice cream photo above. But Swiss Muesli is delicious! And nutritious. And it's filling (my mom would have said, "this sticks to your ribs!") And if you use good yogurt, it's probiotic and so good for digestion.
So, if you're willing to sacrifice visual appeal for delectability, here's something to try:
Swiss Muesli
1/4 cup honey
1 cup plain yogurt (don't use flavored or even vanilla yogurt here — with the above honey it will be too sweet — I tried)
1 cup milk (I use 1%, and very often I use unsweetened almond milk)
I stir these three wet ingredients together in a large Tupperware container that has a lid — this is what I store it in.
Next, stir in:
1 cup regular rolled oats
3 T. grated unsweetened coconut (sweetened will work but unsweetened is better)
1/2 t. ground cinnamon
1/4 cup chopped pecans (you can use walnuts too)
This is my adaptation of a recipe I found in a magazine a long time ago, and that recipe also called for 1/4 cup raisins or dried apricots, and 1/4 cup chopped Granny Smith apples, which you might throw in if those sound good to you. (Authentic Muesli has fruit in it along with the nuts and oats.)
I often make a double recipe of this, and after it sits in the lidded container in the fridge for a few hours, the oats soak up all the flavors and it looks like a bland, uninteresting porridge. Sounds blechy, I know, but it's pretty yummy. Michael and I eat this for breakfast at least three times a week, and we both like a little dollop of peanut butter stirred into our bowls with it.
They say you can't judge a book by its cover, and I say Swiss Muesli shouldn't be judged by its moist, gray lumps, either.
En guete!  (Which means "Good eating" in Swiss German! — thank you Helen!)