One hour at a time, sweet Jesus…
I keep wondering if I should put my blog into suspension until I'm not such a sniveler with a martyr complex, or if I should just keep unloading my spinning thoughts on it every once in a while as a sort of cathartic therapy. It helps me to write, but I'm quite aware that it isn't always fun for others to read about someone else's hard times again and again. For those who are hoping for upbeat posts and happy photos, I'm sorry.
I woke up this morning with a slightly bloody looking right eye, a strong headache, a constant rushing river sound in my ears, a swollen left hand, and a wooden neck. And that was after a decent night's sleep. I have never had high blood pressure in my life but I wondered if mine was elevated. We used to have a stethoscope and sphygmomanometer because I used to monitor Michael's borderline blood pressure, but Parkinson's meds dramatically lower BP and he hasn't needed medication for that in years. I donated the BP stuff when we downsized and moved to our current house. My dear friend Su and her husband Danny promptly brought their blood pressure monitor over and I was relieved and perplexed when my reading was around 108/70 numerous times. My sister in law asked if I had had a particularly high sodium meal the day before, and I had not. As the day has passed my eye looks better and my swelling has gone down. In fact, in this picture of my right eye, there's almost no trace of the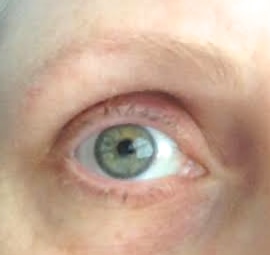 smear that colored my sclera this morning.
The first thing I thought when I woke up feeling so yucky was that the stress of being a caregiver had finally worked its way out, which is not a huge surprise, I guess. I have been well aware that there will be a limit to my ability to care for Michael as this relentless disease stalks his brain. I think I'm getting close to that point, and to even say those words makes me feel so unbearably sad and angry I don't know how to put words to it. So I'll write about that another time and move on to the rest of our day.
Even though it's the end of June, the thermometer on our front deck never rose above 48 degrees today. The winds of the past several days have churned up the bottom of Lake Superior because today's view is of a muddy looking lake rather than the majestic deep blue we usually see. We love the many moods of our big lake, though. Sitting at our dining room table and being able to see the water just a couple of blocks away always strikes me as such a gift.
When Michael's home health aide Paul arrived today, I set out in our Highlander to have some time alone. I crave time by myself. These days my dear husband doesn't even like me to leave the room. It's like I'm his all in all, his security, his peace of mind. Sara told me recently that Michael isn't really at rest until I come home, even though she is used to caring for him when I have appointments. If I need to put a load of laundry in, or clean the kitchen, I have to give him many reassurances that I won't be gone long, in order for him to stay safely seated in his recliner. He is such a fall risk now, doubly so because he forgets he has walking trouble, and often tries to get up and walk without assistance. Like many PD patients, he has fallen, but thankfully without severe injury.
So late this afternoon I drove straight to the end of Park Point, a seven-mile long sand bar at the very southern tip of Lake Superior, parked the car by some water, reclined the seat and read for a while. I looked up now and then to watch a dozen greedy grackles feeding on something in a patch of park grass nearby. Have any of you read Donald Miller's book A Million Miles in a Thousand Years? It was recommended to me a long while ago and I've downloaded it on my Kindle and have been reading a chapter or two every few days. On Park Point today while reading this book, I belly laughed out loud with my eyes squinched shut and my head thrown back. It felt so good. If you've read the book I'd love to know what your thoughts are.
After an hour I looked up the number to our favorite Vietnamese restaurant, called them on my cell and placed a to-go order for dinner. Michael loves Spicy Beef Cashew, extra hot, I like Spicy Chicken Cashew, mild, and our Fosters love the Beef, Vegetables and Fried Potatoes. All with white rice of course, and the best spring rolls in the universe. I reluctantly left my peaceful place by the lake and drove toward the restaurant, but had to stop for some time as a string of cars got "bridged." A 1000-foot ore boat was chugging into our port and it took about ten minutes before our Aerial lift bridge had risen to accommodate the massive vessel's passing from lake to harbor side, then lowered to allow traffic to cross over again. After picking up our order I drove home, knowing that Paul had given Michael a shower, helped him brush his teeth and dress in the clean clothes I'd laid out, and would be chatting cheerfully to Michael about fishing, about his interest in the History Channel, or the long lines at the new Chipotle that just opened in our city today.
We all enjoyed a delicious dinner. When we were done I helped Michael walk from his dining room chair to his recliner, then headed back to our bedroom to change into one of my super comfy and warm plaid flannel nightgowns. The Minnesota Twins are playing the Texas Rangers as I type this, and Michael never misses a Twins game if he can help it. Edith snoozes in the plaid wingback chair and Mildred jerks in her sleep on the couch near me as she chases chipmunks in her doggie dreams. It's raining outside now, and my thoughts turn toward those in the northern part of our state near the Canadian border, where they've been sandbagging to protect homes from floods for weeks. The news people say that if the 1-2 inches of forecasted rain really falls, then huge Rainy Lake will rise again and homes will be flooded.  🙁
Tomorrow is our 33rd wedding anniversary. We don't have anything special planned, but I know we will do some reminiscing. If Michael feels up to it and we can get him down the basement stairs and into the car in the garage, maybe we'll take a little drive. Or even get ambitious or courageous enough to go out to lunch. Or we might stay home and watch an episode or two of Foyle's War. I don't like war and am not usually interested in movies or television shows about war, but I really like Michael Kitchen's portrayal of laconic Detective Chief Superintendent Christopher Foyle. The show is extremely well done and is set and filmed in Hastings, England, where my friend-across-the-pond Penelope Wilcock lives with her family. I have a dream of visiting there someday.
In a few minutes I will wake up the schnoozing Schnauzers, put their no-bark collars on and send them outside for their last tinkle before bedtime. They will try to fib to me by coming back to the door without ever having gone into the yard, because they hate the rain so much. I will have to toddle out onto the front deck in my nightgown and say sternly, "GET out there and go potty! Go on!" and they will dejectedly obey, but they'll look terribly forlorn when I let them back in and they shake the rain off their backs.
I will lock up the house, turn out the lights, help Michael get ready for bed, and then settle in beside him in our big bed to read as I listen to him quietly snore. I will reflect on the day, probably shed a few tears for all the ways I see I'm failing my husband as his suffering increases, and ask the Lord to forgive me and throw those sins of selfishness, self-pity and blindness from the East all the way to the West. I might play a few rounds of Words With Friends with Christy (a sister in law given to me by God), and Ginny (a long-time friend given to me by God), and Vicki (a new friend given to me by God and one who understands so much of what I'm walking through), and then I'll turn out the light and be asleep myself within five minutes.
Tomorrow morning when the Lord brings the sun up at the edge of Lake Superior, I will look out our window at the glory and ask Him again to pour His love and patience and joy into me, this cracked and broken vessel that doesn't seem to be able to contain very much. I will ask Him to help me pour His love out on my husband and give me strength for the day ahead.
And tonight, that's about all I know.