The Best Rooster's Beak
Thanks for all your input about what I should include next on the blog. It was actually a tie, so I chose which one to post, and it may come as a surprise.
I love Pico de Gallo, which in Spanish means Rooster's Beak. You could call it a salsa, I suppose, but to me it's just one of the most delicious, easy things to make, and it tastes yummy added to lots of foods.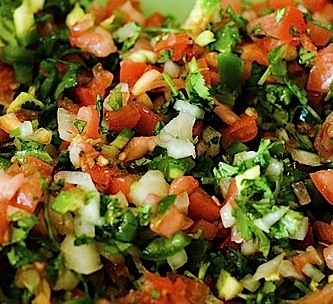 Many of you probably have a recipe to this already, and mine won't be a lot different than the thousand others out there on the Web. I've been craving this lately, maybe because we're coming out of a long, dark winter, and fresh vegetables sound extra yummy to me right now.
Pico de Gallo (PEE-ko-day-GUY-o)
6 small, very ripe tomatoes, chopped (I like Roma)
1/2 medium purple onion, chopped very fine
the juice of one fresh, medium-sized lime
2-3 small, fresh jalapeno peppers, seeded, chopped very fine
1-2 cups fresh cilantro leaves, coarse chopped
1 small clove fresh garlic, finely minced
Kosher salt, to taste
Several grinds of fresh ground black pepper
So, you just stir all these ingredients together. That's the recipe. Keep this stored in the fridge in a lidded container, but it might not last long – it doesn't in our house. If you have children who might not appreciate the crunch, you can put this in a food processor and just pulse it a few times.
Consider serving huge spoonfuls of Pico de Gallo on baked potatoes, homemade tacos or burritos, nachos, scrambled eggs, open-faced sandwiches, on homemade pizzas, or Mexican casseroles. It's really tasty as a simple dip, or added to ripe, mashed avocados, to make a fancy and healthy guacamole.
Es muy delicioso!