A Women's Retreat and a Woman Retreats
Happy Friday everyone!
I have been struggling working for weeks on three sessions for a Community Bible Study retreat that takes place tomorrow, about 40 miles south of Duluth. I'll be speaking on the life of Corrie ten Boom, and how relevant her experiences are for us today, even though we'll never suffer the atrocities she did. At least I hope not. You never know, with the current world events. We are only given this breath, so even presuming upon tomorrow isn't wise, I know.
We have a few leaves left on our trees, but most of them are bare, and the cold and wind and grey skies definitely feel and look like we're getting ready for November. I can't believe Thanksgiving is next month! I don't know whether to say "Yayyyy!" or "Gaahhh." Maybe a little of both.
This morning I walked in the cemetery and carried the names of the women who'll be attending tomorrow's retreat with me. I hardly saw a soul there, so I prayed for each dear out loud, asking God to lead me in praying for each one. I am not one of those people like Corrie ten Boom who seem to hear the Lord's voice so clearly, although I have had a few times in my life where I can see He was moving me to do or say something. It was easier to see in hindsight, though. Today, though, words came to me that I don't think were mine, so I'm trusting that God has a touch for each woman there. We'll have young, oldish-young, youngish-old, and old at the gathering, and our CBS Servants Team will be bringing crock-pot soups and bread for a delicious lunch. Is there anything better than homemade soup and bread when the weather turns chilly?
I was happy to be asked at first, but since I've never spoken at a retreat before, that happiness dwindled pretty quickly as I read and wrote, revised, prayed, chucked, cried, read, wrote, prayed, and tried to put something together that would minister to mature women, many who have walked with God for decades.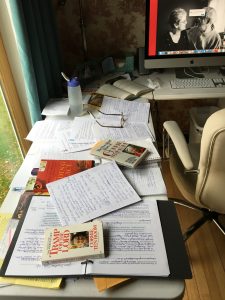 As I printed out the three sessions this afternoon, I had to try not to think about how so much of what I'm going to say is basic Christianity, and nothing anyone hasn't heard before. I don't know if it's my aging brain or what, but I have never had to slog through such blankness and darkness as I wrote. I don't assume it was all the enemy opposing me, although I don't rule that out. I know he hates God's Word and that's what I'm going to talk about.
Now that I'm done and have revised and trimmed as best I could, I'm going to pack the car with all my "retreat paraphernalia." CD player, CD, Bose speaker, iPhone with music on it for the Bose, books I'm quoting from, iPad with photos to share during the three sessions, my Bible, a little memento for each of the 40 women, two pairs of glasses, handouts, my notes, and more. I'll be up early to get things settled here before I head out around 7:30 or so.
I am fervently asking the Lord to accomplish something lasting in all of us.
After the retreat is over, I will retreat to my haven-home, tend to a few foster paperwork piles, clean my office, balance my checkbook, and get some rest.
I have a few new books I can't wait to read too. I'm going to start on A Soldier of the Great War next week. My dear friend Diane and I are going to read it and then meet in a few weeks to discuss it. Instead of a book club, we'll be a Book Duo, which makes me smile. I also just received Ann Voskamp's newest book called The Broken Way and hope to savor that as my Christmas/Advent read.
And in the best news ever, my cherished friend Denel is coming for a visit in a couple of weeks. (Click her name if you'd like to see our goofy girlhood photos.) She and I haven't seen each other in a year, and she's flying from SoCal to NoMin for a long weekend. I thought it would be nice to rent a cabin on Lake Superior together so part of her stay will be up the shore. This is one of the cabins.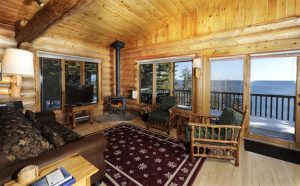 It's such a gift to have a friendship that has lasted 52 years. We grew up knowing each others' families, we took vacations together and went to the beach a hundred times, passed Nancy Drew books back and forth, and generally acted weird and laughed our heads off a lot of our childhoods.
I look forward to a crackling fire while the gales of November are blowing the Lake into a tempest right outside our cabin. As long as it's a manageable tempest. I look forward to reading, catching up with Denel, driving into Grand Marais for lunch or dinner, listening to music together, and savoring that bond that we will always have.
Well, it's time to start thinking about dinner here. I guess I'm all rambled out. Thank you for stopping in. If you feel like leaving a comment, I'd like to know what you're reading. Or just share whatever you like. I'll be happy to read.
Blessings,