Overflowing With Gratitude
One of the joys of my life is to sit in my plaid bedroom chair in the mornings and write in my gratitude journal. I'm in the 6500s now, which for a glass-half-empty kind of gal, is truly miraculous. I spend a few minutes listing the things I'm grateful for, sometimes making them into a prayer, and then I put it aside and open my Bible. And/or do my CBS lesson, which is on Matthew this year and is blowing my mind.
When something in my life becomes difficult or painful, I still try to sit and write my thanks. I might write,
"#5903 – Thank you Lord, that you are with us today, and that no matter how things look, you are at work in ________'s life"
Or when I'm afraid I might write,
"#6228 – You hold the future, Lord. Thank you."  Pretty simple, but very sincere.
I record all the time about how He has lavished such grace and beauty on my life.
"#5091 – Louisa's eyes, Lord! Thank you! You have outdone yourself with her."
Or "#6544 – Hot breakfast this morning while looking at Lake Superior."
Or "#3120 – The way Millie's stubbly tail wags – you made her Lord. Thank you!"
Or "#6539 – A text from Sue, Lord. Thank you for her life, please bless and help her."
And "#4597 – Your promise in 1 John 1:9 that if I confess my sin to you, you will forgive and cleanse me."
I thank Him for the big things, like His love, for Jesus's willingness to die on the cross for MY lies, my cheats, my laziness, my pride, my anger, my lack of love. I hope I never get over that, that Jesus did this for me. And for you. I thank Him for prayer, that we have an audience with the King of the Universe at any moment, and don't have to grovel and crawl to come to His throne of grace.
And I love to thank Him for little things, like a book in hand, the voice of a friend, the color of a pillow, clean water, dental floss, pain relief, handwriting, and more. And of course those are really big things too, when we think about it.
Do I ever despair and feel ungrateful? Yes! But I find that making myself sit down to write out my thanks to the Lord makes a difference. On good days, it brings me joy and strength. On bad days, it keeps me going.
Yesterday Sharon sent me some photos from the week of Michael's dying that I had never seen. She's a professional photographer, and she was cleaning out some space on her hard drive and came across the pictures she took 20 months ago, and she sent them all to me. I gasped when I saw the dozens of precious pictures of our family and friends as they all poured their love out on Michael and said goodbye to him in their own personal ways. I'll be posting some of those photos now and then, even though a year and a half has passed now. Being without my beloved is still my reality every day, and even though the waves of grief are definitely coming with less frequency, when they do hit they take me under. Which is normal, I have learned.
So here is another thing for which I'm so thankful…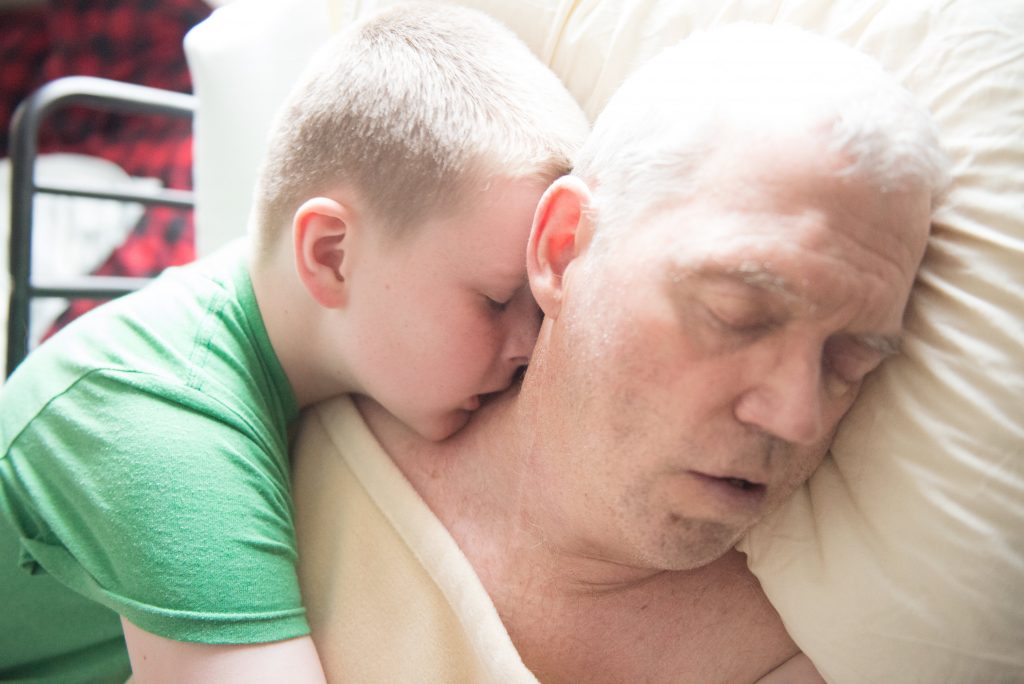 The beautiful and heartbreaking memory of my oldest grandson climbing up into Michael's hospital bed in our bedroom, two days before Michael flew to Jesus. Mr. McBoy's love for his grandpa. And even though by this time Michael wasn't able to speak or even open his eyes, I believe he heard and felt and knew. He heard our songs and prayers and our thousands of I-love-yous. He felt our hugs and kisses. He knew he was a deeply loved man. And he was secure in what was waiting for him on the other side of that deathbed.
I think I could fill up an entire journal about God's mercy and faithfulness, just regarding Michael.
Therefore, as you have received Christ Jesus the Lord, walk in Him, rooted and built up in Him and established in the faith, just as you were taught, overflowing with gratitude. Colossians 2:6-7 HCSB

Blessings,