Our little Miniature German Schnauzers have kept us entertained for years, and we are pretty weirdly devoted to them. Edith and Mildred are like oil and water, however, and I wrote about how opposite their personalities are, here.
Now we are coming to the latter days of Edith's life. She is approaching 15 years old, which in small dog years is almost 90. She doesn't eat much and we try to hand feed her to make ourselves feel better. When she manages a few morsels we're so happy. She is skin and bone, which doesn't really show under her wild and ungroomed schnauzer hair. Schnauzers don't have fur, which is why they're a good choice for people with allergies.
Edith is also nearly deaf, and only hears the loudest of noises. Her cataracts are so cloudy we're surprised she sees anything at all. In the dark she behaves like she can't see one thing. Edith has had pancreatitis for years and we've fed her a low-fat prescription diet which can't be very satisfying. Once in a while she can have some apple and carrots. Not long ago I hadn't put on my thinking cap for the day and I spooned some leftover eggs in her bowl, which she devoured. Eggs have fat in them, and the rest of the day she was deathly ill, throwing up and shaking from pain, and the day after that she laid on her side in our living room in a semi-coma. As long as she was asleep, I was hopeful she would recover, and after 30 hours she did. I will not make the egg mistake again.
I watch her carefully for signs of pain, because I know she trusts me to take care of her, and as soon as I see suffering I will drive her to our veterinarian and say goodbye to her, which makes me cry to even consider. I know we are getting close to that day.
Because she's an old lady dog, her bladder has shrunk to the size of a thimble, and she needs to be let out at least once during the dark of night. Sara and I take turns having Edith sleep on our beds, and if Edith lasts until 4:00 a.m. we think that's so great and we croon and tell her how well she did, and what a good girl she is. After her middle-of-the-night potty run, she settles right back down for sleep until around 7:00 a.m.
A few mornings ago, Sara let Edith out, and thought it was odd that she didn't return to the door like she always, always does. Sara went out to find her in the yard and Edith was gone. In her 90 doggy years, she has never wandered out of the yard one time. We have an electric dog fence and it took her one day to be trained on it. She has known the boundaries and stayed away from them, even when other passing dogs are on the front sidewalk barking at her. You can see her obeying that invisible fence even without the collar on. Sara came to my room, understandably distressed, to tell me about Edith, and we quickly dressed and drove off in separate cars to look for her. The rain was coming down in torrents, and thunder was booming and lightning blazing. There was no way to call Edith as we drove, because she wouldn't have heard us. She wouldn't have seen us either, since it was pitch black, pouring rain, and wherever she was, she was in unfamiliar territory. We knew she was scared and lost.
Sara and I criss-crossed the streets in our area for close to two hours, driving slowly, looking into yards, on front porches, under bushes, praying that Jesus would bring Edith back to us. I cried and cried, telling the Lord I didn't want her end to be like this. I wanted her to be with us, held, petted, kissed, loved, when it was her time to go see Michael.
I needed to get home to get breakfasts and meds ready for my foster gals, so I left Sara to the search and came home so sad. After our gals were seen safely off to their respective jobs, I looked for a recent photo of Edith (who looks like Sesame Street Wolf when she hasn't been groomed for months) and was just going to my office to put a lost ad on Craigslist, when the doorbell rang. The sun had started to come up but it was still darkish outside, and I opened the door to see a man in a camouflage military uniform, bicycle behind him, holding a drenched and whining and scruffy Edith in his arms. Thankfully both dogs have tags on their collars with their names and address and phone numbers. This 30ish blond man with the huge smile asked, "Is this your dog? I found her down on the trail." I ugly cried and said, "We've been looking for her for hours! Thank you!" I took Edith into my arms and she whined in doggy relief. I gave the man a big hug and as he walked down the steps to ride and mounted his bike (he must have started out before the rain fell) he turned and asked, "What's her name again?" When I told him, he smiled, waved, and rode off into the downpour.
I called Sara and told her, so she came happily home from her search, and we sat with Edith and dried her off as she whined and trembled in what was obvious relief.
And then? Aging, arthritic Edith Elaine Bubbleloo did the Bucking Bronco.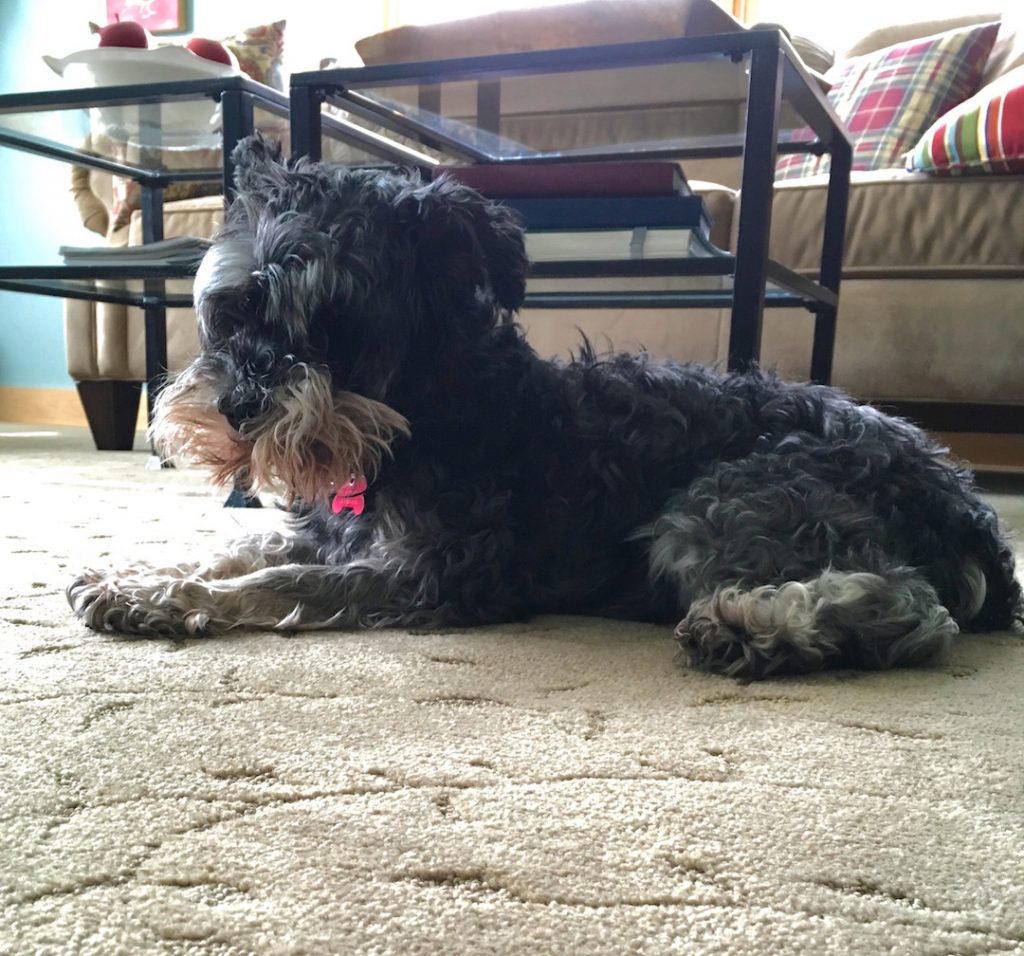 It's what she used to do when it was time to eat. She would excitedly jump around in a way that looked just like a rodeo horse, and we would always declare with our teeth gritted and our voices altered (because that's what we do when we talk about our dogs), "Bucking Bronco…Edith is doing her Bucking Bronco dance! Oh, dear!" I wish you could see and hear how we say it, because it's really quirky and alarming and strange, but we don't mind. And Edith did the Bucking Bronco for about five minutes, as if to say, "I'm home, I'm home, I'm home!" It was a beautiful thing to see.
So now she's back to sleeping about 22 hours per day, drinking well but hardly eating. And I am back to watching her carefully and wondering when the decision will have to be made.
Mildred is the dog we call The Bad Seed for various reasons, even though we love her too. But Edith has been loyal, obedient, adorable, and devoted to us her whole life. She even held vigil under Michael's hospital bed for three days as he lay dying. Michael loved these doggies so much too.
I plan to share how things are going in our weekly study soon. We are being abundantly blessed by The Hiding Place, and the lively discussions are a delight to me.
Have a great weekend friends,