Things Lost
"This is what the past is for! Every experience God gives us, every person he puts in our lives is the perfect preparation for the future that only he can see."   — Corrie ten Boom

Yesterday I had three of my nine grands with me for a few hours. Mrs. Nisky had a cello lesson, so we drove up just north of Duluth and dropped her off for that. Then Li'l Gleegirl and Louiser and I drove to one of the larger grocery stores called Super One. We picked up a watermelon, some bananas, organic half and half, lean ground beef, and a rotisserie chicken, among other things. They both sat in front of one of those shopping carts with a kiddie car attached to the front of it, and by the time we were halfway through the produce section I leaned down and whispered to them to please limit the beeping of the squeaky horns in the little pretend steering wheels to once every aisle or so. Shopping in a fairly crowded store while maneuvering the wide turns of a forty-foot long shopping cart with two little hands continuously sounding the beep-beep-beep-beep-beeps made me realize how very alive I am.
When we were ready to check out, I unloaded our groceries onto the conveyor belt, reached for my wallet in the depths of my Vera Bradley purse, and my heart sank. My wallet was gone. I knew right away it had been stolen. The reason I thought this was because everything to do with my purse is large and intentional. I always buy a big purse (usually a pretty Vera Bradley fabric tote) so I don't have to rummage. I look at other women with these tiny little clutches only big enough for cash and credit cards and I think, "How can you possibly fit your computer in that?" My Macbook Air will fit in my purse, a large library book will easily fit, and the other things I carry are pretty well organized. The pens are together in one side pocket of the purse, my cell phone in another, and my lip glosses are kept in a zipped pouch that's easy to find. My keys are on a huge jailer's key ring and I have never lost them in my life.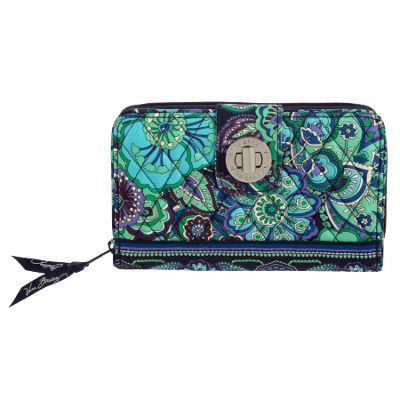 I also like a large wallet, so I can fit every wallety thing in it — cash, credit cards, my driver's license, rewards cards for Great Harvest Bread Company, Qdoba and Walgreen's, band aids, pictures of my loved ones, etc. I can reach into my purse without looking and grab the large key ring or the large padded checkbook or the large pouch of lip gloss or the large book or the large wallet, and this system has served me well for years. I don't lose things, I don't rummage around in frustration, and I hardly ever have to give my purse or its contents a thought.
But sometimes intentional and organized women can be idiots.
Like when they're shopping in a crowded grocery store with their granddaughters and they don't zip the top of their well-considered and spacious purse. My wallet was at the bottom of my purse, so whoever decided to just slip their hand in yesterday saw the unzipped opportunity, watched me very carefully and did it within about 2.5 seconds. Thankfully the woman at the cash register let me write a check without showing ID.
We picked up Mrs. Nisky from her lesson and drove home. Of course I looked for the wallet at home, but I knew it had been with me, so looking in trash cans and in the garage and under paperwork was fruitless. I called Super One and nothing had been turned in.
I spent the next hour calling my credit card companies and canceling my cards, and I texted a few friends and asked them to pray. My prayer is that whoever stole the pretty padded blue and green wallet took the cash and then discarded the wallet in a public place. I'm hoping its bright colors will draw someone's eyes to it, and they will find it and contact me from the information on my license. I want my pictures back.
I fretted quietly for about an hour, I really did. But then I thought of the quote above by Corrie ten Boom, and I decided to believe that my wallet was in God's possession, no matter whose human hands it was in. I praised the Lord out loud while I was emptying the dishwasher, thanking Him that my checkbook wasn't taken. I thanked Him for my grandchildren, for my home, for the things I still have. I asked Him to give me His perspective on this little tiny thing that had happened, and I think He began to do just that.
I started thinking about all the people I know who have lost things, or are lost themselves. And I was ashamed to realize once again that I don't always pray for the most important things with the care, passion and focus I was feeling as I was praying about my wallet. Gahh.
So I prayed for my friend whose relationship with her daughter and grandchildren has literally been stolen from her. I prayed for my friend who has lost the marriage and family life she cherished. I prayed for my friend whose son has lost his way and isn't reaching out to the hand Christ offers him. I prayed for my friend who lost her beloved husband this year, also to a disease caused by Agent Orange, like my Michael.
This morning I woke up and was thankful to tell the Lord again that I knew my wallet was in His control, and that I would wait on Him for it to be returned to me. Not the money, but the other contents, especially the pictures of my human treasures. I asked Him again to smite my soul so that I care about lost people like He does.
But I also remembered the parable Jesus told about the lost coin. Even though He was teaching people how wonderful it is when someone repents and turns to the Lord, I think He was also acknowledging how even a lost possession can bring distress, and interrupts everything in our lives until it's found.
"Or what woman, having ten silver coins, if she loses one coin, does not light a lamp and sweep the house and seek diligently until she finds it?  And when she has found it, she calls together her friends and neighbors, saying, 'Rejoice with me, for I have found the coin that I had lost.' Just so, I tell you, there is joy before the angels of God over one sinner who repents."
— Luke 15:8-10  ESV

So when my wallet is returned to me, will you rejoice with me? Thank you! I think I heard a yes out there somewhere.
And until that happens, I will ask the Lord to give me His heart for things and people who need to be found and rejoiced over.
Is there someone or something lost to you? I will pray for you today, if you leave a comment. (You can remain anonymous when you leave a comment if you like too.)
In anticipation,