Flowers, Femurs and Flying First Class
It's the first time in several days we haven't had nine people in the house. Last night Jeremy and Carolyn returned from their trip to Yew Nork (a la five year-old Audrey), and their four little ones went home with them. It was sweet to see the children (ages 11 to 5) run at them and get swept up in hugs and kisses and whispers about how much they were missed. We tracked each of their flights with a live flight tracker online to see what kind of progress they were making, "Oh look, they're over Lake Michigan right now!" "It looks like the plane is circling before landing!"– and at one point Audrey looked at the little airplane moving every-so-slowly over the map of the US and said, "Are mama and daddy in that plane?" It's hard to explain representation to a little one.  🙂
The children know that Grandma had an operation on her knee and were very considerate. One afternoon as they were all playing in our bedroom and I was elevating and icing my knee on a pile of pillows, Vivienne and Audrey offered to massage my knee for me, and were very gentle. After about five minutes Vivie said in her sing-songy voice, "It feels just like I'm massaging a cactus." I love the unfiltered thoughts of children! We did one thing each day, things like visiting a wonderful park down by Lake Superior, and driving through a fast food place to get soft-serve cones, and visiting the cemetery so we could feed the dozens of ducks and geese that live near the ponds there, and going to the library. We knew from past visits that a blue heron can sometimes be seen in a distant pond at the cemetery, and Clara wanted to drive past as we were leaving to see if we could spy him. What a happy thrill — he was there! Standing very still amongst the tall reeds at the very edge of a large pond, long neck curved with his head down near the water waiting for a fish. The wonder and excitement of the children lifted my heart. We pulled over and watched for a while, and when he saw us he flew to another part of the pond. This video is not of our heron, but the scene and the bird look almost identical to what we saw.
My friend Denel and I are getting excited about our upcoming Second Annual Lupi-Soo Convention. In a couple of months we'll be flying to Seattle (she from Southern California and me from Northern Minnesota) and staying there and on Bainbridge Island. I'm obsessing about how I'm going to manage a nearly four-hour flight with my knee, since sitting at the dinner table for 30 minutes is an exercise in endurance and pain management. I'm a Long-Femured Woman and haven't enjoyed flying since 1981 when I was on a flight so horrible from Los Angeles to Denver even the flight attendants were strapped in and looking terrified. I hadn't known planes could actually gallop until then. Anyway, if you add long femurs to minimal leg room on a plane so that the knees are just touching the seat in front of you and then that passenger decides to recline her seat for the duration of the flight, and throw in a post-surgical knee that won't quite bend like its supposed to yet, you have a recipe for misery. So I did what I've never done in 55 years. I actually cringed as I did it too. It seemed so wasteful. So gentry. So la-dee-dah.
I bought a first class ticket.
I even have to grit my teeth as I'm typing it here, to say I spent an extra $300+ so I can have enough leg room in a first class seat on a 767 that will (hopefully safely) fly from Minneapolis to Seattle this fall. But it's done, and I'm determined to enjoy it. As much as an anxious flyer can enjoy being strapped into a hollow metal tube that screams through the sky at 600 miles per hour almost seven miles above the earth.
Anyway, Denel and I are going to read three books before we meet for our long Lupi-Soo weekend, books that are either about Seattle or Bainbridge Island. We have no idea if they'll be any good, but we thought while we sat relaxing and catching up with each other just a few feet from Puget sound in our beautiful cottage each evening, we'd have our own little book club and discuss the three books we read. The books are this one, this one and this one.
Today I'm going to call the chimney guy and tell him to schedule us for getting our chimney and flue ready for a gas insert installation this fall. We just might have cozy fires in our dining room hearth this winter. I'm also going to ice my knee. I'll do a load of laundry and spend about 30 minutes on some paperwork. And then I might elevate and ice my knee again. Then I'll pick up one of our Fosters and take her for a hair cut. Then I'll come home and sit for a few minutes on the leather recliner and drum my fingers on the rolled arm and dream about what it would be like to have a personal chef so that I had a year off from cooking. Right about that time guilt will kick in because I'll realize I'm not being grateful for food and a stove and a home and mobility and the abundance that we in the west take for granted. Three other grandchildren will be coming for a visit this afternoon, and I think I can foresee a game of Farkle or Gin Rummy in our future. And there's a book I've read aloud to them that needs to be finished. Then I'll get up and go to the kitchen and start rummaging around for what to prepare. At the close of the day I'll do my Gideon study and then ice my knee again.
Next, if you had a small elegant bathroom decorated with black and white toile wallpaper (which, sadly, we don't), what kind of floral arrangement do you think would look nice there?
How about this one?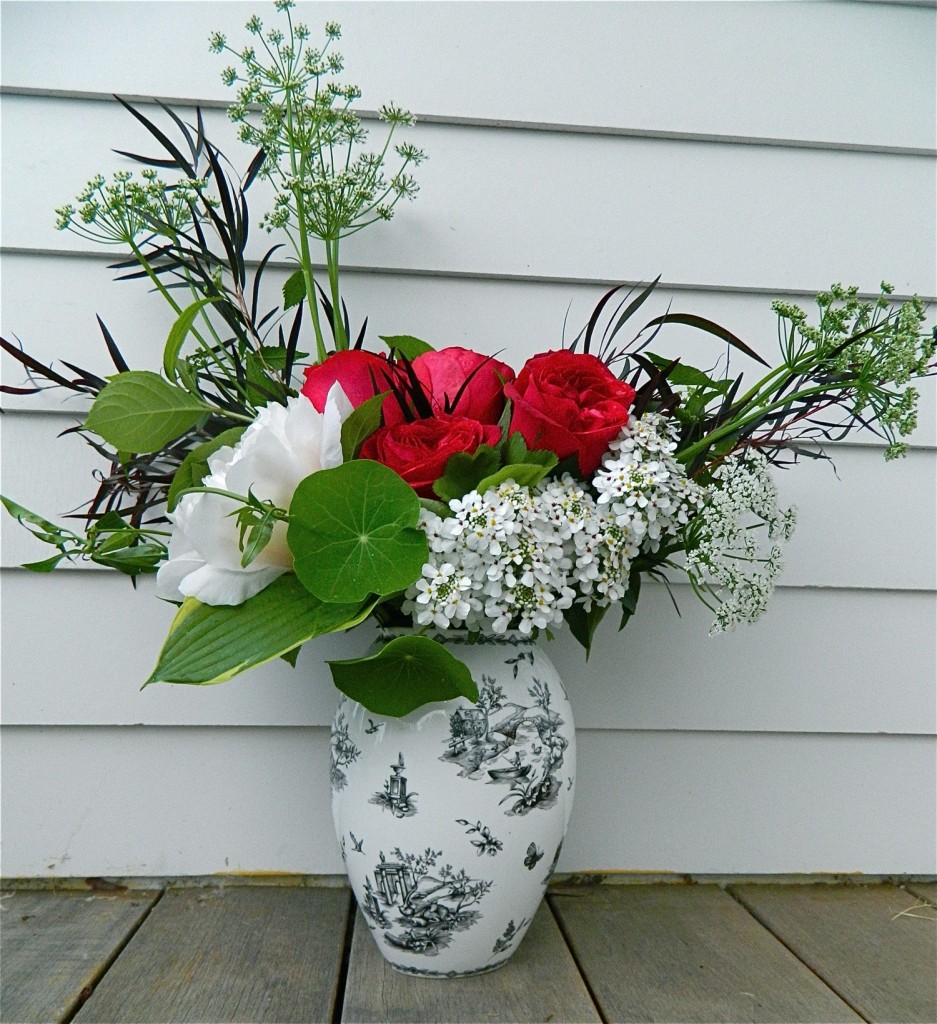 I thought so too.
And if you had a large, grand foyer with two tables and mirrors to the right and to the left as you came in (which we don't), and you thought two tall arrangements that mirrored each other would be nice for those tables, do you think these two would do?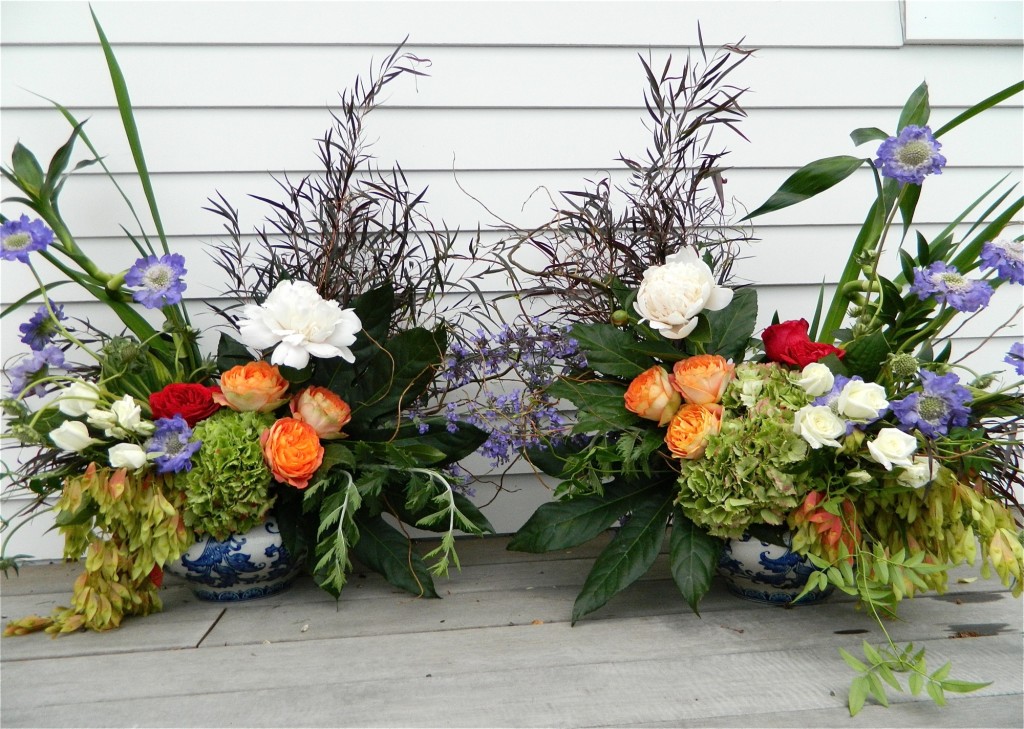 I couldn't agree more.
These are some floral arrangements Sara did for a family hosting a very fancy dinner party recently. They have nothing to do with this post but since I'm getting ready to do a post called "Knee Replacement Journal — Part Five," I thought you'd already seen enough pictures of scarred and swollen knees and piled pillows and bandages and such.
Even so, my latest x-ray spotlighting my new titanium tibia will be forthcoming.