A Bit of a Rant
I subscribe to a couple of magazines. I like Better Homes and Gardens and Relevant. And recently I received a nice gift subscription for Real Simple, and I'm enjoying that. So I have no idea why, when an ad came in the mail asking if I'd like to subscribe to Good Housekeeping magazine, I said yes and sent off the check. Probably because I remembered that my mom loved Good Housekeeping, and probably because the subscription price for one year was only $7.50.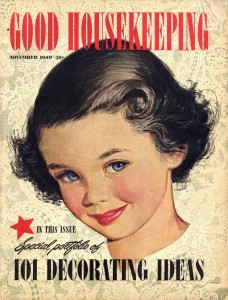 Well. July's issue of Good Housekeeping arrived with three hot dogs on the cover, and I saved it for later to leaf through. Later that evening when I sat down to see if there were any good recipes or decorating ideas, I stopped at the article that said, "So go ahead. Be your bad self." And here are the ten things I was encouraged to do (verbatim).
1. Gossip (next time an acquaintance does something selfish or even unethical, spill every gnarly detail.)
2. Flirt with a man who's not your husband (make eyes at the waiter when your mate's in the loo, etc.)
3. Read erotica
4. Spend the day in your PJ's
5. Procrastinate, then tell yourself you're being creative
6. Don't censor yourself (using colorful language may even help you bond with others. Plus, sometimes you just have to toss an F-bomb!)
7. Eat two desserts, or have a third cocktail.
8. Be gleefully grabby (taking the last cookie, not donating to charity)
9. Be selfish in bed.
10. Get mad and stay mad. (instead of adhering to the adage "Forgive and forget," it's sometimes wiser to remember)
Okay. I could go on about each one of these but won't, because I have about ten minutes before my knee starts to ache and I have to go lay down and (you've read this before here) ice and elevate.
But I was a little stunned. The article wasn't in jest. It was really encouraging the women who read this old, respected magazine to just sow destruction at every possible turn. I have been known (especially lately) to stay in my nightgown, and to eat two desserts. And I'm a procrastinator when it comes to paperwork and it doesn't feel very creative. But some of these items of advice are astounding to me. I thought of my granddaughters who come over frequently, and what they might have thought if they'd picked up Grandma's Good Housekeeping magazine and read what adults say should be a part of your life.
What came to mind right away after reading the Good Housekeeping list was my desire to allow the Holy Spirit to empower and change my life more, so that true fruit will grow. Here's another list to consider: But the fruit of the Spirit is love, joy, peace, forbearance, kindness, goodness, faithfulness, gentleness and self-control. (Galatians 5:22-23)
I'm not a prude, and I can't claim to have always used the proper language in my life. But this article got me a little bit miffed. I read the ten points to Michael and he surprised me by saying quietly, "Cancel your subscription." I blinked back at him and then thought to myself, "I believe I'll do just that."
And I did. I got my refund check for $5.45 in the mail last week.
Are you familiar with Good Housekeeping magazine? What are your thoughts? I'd also love to know what magazines you subscribe to.
Off for my date with some ice….