She wakes at 4:35 a.m. and is satisfied with that. If I go back to sleep, fine, if I don't, this was a decent night's sleep. She reaches over to the nightstand in the dark and feels for the little bottle of Systane eyedrops, peels her bone-dry upper eyelids from each eyeball, then squeezes two soothing drops into each eye.
She notices how dead quiet it is here in the woods, in this log cabin loft she calls The Tree House. Windows behind the king-sized bed, to the right of the bed, and across the small loft beyond the foot of the bed are filled with foliage and sky, prompting the name. Being in the middle of eighty wooded country acres means there are no nearby streetlights, businesses, headlights, or glowing windows from neighbor's houses. At home near Lake Superior, even though her house is in a quiet neighborhood, occasional sirens can be heard, a streetlight stands and beams close, and semi-trucks can be heard heading south on I-35, two blocks away.
She puts on her glasses, pockets her dang phone, slips her toes into her Haflingers with the embroidered sheep on the tops, and eases her way down the precarious wooden steps in the dark. "Be careful," he urges as he throws back the covers and sits up. She takes it one step at a time.
The sun is barely paling the sky over the trees of his woods. Near his recliner she checks the indoor/outdoor thermometer and calls up, "Thirty-six outside."
"What is it in here?" he asks, and she peers again in the dim cabin living room and answers, "Sixty-three." She clicks on the air source heat.
She pours some organic half and half in a large mug decorated with a cardinal pair, then pours cold brew over that. He comes downstairs and makes his own pot of hot coffee, turns on the floor lamp with the painted trout and angling gear on the shade, and they sit together on the love seat, ready to read.
It's October, and an odd date, so that means she reads first. He leads on even days. Her reading is from the gospel of Mark, the account of the Zebedee brothers asking Jesus for special seating in heaven. After she reads the passage and the meditation, he takes out the smaller devotional and reads aloud from the book of Hebrews. Because of what Jesus did, God's children can approach His throne of grace with confidence, to obtain the mercy needed every day, every moment.
They sit and look through the windows and see what's left of the autumn leaves, and share quietly together about what confidently approaching the throne of grace really means. Not having to grovel and beg, not having to make an appointment and hoping the King would grant a short audience. Can He be so merciful, so welcoming?
They eat a simple breakfast. He likes bran flakes and Cheerios together in one bowl, with cranberries and chopped walnuts added, and pours milk and Madagascar vanilla kefir over it. She cuts up an apple, scoops a tablespoon of peanut butter onto her plate, and joins him at the table, where he has already put the cooked links of chicken and sage sausages they enjoy.
They watch the half dozen blue jays swooping to and fro outside. He clears the table and she says, "I'll do the dishes. You made a nice dinner for us last night." She puts on some jeans and a turtleneck and folds her flannel plaid nightgown and places it in her overnight bag on the glass case with the real stuffed pheasants in the dining room. He dons a hat and a heavy flannel shirt before heading out to put out food for the birds and deer that live in his woods. She plays some Celtic music from her dang phone, and washes the dishes while praying for some marriages on her heart.
The low autumn sun is streaming golden through the cabin windows and the remaining leaves on the birches near the pond rustle in a way that always reminds her of applause. "Aspen leaves are God's sequins," she read online recently and smiled, agreeing. And birch leaves too. The trees of the field will clap their hands….
She gathers her journal, her bold point pen that flows so smoothly and calligraphically, her CBS study of Daniel, and a book on the topic of rest for the believer, then feels for the button on the side of the loveseat that lifts her feet and legs up off the ground in comfort. She loves to settle in here, thinking and praying and reading and writing.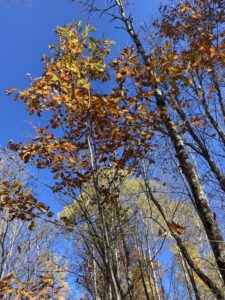 A couple of hours later, they both pull on socks and walking shoes, and head out into his woods, walking the trails he cut over twenty years ago when he moved to the Minnesota Northwoods after retirement. He knows she isn't as steady on her feet lately because of a sudden and puzzling iron deficiency, and her wonky prosthetic knee. He retrieves two chest-high walking sticks he's cut and sanded and holds them out to her with a smile. Each step they take is crackling and loud with the fallen oak, maple, poplar and birch leaves carpeting the ground up to their ankles. Chickadees flit and flutter across their path, and they pause to watch them here and there.
He points out the blueberry patches along the trail, long picked bare by wild turkeys, and probably a black bear or two. They stop to inspect hard mushrooms growing on the sides of trees, and bark growing over them. They find a place deeper in the woods where an old cabin foundation stands. Over a century ago who lived there? Further in is an old sink and some kind of metal headboard piled together and nearly covered over by brush growth. They walk by a giant white pine, long dead and stories high, slowly killed years ago by porcupines. He knows she doesn't like to hear about animals suffering, but he tells her grimly that he shot the porcupine when he could finally catch it in its tree-crippling ways.
They come upon a mound of dirt half the size of a barrel. "Ants," he mutters. He shows her things she would never have noticed on her own, and explains things he's observed from living in the forest for almost a quarter of a century. He can see where bucks have scraped the trees, what a timber wolf has eaten by its (surprisingly huge) scat, which trees have unseen insects slowly destroying them, which raptors have been decreasing his red squirrel population.
They stroll into a clearing and she considers taking her cardigan off as the sun is warm and the sky cloudless and dark periwinkle. He points to a four foot long depression in the grass where a large deer had recently rested, and she sees the pronounced outline, curved on one end where its rump had been. A few strides further they see the deer droppings, so fresh the animal must be close by. Are they being watched and sniffed? Is there a twitching nose back in those trees, a white tail ready to raise an alarm?
By the time they walk a mile, she's thirsty and looking forward to taking off her hiking shoes and SmartWool socks in the cabin. She drinks deeply of Lake Superior water, brought to his place in jugs from her house, as they both think it's the best tasting water they've ever had. She reads a while with her feet up, then gets up to put some jasmine rice on to simmer while she cuts up all the ingredients for a grain bowl meal. Squash, green onions, chicken breasts, salsa verde, cotija, and seasonings. He sets the table and pours Fever Tree Ginger Beer for both of them, and they pray for their families before they tuck in.
The sun begins to sink behind the trees skirting his land and an autumnal chill seeps in. She wonders if it will dip into the thirties again tonight while they sleep in The Tree House. He does the dishes while she takes notes from a podcast she's listening to for the second time. He nods his head as he listens too, and she writes down "Reticular Activating System" and "neurobics" in her journal, and decides to research these in the future.
Tomorrow morning she will pack her overnight bag and he will carry her things to the Outback, and they'll hug and then wave wistfully to each other as she drives his long and winding driveway out to the county road which will lead to the highway that will take her home.
They've been married two years now, and have no plans to live together permanently. His home is here in these peaceful and glorious woods. He built it himself, and loves his land. Her home is near the shore of the largest freshwater lake in the world, close to her daughters and grandchildren, and she can't imagine making a purposeful decision to change that.
They will talk on the phone right before they both go to sleep, she in her lovely oasis and he in his cozy tree house cabin loft.
Sometimes she dreams of her beloved husband Michael, gone from her for almost seven years. And he tells her of his infrequent dreams of Rosemarie, taken suddenly two months before Michael.
How and why certain lives, previously unknown to each other for decades, eventually meet and meander and intertwine so late in life, is still a mystery to them both.
Friday greetings to you, friends and family.  I saw this circling around and haven't done something like this for years. In times like these it doesn't hurt to be a little light-hearted, does it? These are easy enough choices — I'll share mine, and in the comments below, let me know yours:
Cake or pie?  Cake — Duncan Hines Devil's Food cake with Virginia Sooter's peanut butter and chocolate frosting, to be exact. No white cake, but lemon and carrot will do too.
Coke or Pepsi?  Pepsi, hands down. I can tell the difference blindfolded too. I probably have 3 glasses of Pepsi a year, though. I give my one kidney Verna lots and lots of water.

Comedies or dramas?  Dramas.
Reading or listening? Reading, although I listen to an audiobook now and then.
Driving or passengering? I love to drive.
Sports events or theater events? Theater without a doubt, especially if my daughter Carolyn is in the play.
Chips or popcorn? Chips. Lightly salted potato, sometimes tortilla chips if I want my knees to ache.
Mountains or beaches?  Mountains, with lots of trees.
Fine point pens or bold point?  Bold.
Coffee or tea?  Cold brew coffee with half and half in the mornings, tea in the afternoons.
Dogs or cats? Dogs and more dogs.
Birds or reptiles?  Birds
Early mornings or late nights?  Mornings for me. I haven't seen a late night in a long time.
Firm beds or plush?  Plush.
White walls or colored? The darker and richer the color, the better.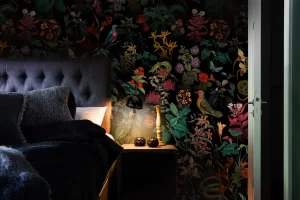 Hot weather or cold? I'd prefer fall weather, but I'd take cold over hot anyday.
A month in Ireland or a month in the Caribbean? Green, green and blarney.
A lively gathering with several folks, or one on one?  One on one.
Idaho or Florida? Idaho.
North Carolina or Washington? North Carolina
California or Minnesota? I'm a Minnesotan to my marrow now.
How about you? You don't have to answer all of these, but what are some of your preferences?
It's almost my bedtime on this first Saturday night of my favorite month — October. The leaves are blazing and causing me to marvel as if I've never seen orange and yellow and crimson before. The only tiny problem with today is that it was super humid, and I just don't think that's right for October. We've had unusually tropical weather for months now, so we look forward to cool, dry air that makes us so invigorated we have to walk and cycle and put on turtlenecks.
I had plans and a few errands to run today, but ended up scrapping them. I have had a few sluggish days as my body is hopefully healing from a dark foray into iron-deficiency anemia and resulting symptoms, but this morning, I woke after a decent night's sleep with a determination to get a lot of things done at home. I made a long to-do list before I went to bed last night and I'm feeling grateful that I crossed every task off except one. And there's still time for that if I stay awake long enough.
I did two loads of wash, paid bills, balanced my checkbook and reconciled my account from the statement to the ledger, cleaned the kitchen, cut up a huge watermelon into planks and put them into containers in the fridge, washed out the kitchen trash container with hot soapy water, dealt with some recycling, cleaned the inside of my car out, did my Community Bible Study lesson (so good, on Daniel), put Millie out and brought her back in about seven times, got art supplies divided and ready for my granddaughters' fall art class that began today, ordered groceries and put them away after they were delivered, wrote out two birthday cards and mailed them, wrote in my prayer journal, prayed, cooked grassfed beef and cut up a whole bunch of vegetables and made Harvest Soup, and after it cooled, put it in storage containers and put it in the fridge.
Now, I'm tired. And achy. Probably because I had corn chips yesterday, which 100% of the time make me feel like I've been beaten with a baseball bat the following day. So why isn't that a deterrent, you ask? I am asking the same question.
I've started a wonderful book by Mary Marantz called Dirt — she's a gifted writer and I highly recommend it.
Later this month Lloyd and I will celebrate our second wedding anniversary by driving up the North Shore of Lake Superior and staying in a wonderful place so close to the lake you could almost reach out and flick the frigid water if you weren't on the second story. We hope to hike in the brilliant woods as long as I don't eat any corn chips to poison myself and set my joints on fire beforehand. Each time we go to Grand Marais and the Gunflint Trail, I hope and pray we'll see some moose. We see deer and foxes and other critters, even black bears, but so far no moose.
My three daughters are so busy with happy pursuits lately. My oldest daughter Sharon just signed a book deal with Penguin Random House and has to have it written by June of 2022. That will be a big undertaking, especially since she also hosts her own podcast (Sharon Says So) and that alone is a huge job. Sharon and Chris and family bought a new house and moved in recently — it's set on 10 private, wooded acres and they love it. Just driving down their driveway feels like you have to breathe an exhale of peace. Their three dogs love it too. Rosy the chocolate lab dunks herself in their pond a few times a day, Lucy their mutt is the patroller of the property boundaries, and Molly, the tubby yellow lab (also known as Vicious Malicious) fearlessly runs to greet all delivery vehicles and people, hoping to make new friends.
My middle daughter Carolyn and her husband Jeremy and their family just moved into a different house too. Their place is a beautiful old brick mansion with a green tile roof and the most gorgeous floor to ceiling windows, set on a little over three heavily treed acres. The house was built in 1915 and sat empty for a few years, so a significant level of dilapidation has occurred, but that hasn't daunted them. They are busy every day peeling old wallpaper, installing new toilets, tearing down cabinets, putting in working electrical outlets, and so much more. Carolyn is documenting it all on her TikTok account (which I'm not on, but I still look at it, and you can too if you like) under HomeSweetVictoria. There are lots of pictures on Instagram too. I'm so happy for both families who love their new homes.
My youngest daughter Sara has begun nursing school and is in the thick of difficult studying and tests and presentations, and she shares with me a lot of what she's learning, which is mind-boggling. The things they are supposed to know already, after only five weeks of school, is pretty advanced. She also has two other jobs, so she's occupied from early morning until late at night. I'm happy for Sara as she moves toward her career goals. She has lots of ideas about what kind of nursing she might want to pursue once she gets her RN.
I think about retirement once in a while, but I'm still not ready yet. I love my job and my foster care resident is happy living with me. She's been with me for 13 years now. We do so well together and she has worked hard and made so much progress and come off of so many meds these past years. It's wonderful to see her thrive.
I took this picture of my house the other day when I was coming home from Lloyd's cabin in Bruno. Home. It has come to mean so much to me. I love my white corner house with views of Lake Superior from almost every room.
I have lived in 17 homes in my life, owned the last three of them, and hardly a day goes by when I'm not overcome with gratitude that I own this comfortable and well-built place. It was built in 1948 and the previous owners did a lot of renovations in the early 2000s that bless me every day. There isn't much yard, but at this age (I just turned 64) I don't want a big yard to think about mowing, or lots of places that need shoveling in the winter.
When I get up in the morning, and that seems to be earlier and earlier lately, I do several things. I light a beeswax candle in my bedroom, pad quietly down the hall to get my Stok cold brew coffee and my 20 ounce Yeti with water and ice, then return to my room. After I set my mugs down, I turn on a little quiet music, hunker down in my plaid chair, wrap my always-cold neck in a prayer shawl Sharon knitted for me years ago. I do my CBS lesson, pray for my family and friends, write out prayer requests, thoughts, dreams, scriptures and ideas in my beloved Leuchtturm, and prepare for the day. If I don't have someplace to be on a given day, I might sit down in my chair around 5:30 a.m. and won't be done until 7:00 or so. Not that I spend that much time praying, but it has become a vital and nourishing time for me that I hate to deviate from. I do skip when I have to, but the day never feels quite right if I begin without that time. My chair is placed in my bedroom on exactly the spot where Michael's hospital bed was the week he was dying. It seems very sacred to me to sit in the same place where my husband left this earth to meet his Savior.
What are the things about your home that you like best? What would you change if you could? I love my view, my spacious bedroom that feels like an oasis, the deep bathtub, and my attached, heated garage. I would like more kitchen cabinet storage if it were possible, but that's such a small thing.
I'm still slowly going through things, filling up bags to take to the Goodwill, and paring down at a glacial pace. Books are very difficult for me to sort through and donate — they feel like faithful friends who are very content living on my many bookshelves. It feels right and good for me to keep simplifying and getting rid of things I have too many of. I watched a short video recently of a professional organizer I like on Instagram, and she asked her followers how many towels they thought were needed in their homes? She suggested that only two towels per person are needed and I was shocked. I have towers of towels stacked and crammed in my bathroom closet. I went to that same closet after considering this, and decided three each was a better number for me, and I donated all the extra towels I'd been keeping for years. The space it freed up in my closet made me feel like I wanted to choose another area right away and do the same. Why did I think I needed twenty towels?
Well, this was a lot of random rambling on this Saturday night. I hope you are able to see some lovely fall colors where you are. I hope you have a good book to read, and that you have a place to call home you love. I pray you have a friend who is a soft place to land, and that the Lord reminds you of how deeply He loves you and how trustworthy He is. We need reminding, I think. I know I do.