Is anyone getting tired of wedding pictures yet? If you are, just click away and come back in a few days.  🙂
If not, here are the last few I'll share. Below, we are all laughing after being pronounced husband and wife, because my pastor didn't say the words, "You may now kiss your bride," and we started back down the aisle as the recessional music played. Sharon gently reminded us that this traditional end of the ceremony hadn't occurred, so we halted, had a quick peck and enjoyed a good laugh with the whole congregation.
This is the afternoon of Saturday, October 5th, after the wedding ceremony, the reception, some of the cleanup, and the loading of the cars in the pouring rain. We are back at my house, and the first thing we both did was take off our wedding shoes and put on some comfy footwear.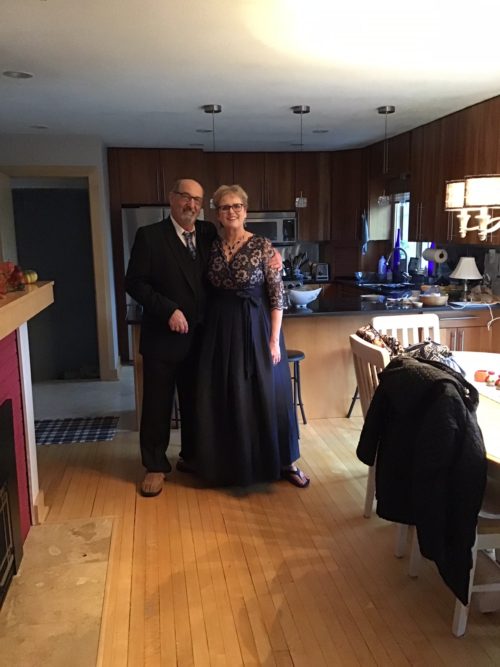 This is a picture of Lloyd's daughter Angela and me. She is a loving, funny, welcoming woman and I'm so grateful for her.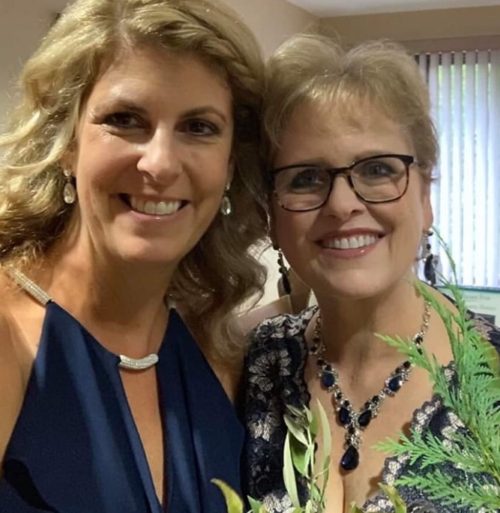 This is Lloyd's son Paul (I think they look like clones) and his sweet wife Selena. They too have been so open hearted to me. I always try to remember that my presence in Lloyd's children's lives is because they lost their beloved mother.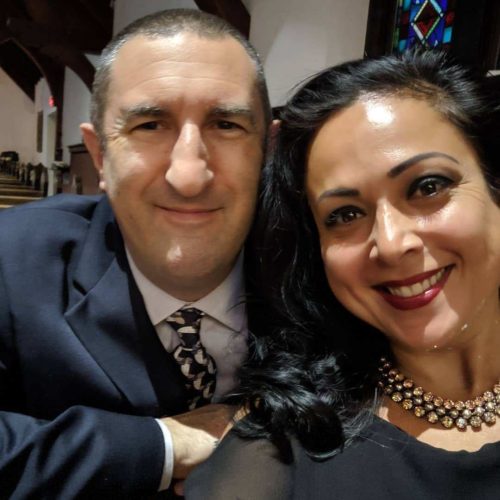 Sharon took this before the ceremony — Louisa, Sharon, me, and Margaret in front.
Carolyn and me: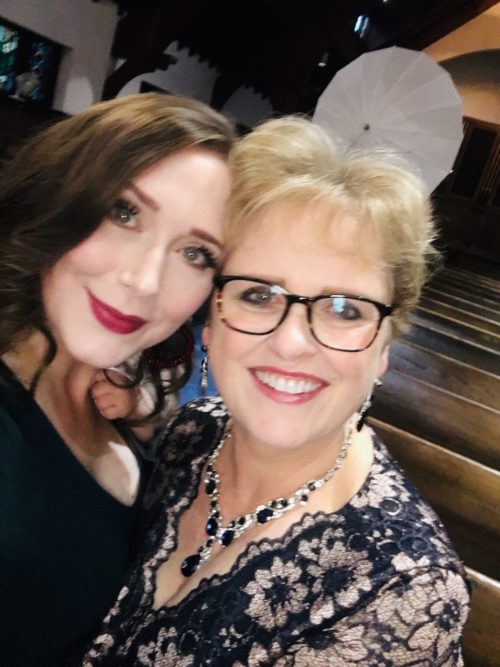 I'll post some After Wedding Trip photos soon. We went away to a cabin on a lake in the north woods of Minnesota, where there were no televisions, phones, or even cell phone coverage. It was peaceful and beautiful.
Happy New Year to you, dear friends and family…
Hello from the Great Frozen North! We woke to 14 degrees below zero this morning, and our high is supposed to be zero today. It seems a little early in the winter to have such cold, especially since it's not technically winter yet. I've responded to the texts of a few friends today, "I am a snowbird in the making." A little trip to warmer climes in January or February is sounding very attractive right about now.
I have a few more wedding pictures to share today. The first one below is me with my grandchildren. I look short in this photo, and that is a word never before attributed to me — I'm 5′ 10″, so that will give you an idea how tall some of these young people are.
From left to right: Audrey, Eleanor with Louisa in front, Cullen, me, Elijah holding Levi, Clara with Miriam in front, Vivienne and Margaret. I consider these humans on my list of Julie's Richest Treasures, and am so grateful to know and love each one.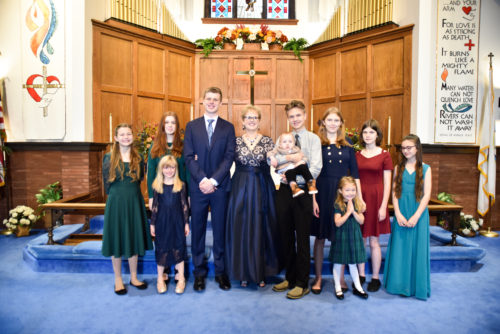 The flowers at our wedding were spectacular, all done by my youngest daughter Sara, who has her own floral design business. We had two large arrangements on either side of the altar, in memory of Lloyd's Rosemarie and my Michael. It has been almost five years since we lost our spouses, and how could we not carry them with us as we walk this new part of our journeys?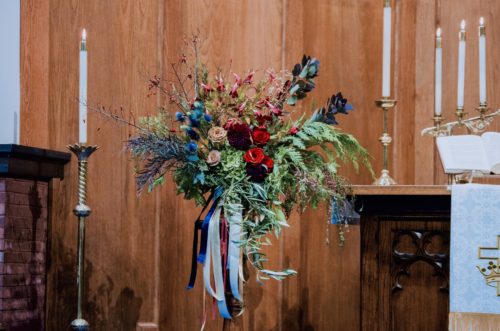 I like this picture below because it shows the ceiling of my church, which was built many years ago to look like a ship. I also love our stained glass windows and the wedding banners on either side of the altar.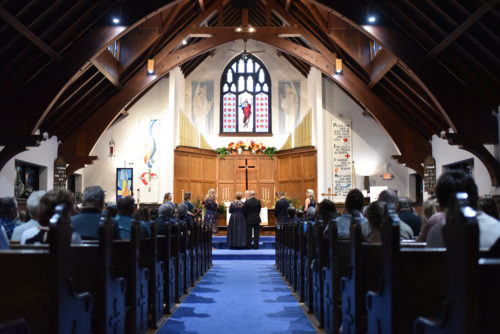 And click here to see a video of our processional in its entirety, taken by a friend on her iPhone at the back of the church. The song is "Highland Cathedral" on one of Amy Grant's Christmas albums, and I have loved it for years. It makes me cry and yearn.
Thank you for stopping in — I hope to share some After Wedding Trip (I refuse to say H__neym__n because we are so old) photos soon.
Blessings,