A couple of weeks ago we received a call from our realtor asking us if we were still interested in showing our house, even though our six month contract to list it had expired and we had taken it off the market. We told her we were interested, so we tidied and vacuumed and I actually made our bed and straightened the paperwork Alps in my office. Many living beings had to fit in our Pilot: Michael, me, Sara, our three Foster gals, and Edith and Mildred the schnauzers in their kennels because they're allergic to drives in the car and we do like to protect our legs and necks from deep, bloody gouges. As we drove off, I thought all that was missing was Granny on the top of the car in her rocking chair, and a few pots and pans roped to the sides, and we could have honked as we departed and sung loudly for the neighborhood to hear, "…so they loaded up their truck and they moved to Beverly…Hills that is…swimming pools…movie stars…"
We drove up the north shore of Lake Superior to a small town with a Culver's, and we ate there. We took our time, and wondered aloud if the people going through our home of four years would be interested in it. And a day later I learned that they were. They offered us an acceptable price, with a closing date of April 27, which made my innards twinge and my mind race. We countered their offer by asking for a later closing date, and for five business days to find a suitable house of our own to purchase. Through our communications through our realtors, our potential buyers seem like very nice people, but they've been renting and they are anxious to move. They were not keen on giving us five business days to find a house, but our realtor explained to their realtor that we provide foster care in our home for women with developmental disabilities, and could not just move to any house. We would be moving several people, and since there aren't a glut of one-level homes on the market right now, we asked for a few days to find one. They agreed, and told their realtor to tell our realtor that it was with great reluctance and considerable frustration that they did so.
So we began looking, and it was discouraging at first. We need a smaller house than we have, in good condition and with three-four bedrooms, with a master bedroom and bath on the main floor. And we hoped for a basement that was either finished or finish-able. And I wanted to be fairly close to my daughters. Our city is 27 miles long from east to west, and I wanted to stay in the eastern part, near Lake Superior if possible. We weren't finding anything suitable and the two houses we toured that would have worked, just felt wrong to me. I don't know how to explain that, but logical and analytical as I am, I also have a deep feeling side, and a house has to feel right. I trust that the Holy Spirit within me is powerful enough to get through even the densest person, so we prayed before we looked at each house, and I waited for peace to come when we would go inside, and no peace was coming.
We had to give our buyers an answer by last Saturday morning. We scoured our MLS listings, looked at houses for sale by owner, put an ad of our own out there, and even asked around. On Friday morning we saw three houses — all nice homes but not the ones. On Friday afternoon we saw a house we had seen before (and crossed off our list due to the seller not being able to come down on the price as much as we wanted), and decided to make a low offer on it. The house had everything we needed, but felt a little iffy because the decor is very Swedish/modern, and every stick of furniture and dish and doodad we own is more traditional. The owners of this very beautiful modern home accepted our lower offer, and by 9:00 p.m. on Friday, we had entered into a purchase agreement — just under the wire.
The house has beautiful views of Lake Superior, which Michael and I just love. It's considerably smaller than what we have now, which will feel odd at first, but makes me very happy. Everything is on the main floor (except the basement — the basement is not on the main floor, the basement is on the basement floor) and has been lovingly cared for. The house passed inspection with flying colors, and now our current home will be inspected tomorrow. We'll have to do the Clampett thing again, but this time for threeeeee hours. What are we going to do with all those people and all those dogs in the car for three hours? I'm open to suggestions, but if anyone suggests getting out of the car for long it won't work. I'll explain why another day — it has to do with being The Dog Owners of Shame.
If our house passes inspection, it looks like we might be moving at the end of May, but I'm not counting my chickens before they're hatched. We have a good buyer for this house, we have a good house to move to, and we'll know for certain if we'll all be moving after the inspection on Friday.
It has seemed like such an eventful few weeks in other ways. I've been observing Lent, and have given up using my iPad during this time. I have occasionally missed playing Words With Friends, but I've been quite content to have my iPad rest in my underwear drawer for a season. I've been drinking in the Lenten readings from this book each day, and spending time meditating on what it means that Jesus bore my sins on the cross. My selfishness. My harsh words. My idolatry. I want the darkness of the days before Easter to envelop me, and I want the hope and triumph and amazing Love of Easter to shoot through me like never before. I am full of awe for His love these days, and the words thank you Lord seem so feeble and pale compared to what He deserves and what He has done.
Sara and I also decided to give up eating sugar together, and doing it with a buddy has been so helpful. It hasn't been as intolerable as I thought, and I'm so grateful that the Lord has shown me yet again, that I can indeed live through something I thought might kill me. Woman Dies from Sugar Abstention will apparently not be a headline in our local paper any time soon.
Michael and I drove down to the Twin Cities recently for his appointment at The Struthers Parkinson's Center, the best place in the Midwest for Parkinson's treatment. Parkinson's is a progressive disease and is not for cowards, and the news we received wasn't the kind that gave us a warm and comfy feeling all over. His very compassionate and direct neurologist told us some things that were hard for us to hear. Some medication changes were prescribed, along with another medication for memory issues, and a stern warning about Michael driving was given. He isn't driving right now, and will have to take a test soon, which will determine if any changes will come regarding his license.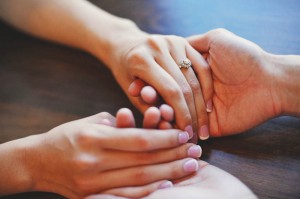 After his appointment at Struthers, we checked in to our downtown Minneapolis hotel, and then walked several blocks in the blowing wind to Zelo's Italian restaurant, which was excellent. I knew he needed time to process the changes that have to be faced whenever he sees the doctor. I asked Michael what he was feeling about his visit and he replied quietly, "I hated it." But he is also one of the most gracious, patient men I know, and I know he will bear whatever comes with humility and trust in his Savior.
We held hands across the table and I told him again the things he already knew. I told him I would never forget what a faithful husband he has been, how he's never even spoken of leaving, during the off and on challenging times in the early years of our marriage. I was (and guess I sometimes still am) a woman whose middle name could be Bossypants, Tina Fey notwithstanding. Michael has been steadfast and has loved me like no other person has ever loved me. So I looked into those huge, kind eyes of his and told him again what we both promised to each other in June of 1981, "I will never leave you. I will be here for better or for worse. In sickness and in health." I assured him that whatever was ahead, we would deal with it together, and in the strength and love of the Lord. We would face whatever comes to us, with the grace that Jesus promises us for that day. I told him that just because we're getting older and our earthly lives are being whittled down, doesn't mean our lives can't be rich and full of love. I told him how much I needed him. And I do. I need my husband. I need the unconditional love he has lavished on me for over 30 years. I need his warm presence beside me. He is part of me and I am part of him.
There's more to share — there always is. But I've just looked at the clock and need to run upstairs and get ready for another drive to the Twin Cities today. One of our gals has a longish dental appointment and we'll be leaving in a few minutes.
That's what's going on in our lives. What's going on in yours?