When I'm in a tizzy
You would think that a good offer on our house, from qualified buyers who love it and are anxious to move in, would be something that would bring great relief and joy. I had long pictured that when we had a buyer for our house, we would be so thankful, and then would be able to go house shopping with many places to choose from, because in our area it's a "buyer's market." So I was stunned when we received this good offer, and then scoured the real estate listings in our area only to find that less than ten houses currently for sale fit our criteria. There are many houses in our city that have the master bedroom and bath on the main floor, but only a few in the areas we prefer. And since this move is intended to be our last (God-willing), it's important to me that I like the area we move to. I am totally fine with having to make cosmetic changes to a house — new carpet, new paint, even new kitchen cabinets would be okay. I really, really, want to like the area and neighborhood we're in. I don't want to move too far away from the neighborhoods where my daughters and grandchildren live. I've asked the Lord to show me if I'm being too particular or selfish — I'm willing to change.
We saw three houses yesterday, and none of them are something I truly want to move into. I spent a long time in prayer and in the Word yesterday morning asking for God's help in discerning where we are to go. If it were just Michael and me, I wouldn't be concerned a whit — we would accept the offer and then just rent a house for a year until the right one to buy came on the market. But we have six people in our home that we need to consider. The move has to be just right for many reasons.
So as I write this, I'm unsure if this offer on our home (that came, by the way, when our house was off the market) is going to result in our moving right now. I want it to. I pray it does! I'm so uncertain. I've always been a doer, and fairly decisive. Right now since I don't feel absolute peace about any of these houses we've seen, my inclination is to say no. I don't think it's wise to move out without a good plan or a house we love to move to.
The perfect scenario would be that in the next day or two, The House For Us comes on the market. We have spring-like weather and that can often motivate people to list their homes for sale. That is what I'm asking for at this minute.
When I was in an inner tizzy yesterday I felt very directed toward John 14 in my Bible, and when I opened it, this is what the words of Jesus said:
1 "Do not let your hearts be troubled. You believe in God; believe also in me. 2 My Father's house has many rooms; if that were not so, would I have told you that I am going there to prepare a place for you?"
Now I know Jesus was speaking of heaven here, but it still ministered to my heart. Later in the chapter Jesus says,
"Peace I leave with you; my peace I give you. I do not give to you as the world gives. Do not let your hearts be troubled and do not be afraid."
So right this moment I have no idea what will happen. I do know that the Lord doesn't want me to be in a tizzy, so I will try to make today a tizziless day. He asks me to trust Him, and to not be afraid.
And in the midst of uncertainty, I am still donating or throwing one thing per day in 2012. These are the seven for this week: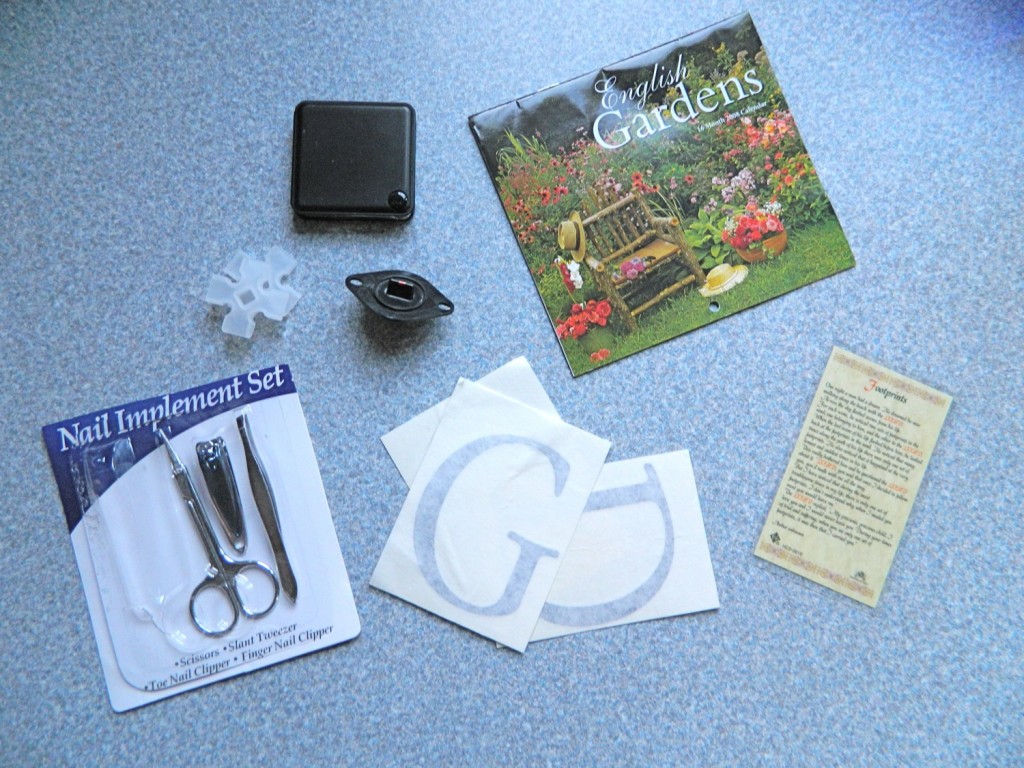 Thank you so much for stopping by. What are your plans for the coming week?