Michael and I are talking about going to Great Britain again. Time will tell if all the details that need to be covered actually will be, but it's so fun to dream. And to reminisce.
In January of 2007 we spent twelve days in Ireland, Scotland and England, and the trip was so amazing we keep reliving the memories together. We'll be laying in bed at night and Michael might say, "Remember when we saw the Edinburgh Castle and then sat and waited so long in the cold for the wrong bus to come?" And we laugh. Or, "Remember all the mashed peas we ate in England?" and I say, "Blech!"  Or "How about the night we walked leisurely through the village of Thirsk in Yorkshire, thinking of James Herriot, and then savored that simple dinner of bread, cheese and fruit in bed back in our suite at the Nag's Head Inn?" Then we sigh together.  But the place we visited that we speak of the most is Inverness, in the Highlands of northern Scotland. And most specifically, the place we stayed, The Ivybank.
Several important things happened to us in Inverness, listed here in no particular order. We relaxed. We slept. We were almost arrested. We made new, lifelong friends. We ate Whiskey Fudge. I learned to drive on the left side of the road, while sitting on the right side of a car, while shifting with my left hand. We became very dedicated to brisk tea and buttery shortbread. We strolled, arm-in-arm. We warmed our feet at quaint hearths. We experienced Loch Ness. And in some way I can't explain, we came home.
Michael and I both have Scottish roots, so I keep telling myself that this is why I cry when I hear bagpipes, this is why I felt almost haunted as we drove north from Prestwick near Glasgow to those beautiful heathered hills of the Highlands. The closer we drove to the northern part of Scotland, the more anxious to arrive I became. Something awaits us here, I kept thinking. I have no idea why visiting Scotland was almost like sounding a deep and resonant bell in my soul, but something still pulls me to that ancient, rugged land. Is it just my McIntyre ancestry? Could it be my lifelong love of plaid? Is it my imagination? If it is, it's terribly insistent and powerful. At this point only God knows, and if He ever reveals all this to me, you can be sure I'll put up a post about it.
At the inviting Ivybank Guesthouse we met our hosts Tom and Catherine; gracious, hospitable and lovely people who have become dear friends. Catherine and I write to each other regularly, and have shared our love for Christ and for books. We pray for each other and recognize the bond between us that we believe is there because of Jesus. The phrase "kindred spirits" comes to mind when I think of Tom and Catherine. Michael and I hope to see them again someday.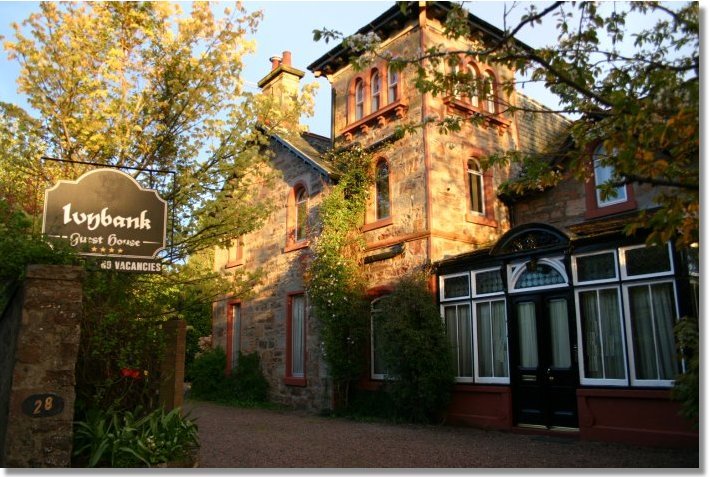 So now that Thanksgiving is over and the hordes are rushing around at the malls, we are quiet at home. We actually have a tea-time planned for this evening. I will brew a pot of tea and put out some Scottish shortbread on a fancy plate, and Michael and I will recall the highlights of our trip to the UK again.
"Remember when you didn't know you could stop at roundabouts and you almost crashed into that Scottish police car?" he might ask for the umpteenth time. "And how when they learned we were Americans and this was my first day of driving there," I reply, "they kindly gave us a police escort right to the driveway of The Ivybank and then smiled and waved goodbye?"  Yes, we learned quickly about that famous Highland Hospitality.
Today I was painting some wood trim around a new window we had installed recently in our master bedroom. Michael was sitting in one of the comfy (plaid!) chairs, keeping me company. I asked him, "If you had to live in a country other than our own, which one would be your first choice?" After a few moments of silence as he pondered and I brushed on creamy white paint, Michael said softly, "Scotland."