I visited the orthopedic surgeon recently after being moderately laid up from a fractured tibia. He showed me on my x-rays how some new bone growth was happening, and was not overly concerned about the weirdness I feel inside the knee cavity, which is probably a ligament injury he thinks is slowly healing. He said they don't often operate on the medial collateral ligament (MCL) anymore, and that it would heal on its own.
I am now taking slow steps without a walker (cue the Hallelujah Chorus) and ordered a cane online. I took a long time picking it out and settled on an offset green cane with pretty dark red paisley. I'm to use the cane for a few weeks and then can return to regular walking. I feel pain in the area of the fracture sometimes, especially at the end of the day, but I'm trusting the doctor and believing it's pain that shouldn't alarm me.
I listened to a wonderful book called Just Mercy by Bryan Stevenson on my Libby app, read two Louise Penny books I borrowed from my friend Pat, and have now started a book I can tell I'm going to love — A Gentleman in Moscow. Things really slowed down as I waited to heal. Lloyd drove up several times and did a lot of things around the house for me, and we started a series I never thought I'd like. In fact I was sure I'd hate it, but I didn't. Have any of you watched Alone? We jumped in on Season 7 on Netflix, and could not stop watching. The human ingenuity, the mastery over thought and attitude in truly horrible circumstances, the resourcefulness shown, was amazing.
And speaking of mastery over thought and attitude, these little cardinal salt and pepper shakers on my table help me do that. And this lovely quilted runner from a gifted friend named Sue, how can such presents not give me a lift?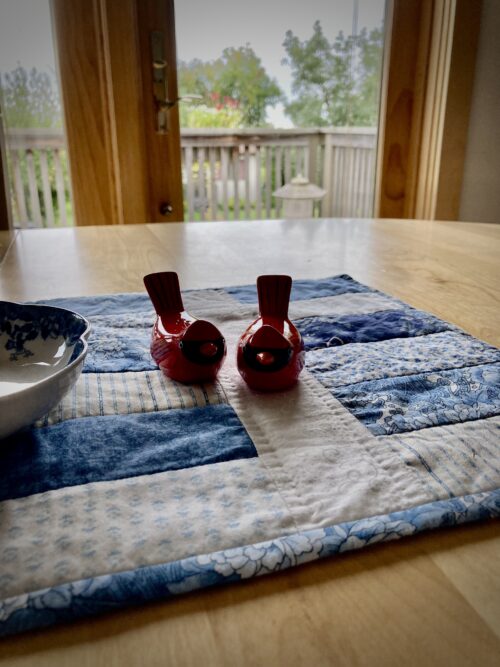 And the hydrangea bush in my front yard has gone crazy. It was a small bush a decade ago, and now has decupled in size, at the very least. It dominates the yard, and when I look out my kitchen window or pull into the driveway after having driven to Target for a lavender oil and Systane eyedrops pickup, it makes me marvel anew at this beauty.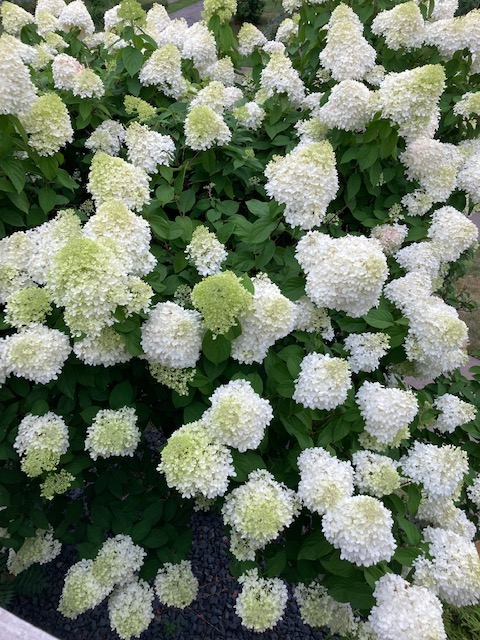 These bloom balls are the size of cantaloupes, and soon each one will be the prettiest, dustiest pink.
Lloyd and I have been talking about visiting the Grand Canyon. Neither of us has ever been, and many people have told us that pictures don't do it justice. For those of you who've seen it, would you agree? Was it more breathtaking than you expected?
What we aren't sure of is when we'll go. We have a desire to get away in the winter time, since January and February in Northeastern Minnesota can be brutal. But we've heard that you don't really want to visit the Grand Canyon in the winter, since blizzards can happen there and travel on the roads could be truly hazardous. We don't want to visit in the summer when it's hotter than we could stand and crowds are at their densest. We wondered if March or April might work.
We saw that the Grand Canyon Railroad might be a good bet for us too. You park and stay in Williams, Arizona, take the train right to the canyon, stay if you want, avoid lines of cars waiting to get in. But we would miss the other part of the canyon that way. This is the very thing I get excited about, take pleasure in planning, then abandon after lots of advice and warning, leaving us to wonder how to proceed.
Other places we hope to see are the Smoky Mountains, Glacier National Park, and New York City. And Oregon, and Wyoming, and New Mexico and the Emerald Coast, and Ireland and the Highlands of Scotland again, and the Swiss Alps, and Israel. And Maui. And then I stay home, all because I can't decide on a few things. For example, if I take a solo trip to Ireland, which I've always wanted to do, should I go with a small tour group that specializes in older travelers? It would mean everything was taken care of and nice hotels would be secured. No tickets to stand in line for, parking or navigating to worry about. Those are pluses. It would also mean I couldn't stay in a little Irish cottage overlooking glorious countryside, couldn't rent my own little car and drive wherever I wanted and when, walk alone down deserted paths, stay home and build a fire and read and nap. Not being able to do that would be a negative in my mind. So I just don't make a plan at all. I'd love to know any opinions about this!
I'm looking forward to seeing my dear friend Denel in October. She's flying in from SoCal to NoMin and will spend a long weekend with me. We haven't seen each other since March of 2020, when Lloyd and I flew to California right before the pandemic took hold. Oh, we have such a history. Fifty-eight years of friendship as of this writing. When we were little girls we talked about school, music (together we saw the Beatles, the Eagles, Elton John, Humble Pie, Boz Skaggs, and others in concert), boys, shopping and books. Now that we're old women we talk about our children, grandchildren, books, blessings, hardships, thinning skin, prayer, creaking joints and the faithfulness of Jesus.
Here are a few questions for you, dear reader. Who have you seen in concert? What is your favorite country to visit? If you've seen the Grand Canyon, what tips do you have? And if you were going to travel solo, would you take a small, specialized tour coach, or strike out on your own so you could do exactly what you wanted?
Blessings,