365
For the past 25 years or so, I've tried hard to stay organized. I have never liked clutter because it seems to prevent me from thinking clearly and calmly. When towering piles of things are sitting on surfaces that should (in my mind) be perfectly devoid of stuff, I can get cranky. And if I don't get outwardly cranky, then I can get inwardly agitated while acting not outwardly cranky. Neither are highly recommended.
Being organized doesn't come naturally to me. When I was a little girl my mother was always after me to clean up my disastrous room, especially my closet. I was supposed to clean my room at least every Saturday, and most of the time I would take all the things that were out of place and shove them in the back of my closet. Once in a while Mom's Atrocious Closet Radar would activate and she would come into my room after I had "cleaned" it, and open the left closet door. I knew I was doomed. She made me take everything out and put them in their proper places, telling me how much easier it would be if I would just keep things neat in the first place. It wasn't until I was married and had a house of my own that I finally started wanting things to be a little neater and more organized.
So while neatness was never a strong point in my youth, I was still never a hoarder. I'm a thrower. Or a tosser, whatever word works best. Some people are collectors, and I myself have two lovely collections started for me by other people, but my innate default setting is to throw. To donate. To toss. Not to accumulate. Most of the time I'm able to live my throwing life unhindered, but because we do foster care and the state requires us to maintain books and books and files and files of paperwork, it can occasionally get ugly.
A few years ago I think my inner thrower was magnetically drawn to purchase Penelope Wilcock's book In Celebration of Simplicity: The Joy of Living Lightly. I read that book and sighed and yearned. Here was someone who had gone before me (a looooong distance before me — I'm still on the foothills of simplicity while the author has perhaps lived near the peaks of simplicity for many years) and gave me additional ideas and whys about living simply. And I read that it's not just about the clutter. It's about being able to give more in every way. It's about having extra time in the day. It's about having time to think and to pray and to listen to God's voice. It's about saying no to materialism and yes to living mindfully. It's about saying yes to people and their needs, and no to too many things. And it's ever so much more than all of that.
Not that things are bad. I have things. I think I have too many things, actually, even though I'm a thrower. And I'm certainly not immune or innocent of ever having been materialistic. But I'm on my way out of that kind of living (hopefully), if I haven't left the building already.
Anyway, a couple of years ago I started reading Penelope's blog (I had read her other books too) and recently she posted something of great interest to me. I'm stealing borrowing her very idea for my blog post today. She has graciously already given me permission to quote her at any time, isn't that generous of her?
Penelope plans to donate/give/get rid of one item from her house per day, in the year 2012. At the end of the year, her house will be 365 items lighter and easier and airier. I liked her idea right away and decided to give it a try myself.
I don't know for certain yet if there are 365 items that I can donate in the coming year, but I'll find out soon enough. If you would like to join in, leave a comment and let me know you're doing it too. If one item per day sounds like too much to you, how about donating one item every week, making your house 52 items lighter in the coming year?
I don't plan on giving away things that have great sentimental value to me. I probably won't donate the plates that hang on the side of our kitchen cabinet that my mother hand painted when she was a young woman. I won't give away things that people have lovingly made for me out of their founts of creativity and the kindness of their hearts — I so enjoy those things because they remind me of the givers, and then I feel a swell of love and that's always a good thing. There are books I won't ever give away. There are grandchildren's drawings I won't throw. There are a couple of kind and compassionate bras I wouldn't part with. I might seriously consider giving away a couple of my mean bras, I don't know. (What is a mean bra, you ask? A mean bra is a bra that continually pinches your shoulders until they have sizable dents in them, and pulls on your poor neck all day long while cackling evilly in your ear, with the intention of doing permanent damage to your body…that's what a mean bra is.)
But there's bound to be many dozens of things I can throw, and I thought I'd share my first thing with you. First, a little history.
As foster care providers, we are required to save grocery receipts in case we're ever audited by our county. I guess some people occasionally do foster care and then don't feed their residents — thankfully those homes don't stay in business very long. But we're required to be ready to prove that we buy whatever food our gals need and want (some of what I buy for them I'd never buy for myself), so we keep every single grocery receipt in a file I have ingeniously labeled "Grocery Receipts." 🙂
Well today I took a look at that bulging file, and it has grocery receipts from 2006 in it! Time to purge. If the county comes looking for six year-old receipts any time soon, they'll be disappointed, because today I'm throwing them out. A big pile of grocery receipts from 2006, 2007 and 2008 — gone. I thought I'd better keep 2009, 2010 and 2011 receipts for now, though.
The pile below is about an inch thick.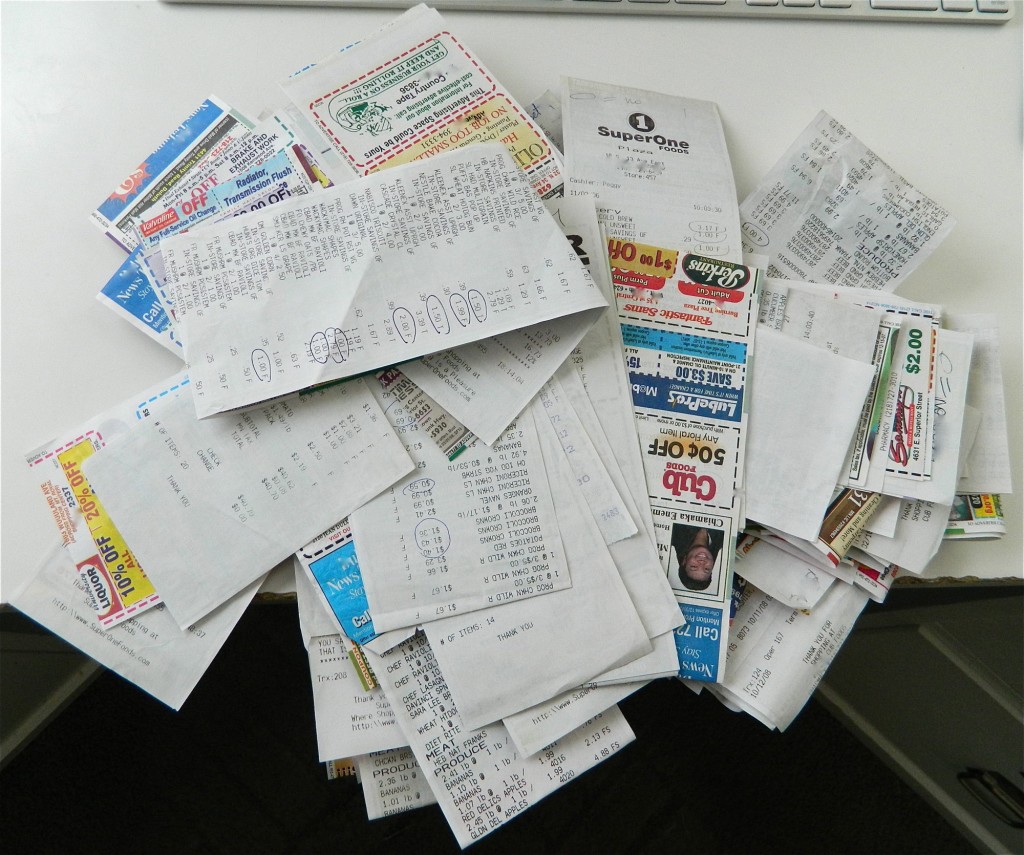 I'm not even waiting until January 1st. I'm starting a day early, so that I'm ending the old year on a freeing note, and beginning the new year doing the same. So, on Day 1 of my 365 or 366 (oh! — is it leap year this year? 367, then) days of letting go of one thing each day, I'm throwing a pile of receipts in the garbage. Because these were hidden in a file drawer, no one would notice their absence, but I know they're gone. And it feels pretty terrific.
Tomorrow I think I'll continue with some bud vases. Who needs a dozen bud vases on the top shelf of a kitchen cupboard? Or maybe I'll go through my small appliances. I know I have two food processors, so I think I'll give one away. Why should one household have seven unused three-ring notebooks? Out they'll soon go. I'm not sure we need five sets of sheets for our bed, either. Two or three should suffice.
And so on!
If you were to embark on a "365 Thing Throw" or a "52 Thing Throw" adventure, what would you start with first?