Er, no.
Well, January reared her frigid head last night and our temperatures dropped many-something degrees. It's supposed to be -2° tonight, or -19° Celsius for my two across-the-pond readers. And as I've mentioned a few dozen times on this blog, January is usually our coldest month, and it can get down to -30° sometimes.
I know we're supposed to live in the moment, but these kind of January moments are always hard for me. I spend most of each January waiting for each January to leave.
If you read my post about giving away 365 items over the next year, you saw that I threw out a big pile of grocery receipts. Pen gave away a funky pair of feather earrings.
Today these are going: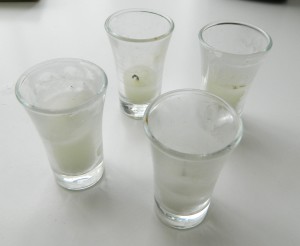 Four tiny, old candles the size of shot glasses. They were stored away with Christmas decorations and we had them out on a side table in the living room last month, and I kept asking myself why.
I wouldn't light them because the flame would be so close to the thin glass I was afraid they would crack. And I am not into babysitting little candles these days, so I think their usefulness has been used up.
Pen is going to be so good about re-purposing and recycling the things she's donating, and I will certainly try. But I'm throwing these candles in the garbage, and don't feel a bit of sorrow about it at all. If you think I should, let me know.
Today I took one look at these and said, "Er, no. They must go."
I'm trying to decide if these could count for January 2nd, 3rd, 4th, and 5th. I guess the week ahead will tell me that. We have several couples coming over tomorrow night for Life Group from our church, I have a sick gal home today, and I have an important report to start work on, so perhaps I'll lean toward letting these four candles count for four days.
Have a wonderful week, and thank you for reading…