Schnauzer Schnoozer
Our oldest pooch Edith will be ten years old soon, and even though she seems happy and chipper, she's showing her age. She doesn't like to go up the stairs anymore. She'll do it, but she sometimes acts like her joints are stiff, and it's becoming more of an effort. Millie, on the other hand, is still acting like she has gazelle blood in her.
The last time we took the dogs to the vet for vaccination boosters and checkups, serious Dr. Lee felt Millie's back legs thoughtfully and asked me, "Does Mildred do a lot of running and leaping?"
Wondering how he knew this is exactly what she does in our big back yard I said, "Why, yes, yes she does."
He pointed out the impressive definition in her Schnauzer quadriceps and commented with quiet admiration, "Mildred is quite a well-muscled dog."
So you can imagine what we say about her when she comes and lays next to us on the couch at night. We palpate those notable quads and say in a deep Dr. Lee voice with mock seriousness, "Look at these legs. This is a well-muscled dog."
Edith, not so much. Edith's diet has not changed, but her body seems to be doing what many middle-aged women's bodies do, and she's developed a little belly pooch. The pooch has a pooch, I guess. And no one would ever marvel that Edith is a well-muscled dog. She trots and sniffs when she's outside, and she still jumps at the television if she sees anything four legged appear on the screen, but leaping and gazelle are not words we would use in the same sentence with Edith.
So along with old age comes napping, or so I've been told. Edith is definitely into taking at least one nap per day, maybe four. Recently Michael and I were in our bedroom having our quiet time together and Edith wanted to be on his lap. As we read out loud and prayed for our family and many of you, Edith fell asleep. She was a Schnauzer Schnoozer. I had to get a picture.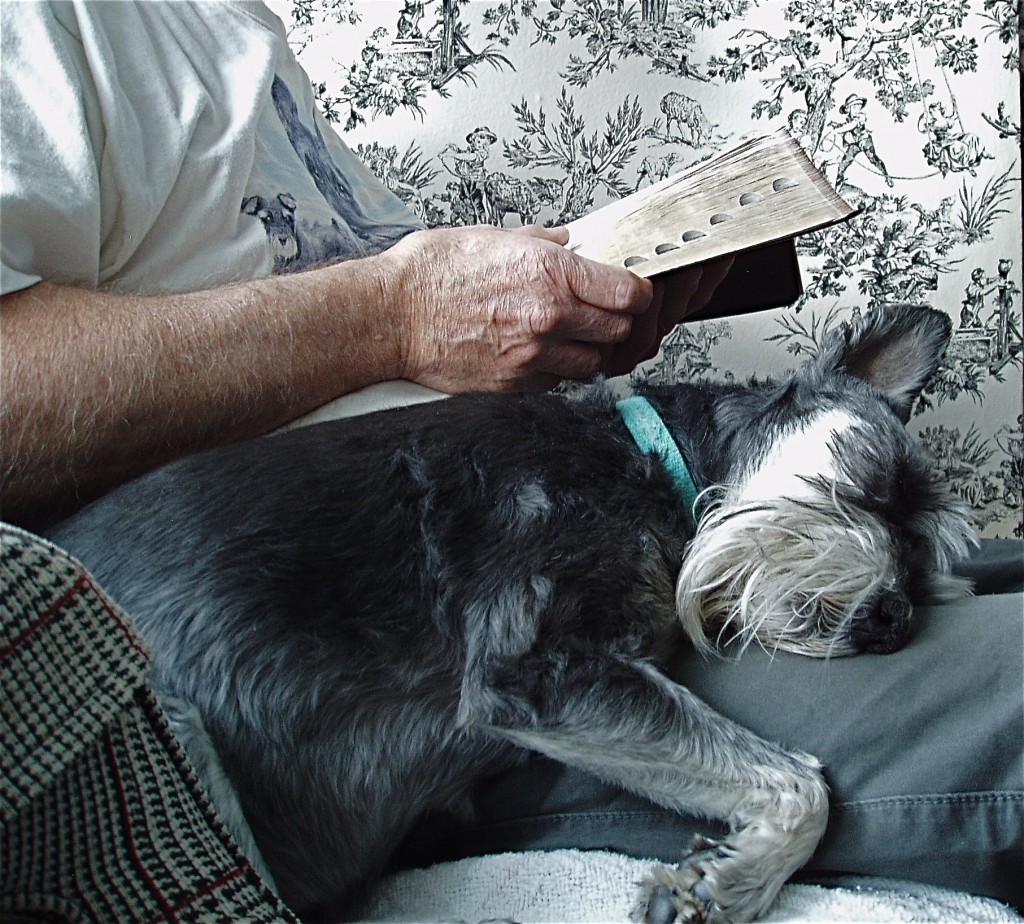 See how she even matches our bedroom decor? And the sides of my blog? Does your dog match your bedroom decor or your blog? Does your husband wear t-shirts that match your animal? No?
Oh.
I told you we needed prayer.
A long time ago a friend who loved her dog as much as I love mine said this, "I think God gives us our pets to increase our joy." I've always remembered that, and I think it's true. All these little goofy tidbits about Edith and Millie make me smile and revel in simple things.
I'll try to think of something nondoggish to write soon.
Have a blessed Tuesday!