Saturday Sixteen
1. It's raining today after a few days of beautiful sunshine. I woke up at 6:00 a.m. when Schnauzer Edith did her little dance at our bedroom door, telling me she needed to go outside. I got up and fed Edith and Mildred, put their anti-bark collars on them, put their don't-run-away collars on them, let them outside, and then had to yell-whisper at Edith to actually go down the deck steps into the yard. She's so prissy she would prefer not to get her feet wet. "Get out there!" I whispered loudly, and gestured toward the yard with as much authority as I could while wearing an old plaid nightgown and sporting a nice case of bedhead.
2.  My grandson Mr. McBoy is coming over this morning to visit with his Grandpa Michael while I go grocery shopping. Some things always on our list: Kombucha, Babybel cheese, and golden delicious apples.
3.  Sara planted our deck flower boxes last week, and I asked her to do something different. I wanted to try putting one color of different kinds of flowers in each of the three boxes, and we both love how it turned out. You can click to enlarge these if you like.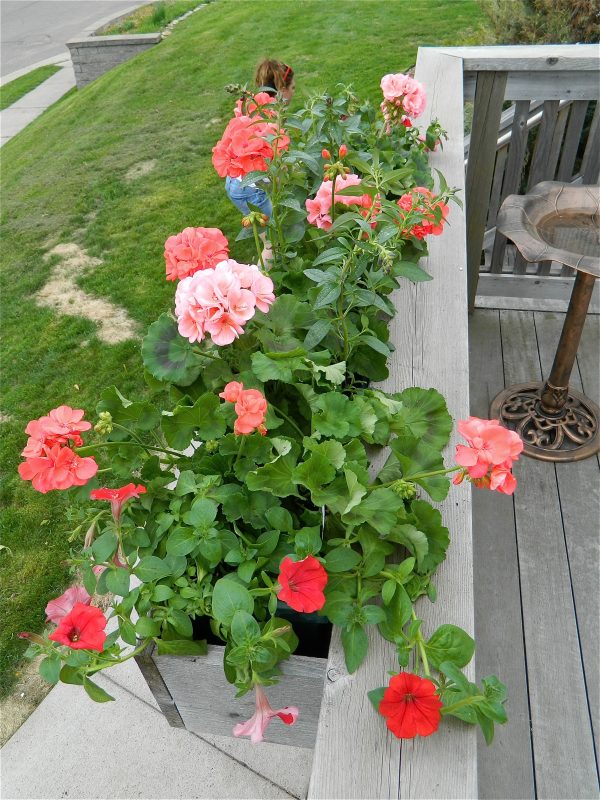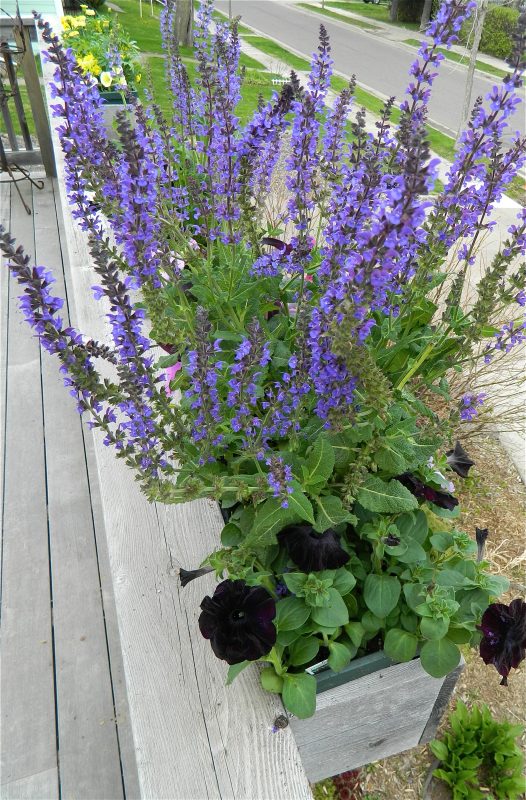 3.  I'm reading this book and am expecting God to speak to me from its pages.
4.  While Mr. McBoy is here today I expect we will have a fun time playing with this toy.
5.  This summer I will be hosting our annual women's Bible study in my home, and there will be twelve of us. We've been doing this over a decade now, and I'm not sure there's ever been a time when so many of us have been in some kind of very serious life situation. Here's what we'll be studying for nine weeks.
6.  Our stinker Schnauzer Millie has a plastic cone on her head to prevent her from doing damage to the stitches she has in her upper eyelid. She had surgery last week to remove a skin tag which was scraping her cornea. Also, she had a mass growing in her lower gums near her back teeth and this had to be removed. The biopsy revealed that it's a "benign cancer" called an epulis, and while it's not terribly invasive or dangerous, it could grow back in a year or two. We'll be doing gum checks around here now. The cone has humbled and quieted our little bad seed of a dog. I wonder if they make them for humans?
7.  Our daughter Carolyn and her husband Jeremy are expecting their fifth child this fall — such happy news! I look forward to meeting and smelling my new granddaughter, and have been frequently looking at her ultrasound profile, which of course is stunning.
8.  Next week will be the one year anniversary of my knee replacement surgery. What a life changer that was! It took away all the horrible grinding pain of standing and walking, and brought in its place intense stiffness and restricted bending. I wasn't exactly expecting this, but the pain relief is such a blessing I'm gratefully living with the limitation.
9.  I've been listening to a set of CDs every day that remind me of my mother, who was a professional organist. Yesterday morning when this song came on, Michael and I sat at the breakfast table and gazed at the blue of Lake Superior while taking in this yearning song. It will open in a new window and you can finish listening to it as you read, if you like. 🙂
10.  A sure sign of summer is when I take our heavy black and cream toile comforter off the bed, wash it and put it away for a few months. I did that yesterday and brought out our lighter weight black and cream toile quilt and put that on our big bed.
11.  I have my hair highlighted twice a year. It's pretty short (as you can see from any photos on this blog) so aside from those two visits to the salon, it's pretty low maintenance. I noticed about two-three years ago that my natural color was getting a bit gray, especially around the temples. And there was about 20% gray elsewhere. I have always planned to stop highlighting my hair when it's fully gray. Well. I have an appointment to have the highlights done next week, and because I don't/can't leave the house very much anymore, it has been several months since it's been done. I also don't look in the mirror much these days, so imagine my surprise when I finally looked at my roots the other day and saw that in six months' time my hair has turned almost 100% iron gray. Sara said what I was thinking when she jokingly said to Michael, "Dad, you've turned Mom's hair totally gray!"
12.  The Parkinson's Disease that dictates so much of what we do each day is slowly advancing. I've learned that most people with PD who have a dementia component (which Michael does) have Lewy Body Dementia rather than Alzheimer's. Michael has all the hallmarks of PD with LBD, and it is CRUEL. I remind him and my own self frequently that nothing can separate us from the love of God, not even Parkinson's.
13.  The seventh season of "Foyle's War" has been released on Netflix, so I've been enjoying that in between the almost daily games of Michael's dear Minnesota Twins. Do you have any movies or series you could recommend?
14.  We saw on the news yesterday that there's still ice on Lake Superior, in June. An iceberg the size of a small car still floats somewhere near Wisconsin, and a few seagulls and two bald eagles have been sitting on it, somberly posing for boating photographers.
15.  I believe I'll make tacos for dinner tonight. Home-fried corn tortillas, red and juicy chopped tomatoes, a little lime juice squeezed into the sour cream we spoon over the lean beef, all sounds good to me. If I were ambitious I'd make some pico de gallo too. Have you ever made it? It's good on everything, and there's a simple recipe here.
16.  They say daydreaming isn't healthy, but I do it anyway. I've been dreaming of a remote cottage in the Highlands of Scotland, of a small crackling fire at my feet and a thick, transporting book in my hands. I've been dreaming of naps and slow walks near the shores of lonely lochs, of bagpipes and no clocks and no illness and no appointments and no hurt feelings and no tears, and of family wholeness and joy. I know that day is coming. I'm not sure if it will be on this earth, but I know it will be here someday.
What are your Saturday Sixteen? Or your Saturday three or seven or one?