Our Goldfinch Aviary
Our home has now been declared an official sanctuary for goldfinches by the National Audubon Society.
That's not really true, but it I think it should be.
You can read about our adventures with trying to buy three simple bird prints from a reputable and well-known online company if you click here.
Each time I called the company to explain that yet another goldfinch print was done wrong and had been shipped to me, they were very friendly and promised to get right on it to correct the order. Then another print would arrive by FedEx and it would be wrong too. I sent a photo to their returns department with every wrong bird print that arrived. Each time I called I spoke slowly and patiently, and I gave exact measurements and even talked to supervisors, but as you can see in the photo below, they still weren't able to get it right. (I even asked my son-in-law Chris, who is a master in dealing with people in situations like this, to call the company for me.)
The two framed prints on the left (the Eastern Bluebird and the Northern Cardinal) are the correct size. The aviary of goldfinches to the right of those are all the wrong size; none of them match the size of the cardinal and bluebird.
On Saturday I received another nicely matted and framed print (the one on the far right), and not only is it again the wrong size, but this time they used the wrong frame. It might be hard to see in this photo, but it's a different color and design than the others. **Sigh**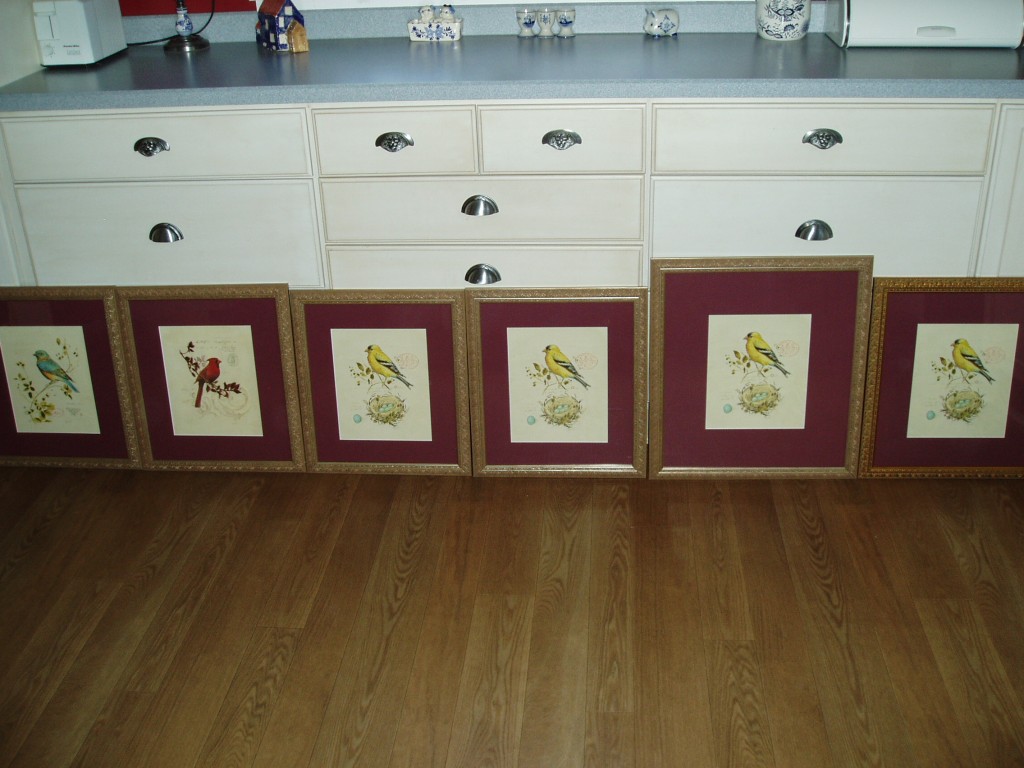 When I called the company again and told them that we now have a small flock of goldfinches in our house, they were very friendly and extremely apologetic, and finally said they had lost confidence that they'd be able to get the order right, and stated they'd refund all my money. I was very relieved about that.
I guess I'll be starting from scratch, and not using that well-known and reputable online art company again.
In the meantime, the reason I'm posting this photo is because apparently this interesting experience has made some of you laugh pretty hard. One friend said the whole "ornithological oddity ordeal" was my funniest post yet. I was rather surprised at that, because I wasn't trying to be funny at all. But if this post and this photo will make any of you laugh again, I certainly want to foster and accommodate that!
Here's to some hearty ha-ha-ing!