Sagging skin and other things
It's almost time for bed, but not quite, so I thought I'd prop some pillows up around me and tap out a few things on my laptop.
I just finished a unique book and really liked it. It's entitled A Man Called Ove. My friend Linda recommended it to me when we went out to lunch not long ago. It was a slow starter for sure, but that doesn't usually deter me in a book. It took several chapters to be likeable, but soon I was laughing out loud, and by the end of the book I cried too. There were moments of real beauty in the pages.
So I was pretty happy to learn that there's a movie based on the book, and I finished that tonight. It's a Swedish film and was subtitled, but it was worth watching.
A couple of days ago I was feeling feisty and decided to take a close-up selfie and send it to my friend Su for a laugh. It showed all the lines and sags in my skin, and I captioned it, "You too can have younger looking skin!" and texted her I thought I'd look for a skin care gig. She got a kick out of it, as I did.
That prompted me to do a comparison, and here it is below. You may have seen this first photo on the blog before — this was my kindergarten picture at Workman Avenue Elementary School in West Covina, California. There's a tragic story about my hair in this photo — you can read about it here.
Age 5….
And age 59…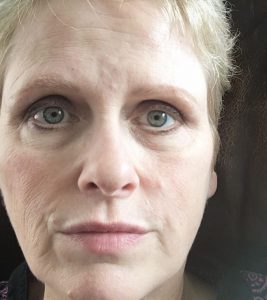 Fifty-four years have passed between these two pictures, and the first thing that comes to mind is how faithful and kind God has been to me. I can hardly believe I'm still alive sometimes! The close calls, the darkness and instability, the pain and dysfunction, the wrong thinking and the sin…oh my. To be fair, there have been some pretty wonderful times in these five decades as well. There was fun and love, hearth and home, family and friends and hope and forgiveness too. In huge measure.
At times it feels so disorienting to be in a new phase of life where I am no longer defined by the words married or wife. I might be brushing my teeth in the morning and glance up at the mirror in my bathroom and a thought will flash into my mind that I'm single now. Not married. No one's wife. It doesn't sucker punch me like it did a year ago, but there's still a thud in my insides when I remember this new truth. I still feel like I'm Michael's wife, but the law tells me I'm not. I know that divorced people understand this too.
Other changes come with widowhood. I've read a handful of good books these last two years and mentioned most of them here. The most recent one was by Miriam Neff, a Christian author who shares about her godly husband and his suffering with ALS, and his eventual death. They had just retired and were looking forward to travel, adventure and ministry, when God allowed all those dreams to be interrupted by hardship. Miriam has a website for widows I've found helpful, and something she wrote about there struck me hard. She says:
"I read before becoming a widow that we will lose 75% of the people we believed were our friends. That won't be me, I thought, as friends flooded our lives during my husband's terminal illness. The statistic has been true for me as well. During my first year alone, the exit of friends has been one of the more painful parts of my journey. I have pondered, researched, wept, and confided in those still in my life."
When I read this I thought, "Seventy-five percent?!" That means if a woman has four good friends, she may have one left after her husband dies. There are numerous reasons for the exit of previously trusted and what we thought were lifelong friends from our lives, but none of those reasons really help when you are the one wondering what happened. I haven't done any math because I don't want to, but I can say that some of the people I thought were friends I'd grow old with have pretty much turned away now. In my lifetime, I've had at least four close friends who were widowed, and I would never have considered pulling away from them in those dark times of their lives. I don't say this in any way to boast — I have been a thoughtless friend at times and have had to ask for forgiveness. I have nothing to brag about. But it's hard for me to understand why this has happened. To say that it has brought me pain is an understatement.
But somehow the Lord always brings us through the things we never thought we'd have to face. I've learned to sit in my sorrow or confusion and wait on the Lord. Not perfectly, but with some progress. I know He loves me and will never forsake me, and I also believe with all my heart that He has a purpose for every single thing. He knows I want to change and learn and grow. I don't shy away from the word repentance these days, and I ask Him to help me live a life of gratitude, praise and humble repentance. I wonder if I made Jesus grimace right then. Does He grimace? I hope not. Because my life is sometimes so far from those three attributes I mentioned. I ask Him anyway. And keep coming back to His feet.
Tomorrow is Community Bible Study and we are less than a month from Sharing Day, and breaking for the summer. How does 30 weeks fly by like a jet? I want time to fly by like a hot air balloon. Our weeks in the gospel of Matthew have been a rich blessing, and the love we all have for each other in our core group is something I will cherish forever.
Well, this was a post with a lot of twists and turns. I was going to share about Easter, about my new church, my new denomination, my travel plans, the summer Bible study our group will be doing, and about a "date" I went on recently. But I'm tired and my red and black flannel sheets are beckoning. Another time.
God bless and keep you, dear ones…