Sara's birthday and Millie's ears
Would you like a lovely song to listen to while you read my nonsense? Something uplifting to counteract the frivolity? Click here for a song I've been listening to on repeat lately — it will open in a different window without closing this one.
For years our family has commented on how quirky our Schnauzer Millie's ears are. "Look at those ears," is something you might hear at least weekly in this house. We repeat ourselves a lot, and things can be a little boring, but all in all I'm content about that.
Here's a photo I took of Millie as she sat on my lap, looking toward a window in our living room. She expresses herself with her ears a lot, and they perform more gymnastics than any other dog's ears I've seen.
Somehow she lifts them straight up in the air, then bends the top third of her ears outward, forming two little silky platforms almost level with the ground.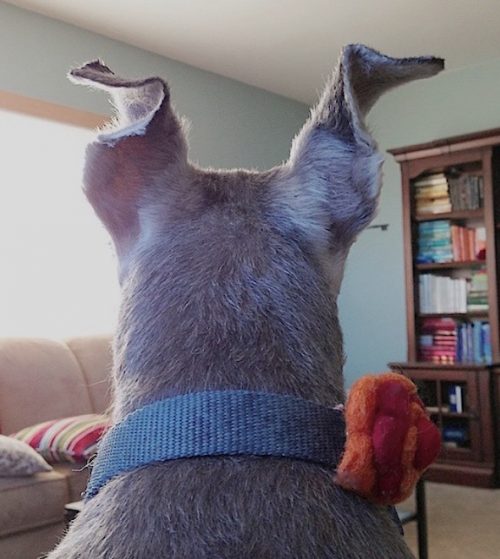 We have always said her ears remind us of this: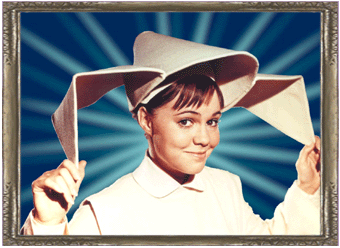 There are probably some of you who never watched "The Flying Nun" on television in the late 1960s. The series starred Sally Field, and I most certainly watched every week. She played a tiny nun in Puerto Rico whose starched cornette (the headpiece of her nun's habit) caused her to rise involuntarily up into the air to fly around whenever the wind would blow.
Do you see the resemblance between Mildred's ears and Sally Field's hat?
Here's another view of Millie from the front. She's a little more relaxed here, so her ears aren't quite bending at right angles.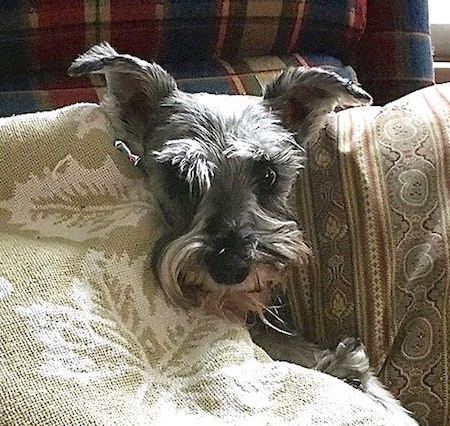 And today is my youngest daughter Sara's birthday. I sang to her this morning as she was making her coffee. Then I did a goofy little birthday cheer including arm motions, hearkening back to my high school cheerleading days when I had my own knees and a bit more energy in the tank. I omitted the splits and jumps, though. It made Sara smile a little, at least.
Tonight the three women I gave birth to many moon ago will meet me at a local restaurant we love, and we'll celebrate Sara's birthday. I know three of us will have the most delicious Cobb salad in existence, and I'll let you know if the fourth of us decides on that too.
Sara and I took my two foster gals out to dinner and a movie last week and they wanted to see the Smurfs movie and we wanted to see The Case for Christ, so we were happy to see both shows were at the same time in the same theater complex. I can't recommend The Case for Christ enough. I hate to say this, but sometimes Christian movies don't seem to have the quality that other films have. I always go to see them anyway, am always glad I did, and I want to support the growing industry. But this one is different. The acting is fantastic, quality in every other way great, and I laughed and cried and will probably end up buying the DVD. I had read Lee Strobel's books years ago and thought they were superb, and I wondered if this movie would end up being a documentary, but it wasn't. Go see it! And if it's not showing where you are, buy the DVD when it comes out, or save it in your Netflix queue. I learned so much — it wasn't just inspiring, it was informative. I leaned over about 3/4 of the way through the film and sniffled to Sara, "What a privilege it is to be a Christian!" You'll understand what I'm talking about if you see it.
Here's the trailer, to give you an idea about the movie: https://www.youtube.com/watch?v=rhe8KhSxWGo
Well, I think it's time for foster paperwork, kitchen cleaning, a walk in the cemetery with a dear friend, a CBS lesson, and putting a little dog with flying nun ears outside so she can bark at something.
I hope you have a peaceful day!