Moo
Not long ago one of my granddaughters came over to spend the night and do fun stuff with Grandma. I've called her Li'l Gleegirl since she was tiny because it fits her so well, but one of her family's nicknames for her is Moo.
My usual birthday gift for my grands is a card with a note in it, giving them the choice between some money so they can buy something they like for themselves, or a date to spend the night at my house and go out to dinner together. The older kids lean toward the money now (sniff) but the younger ones still think being with Grandma is fun, and that's what Moo chose.
She chose a local Italian restaurant down by the lake, and it was a thoroughly delightful meal. Moo is cheerful, chatty, energetic, diligent in her academic and dance endeavors, and is a really wonderful companion.
Here's a picture of this ten year-old with her birthday dessert:
There are many traditions my grandchildren take part in when they spend the night. There is always a book to be read aloud, a tubby to be taken in the deep and fancy tub, snacks to be munched, games to be played, snuggles to be had. When Moo was here we finished reading the book Treasures of the Snow by Patricia St. John, which I have read out loud to my children and six of my nine grands so far. It's one of the best books a child could hear.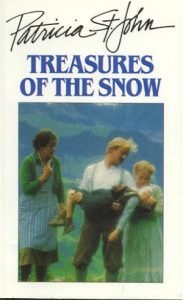 The new edition has been terribly revised, so I don't recommend it, but if you ever want to buy a book that will profoundly bless you and those you read it to, you can find used copies online. The cover of the best edition looks like this.
As I read the last two chapters out loud, Moo listened intently with her eyes wide, anxious to hear how the hearts of the Swiss children Annette and Lucien were so dramatically changed by "letting the Savior come in." I have read Treasures of the Snow at least nine times, and it always makes me weep at its beauty. It never grows old.
I keep soft footed sleepers in various sizes here for my grandchildren, so they don't have to pack jammies when they come over. I know this might sound sappy, but I want even what they sleep in when they're here to make them feel warm and safe and comforted. I know they will have memories to unearth someday, and I want them to recall even the colorful soft one-piece sleepers at Grandma's. After a tubby full of mountains of bubbles, Moo put on the bright pink sleeper with the black print, and then sat patiently in front of me while I carefully brushed and detangled her long hair, and then put it in a French braid. I tell the girls that even loosely braiding their hair at night before they go to bed will save some tears the next morning from trying to brush out the knots.
Moo loves games and can be competitive, so we played Farkle, three games of Backgammon, and Gin. I love sitting across a table from her and watching her expressive face and listen to her near-constant chatter as we make our way through a game.
Moo takes weekly dance lessons and showed me the tap routine she's working on. Her older sister Mrs. Nisky takes lessons at the same studio and is graceful as she learns ballet. I will attend their recital in May and will sit in the darkened auditorium with hundreds of other grandparents and parents, keeping a secret from them all: my granddaughters are the sweetest, most talented, radiant and lovely dancers in the world. I'm content to hold that truth close to my heart and wipe tears as I watch them perform, and send up prayers for their tender lives.
If Moo has homework she likes to get to that right away, and she asks me to check it. She might have a snack of peanuts and raisins or a cut up apple with string cheese. We might watch a kid's show in the evening. She loves for me to make her a cup of hot chai tea.
When it was time for bed, we brushed our teeth together, turned on some pretty music in my bedroom, and read books. Moo sang a couple of songs for me, and she has a clear and lovely voice for a ten year old. She told me she thinks her name will be on the Hollywood Walk of Fame someday, and while that wouldn't be one of my dreams for her, I can't say I doubt it could happen.
When we got up on Saturday morning, I gave her choices for breakfast and she chose her usual: two fried eggs over easy, toast with butter, and an orange or clementine.
When our time together is drawing to a close, I always ask my grands to name with me the things we enjoyed together in the last sixteen hours or so. We take turns, and say simple things like, "We had dinner at Valentini's." Then, "We played two games of Farkle." And "I took a tubby and you braided my hair." And "We finished Treasures of the Snow."
I realize Moo already knows everything we did, but somehow going through every little thing, the snacks, the songs, the games and books and conversations, the bath, seems like we're making an altar of sorts, as happened often in the Old Testament. I've read about how sometimes God's people built altars of remembrance by piling up stones at certain important locations (one example is in the book of Joshua when God parted the Jordan so His people could cross over on dry land). Moo might not realize it, but in my mind I'm ever piling up stones of memories, altars of remembrance and thanksgiving for the precious times I have with my grandchildren.
My most fervent hope and prayer is that when they're drawing baths and reading aloud and braiding hair and frying eggs for their own precious grandchildren, they'll remember old times with me and begin to build altars of their own, marking and acknowledging the unfathomable kindness and faithfulness of our God.
One of the kindest things He has ever done for me was to give me a granddaughter like Moo.