Venturing Forth
Today has been a quiet day at home, the kind I love best. The sun is out, I can hear the hum of the dishwasher in the kitchen, the exquisite smell of Idaho Blue Spruce essential oil is diffusing, and in a little while I'll pick up Vivie and Audrey from school and give them a ride home. I love those 15 minutes with them on school pickup days, when they tell me the newest cutenesses about their little sister Miriam. Carolyn told me recently that when Miri pets Walter their runty black pug, she croons, "Boogoy Walter, boogoy," instead of "good boy." Things like that make my heart fill up.
A couple of weekends ago I took my foster gals and my fifteen year-old granddaughter Clara on a little vacation up the shore of Lake Superior, and we stayed in a log cabin close enough to the lake to toss a rock into it. The winds almost ripped the car doors from their hinges when we got out, so we didn't do the leisurely strolling and shopping in the little town we thought we might. We visited a few places so the gals could buy souvenirs, had some nice restaurant meals, and enjoyed the wonderful view from the warmth of our weekend home.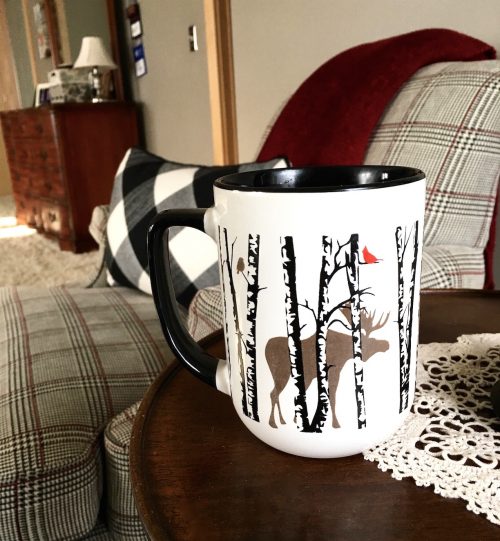 I'm not one who likes to buy a lot of souvenirs, but this mug did catch my eye, and I've had my tea in it almost every day since then. It has things I love — moose, birch trees, the colors black and white together, and of course, a cardinal. I think it looks like it's made for my room, don't you?
The last morning of our weekend away, I wrapped a blanket around my shoulders and went out on the deck of the cabin, to sit in the wind and snow flurries, watch the waves pound, and listen to the sounds a human cannot make.
I read my devotional out there, and held very still as I watched two young deer stepping their slow and guarded way over the rocks near the waves on the shore. I have seen many whitetail deer in my 36 years in Minnesota, but I can't remember seeing any of them so close to crashing lake waves. It was a thrill to watch.
There was a good-sized and well-filled bird feeder attached to the deck railing, and even in the approaching snowstorm, chickadees busily fluttered back and forth from the tall pines to the feeder, and seemed almost tame. I gathered some seed in my hand and held my arm out. One little frequent flyer flew close and then thought better of the idea. If it had been warmer I would have persisted and waited until one landed on me, but even with the blanket I was cold. The flakes were starting to stick and I went back inside. We drove the two hours home slowly as the snow piled up on Highway 61.
Last weekend I had some friends over for dinner. My pastor Rob and his wife Gayle came, and we had homemade Beef Barley Soup. The recipe is truly moanworthy, one I got from my friend Carey years ago, and I tweaked it the tiniest bit. Not everyone likes marjoram and thyme but I do, and I doubled the amounts called for. So aromatic.
I love to set the table when company is coming. I start in the morning as music plays on my little Bose speaker, and add things as the day progresses, getting as much ready as I can so the whole experience will be restful and nurturing rather than stressful in any way. I am not trying to impress anyone anymore. I made the soup the day before, which made it so much better on the day of company.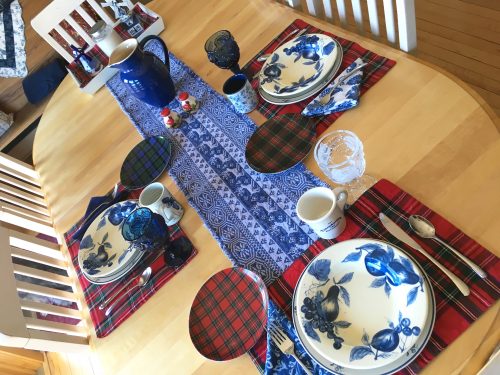 I don't own any fancy china, and most of my things are mismatched, but somehow when I put it all together, it makes me happy. It would prompt a decorator roll his/her eyes, but here's a picture of how things looked about halfway through the day. I still added a few things before Rob and Gayle arrived, but I forgot to take a picture then. You can click these photos to enlarge if you like.
My only dishes are blue and white. The ones you can barely see underneath the soup bowls are from Target, circa early 1980s. The blue and white fruit dishes were a gift from my book club friends years ago, and they bought them on clearance at Pier One. The thick, carved goblets are from The Madonna Inn in San Luis Obispo, California, and bring back such wistful childhood memories I could write a book about them. The plaid salad plates are from, of all places, the Pendleton clothing company. The dark blue pitcher was a gift from my friend Laurel, and is by Le Crueset. I have been collecting and receiving wonderful blue and white mugs for years, and the three on the table are from that collection. There's a blue and white woven, Norwegian table runner in the middle, and some red, blue and black Scottish tartan plaid place mats that were a gift from Sara last year. The adorable cardinal salt and pepper shakers were a surprise from my friend Kristi. I got the cloth napkins from Target years ago. If you look at the far end of the table you can see a candle I received from my friend Pat, and Delft windmills, all sitting in a white serving tray.
None of this matches. Who puts Scottish tartan with Norwegian reindeer? Or fruity plates with plaid? Or gaudy goblets with a coffee mug from the Pannekoeken House in Minneapolis? Or Dutch Delft pottery with Le Crueset? But it's what I have. It's all wrapped up in memories and love and generosity, and I want to put it all out when I have the opportunity to do so. Somehow, in my mismatched world, there's beauty there.
What was more beautiful was having a simple meal around a table with people I care about. Aside from the soup, I served a marinated red cabbage salad, gluten-free French rolls (for Gayle) and gluten-filled French bread (for Rob and me). Carey loves pesto in this soup, so at her suggestion I put out a little bowl of basil and pine-nut pesto, and both Rob and Gayle tried it.
For dessert we had a mishmash of things, which seems appropriate because of the way I set the table. I bought a chocolate mint tart at our Whole Foods Co-op, and cut it up in quarters. It was amazing. Click here to see a variety of the flavors, and their ingredients. I set out some gluten-free crackers and wedges of Brie cheese, and a pile of Marcona almonds. We each had a cup of tea, and lingered at the table as we talked about our families, our faith, and a smattering of other things like colonoscopies, rabbits and weddings. You know, regular table talk.
I've shared about food and table decor today, but what's most important to me is that I welcome people into the home the Lord has given me, and that we connect and enjoy being together. I don't know if that's the way Rob and Gayle would sum up the evening they were here for dinner, but it's the way I would describe it.
For the first two years after Michael's death I had this intense need to cocoon myself up as much as possible, to experience quiet, rest, time to think deeply, for intentional thanksgiving, and to heal. I still feel like I need all of that, but I want to break out a little more these days, to love and enjoy the people God has put in my life.
Would you like to come for dinner sometime? I would love to have you.