Pointless Recall
My friend Carey and I were chatting recently about the pummeling a menopausal woman's memory takes. My other friend Sue calls these frustrating mid-life memory lapses "Senior Moments."  I live by the written word now that I'm old approaching my autumn years…by God's written Word, by the written words on my calendar, and by the words on my Day Planner. Because if it's not written down, it doesn't get done.
My mother used to tell me I had a photographic memory, and I'm finding lately that her words are absolutely true: I can look at an old photo and recall things about the people, time and location that are a little freaky. But if you ask me if I made a deposit yesterday or when Michael's next Physical Therapy appointment is, I may not be able to tell you unless I look at my notes.
As we move at a snail's pace toward listing our house for sale, I'm going through things when I have extra time. I found this old class picture in a bin of photos. It's from my sixth grade class at Workman Avenue Elementary School in Southern California. Miss Nancy Curry was our teacher and I just loved her. She was encouraging and strict and had a good sense of humor and pronounced the South American country VEN-zoo-AY-la instead of VEN-ez-WAY-la. Isn't it fascinating the details that our memories bring back to us to savor?
Below is the photo (click to enlarge), and the names of my classmates and what I could remember about them: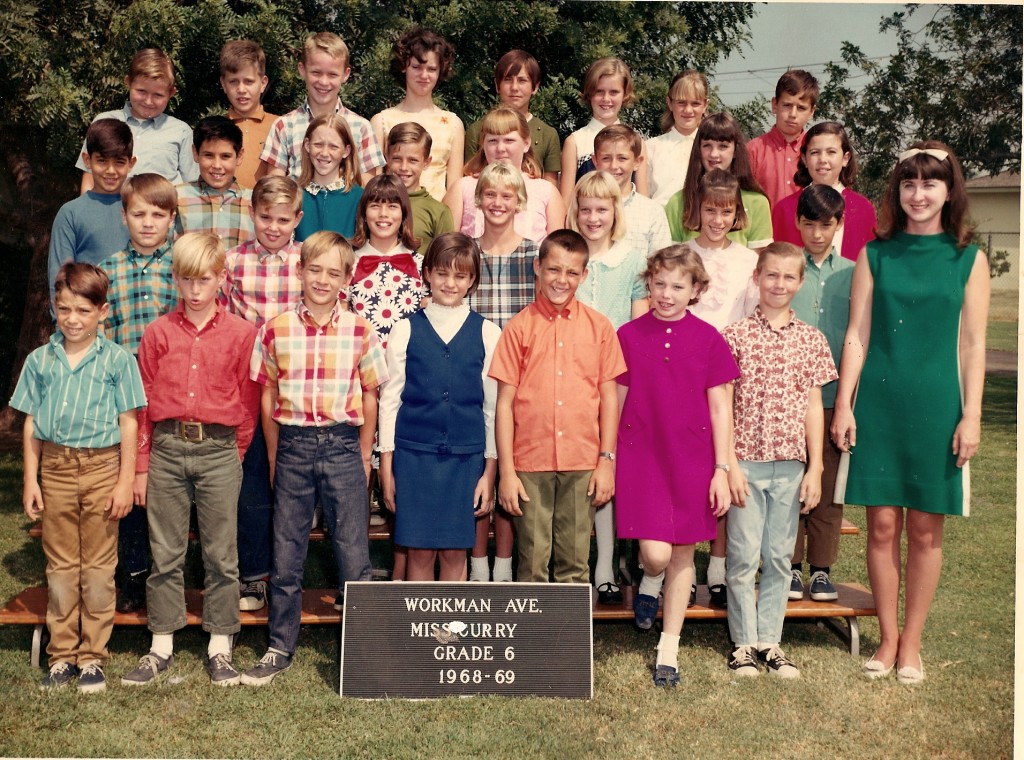 Back row from left:
Mark Sartain (quiet and tall but could be goofy), Anthony LoPiccolo (tall and side kick of Kevin O, my first crush), Bill Butler (great athlete even in primary grades), Sheryl Reagan (taller than I, flustered, kind), Bernice Something (was there for one year – moved frequently, had a southern drawl), Moi (this was the only year I wasn't the tallest girl in the class), Denise Bailes (never stood for the pledge of allegiance because she was a Jehovah's Witness), David Uphill (smart and a bit nerdy).
Second row from top, from left:
Irwin Fast (Jewish, attended Hebrew school, asked lots of girls to go steady), Armando Galindo, (nice, made a diorama of a volcano with cotton for the puff of smoke) Barbara Benuska (reed-thin, had adult like cursive handwriting I coveted), Can't Remember, Suzanne Dunnicliff (a friendly girl who lived one street over from me), Gary White (class clown with a unique and contagious quack-like laugh), Laurie Keene (gracious and poised for her age, swift runner), Elaine Rampley (outspoken, friendly and practical).
Third row from top, from left:
Robert Eskew (quiet, nice and had a slight lisp), Jimmy Lange (sanguine and often smiling), Leslie Cortellessa (had incredible handwriting and was one of the faster runners), Kristi Hathaway (was a good friend, we went to Sunday School together, bowled together, and she was an amazing swimmer), Lisa Something, Jeannie Wren (had a pool, was giggly and friendly), Scott Molina (wiry and small, he died in a car accident a few years later).
Front row, from left:
Doug Kerner (the shortest boy in the class, friendly and made people laugh), Glenn Mills (one of the bad boys), Carl Rowe (had a pool, was athletic and always smiling), Laura Kopaz (shy and very kind), Ricky Bowe (sophisticated for his age, the subject of many girls' attentions), Peggy Donohue (shy and very sweet), Can't Remember, Miss Nancy Curry (one of my favorite teachers at Workman Elementary).

I wonder where some of these people are now. Maybe Google will lead them here and they'll be able to say hello.
It's strange how the memory lets the current whereabouts of important documents and the dates of important anniversaries fall through the holes in the mind's sieve, but never lets go of details like Barbara Benuska's uniform handwriting, Gary White's laugh, and the way Miss Curry said Venezuela.
Do you remember odd (and seemingly pointless) details too?
If you do, will you share a few here?
One person will be randomly chosen from those who leave comments, and will receive a brand new Radio Theatre production of The Hiding Place, a magnificently dramatized version of one of my favorite books. To hear a very short audio clip, click here.
Comments will be taken until Tuesday morning (June 14th) at 10:00 a.m., and the winner will be announced later that day! If you've won something here before, that's okay…go ahead and try again!
Happy, quirky memories to you…