Tests and more tests – My Kidney Donation, Part 2
Monday, August 3, 2020
Monday we were up early so we could get ready in a leisurely manner for all my appointments at the Mayo Clinic. Lloyd likes a hot cup of black coffee in the morning, and his favorites are Caribou Daybreak, and Gevalia House Blend. It was Gevalia for him, and I like Stok Cold Brew coffee every morning. It's so smooth and doesn't taste burnt and bitter. I drink it cold with organic half and half.
After we got dressed we drove the ten minutes to the Mayo Campus, which is quite impressive. So many tall buildings with peoples' names on them — the Gonda Building, the Mayo Building, the Charlton and the Eisenberg Buildings, and more.  And the main ones  all connect underground. There are two hospitals here and numerous clinics and schools, and the best and the brightest minds come to practice medicine here. World leaders and U.S. presidents have been treated at Mayo for decades, my dear Michael had a shoulder replacement surgery here, Lloyd had a cardiac ablation here, because if you can get the care you need at Mayo, you do it. So I think my son-in-law Chris feels pretty good about the team that's going to open him up and put a younger man's kidney in him Wednesday afternoon. And I feel the same — if I have to have my body cut open and a vital organ removed, it might as well be here.
Mayo is a well-oiled machine, but in their efficiency and brilliance they haven't lost their hearts — the staff are so kind and respectful and helpful. You feel like you are really being served here.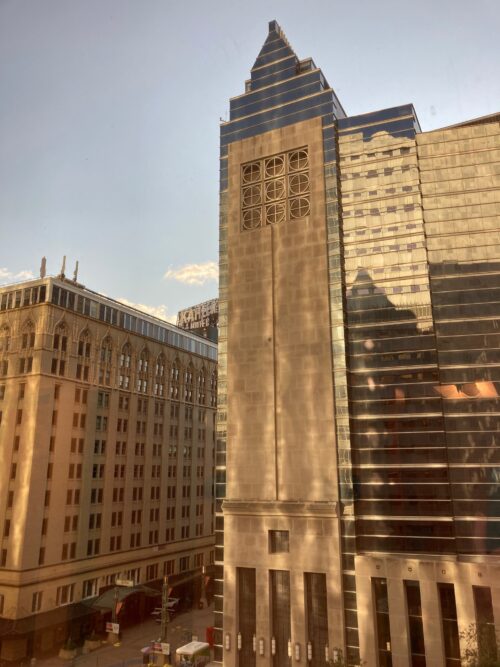 Everyone is screened at the door, temperature taken, questions about COVID symptoms and exposure asked, then given a sticker to wear to show you've been allowed in. No mask, no entry, also. We're talking lots and lots of people at Mayo, huge lobbies in huge buildings, floor after floor of specialized departments.
Chris and I both had to have the dreaded COVID-19 test first thing on Monday. I was escorted into a small room where I sat and tilted my head back, and the fully gowned, masked, visored nurse told me the test would be uncomfortable, might "tickle the back of my throat," and would only last five seconds. I didn't have to sit on my hands like some do. The super long filament swab she inserted into my nostril, up into my sinuses and all the way to the back of my throat was thin, flexible and it curved easily as she swished it around to gather any potential microbes. I have given birth to three children without a drop of pain medication so I know I can tolerate some discomfort. It was bearable, but I did hear a groan rising in my throat as she seemingly swabbed my cerebellum while she was at it. I was so happy when it was over.
Next was a blood draw by a phlebotomist who filled eight tubes with my maroon colored blood. I left a urine sample, and then had an appointment with Dr. Mikel Prieto, the surgeon who will be removing Justine (my left kidney), placing her in a specialized cooling wrap to drop her temperature for transport, putting her on ice, and sending her on her way to Madison, Wisconsin. He explained that he has done over 1000 donor nephrectomies, and that in fifty-five years Mayo has never lost a donor.
When I told him I was still a little surprised that out of all the people who came forward to be screened as a kidney donor for Chris, I, an overweight 62 year-old woman rose to the top of the list over younger and more chipper and fit people. He said the screening process is so rigorous at Mayo, no one is allowed to give a kidney unless they have really good ones. That made me feel kind of nice, since there isn't much on my body that would fall under the "really good" category. I don't have "really good" knees, or "really good" eyes, or ears or hair or what have you. I guess I could say my teeth are fairly decent. But the rest of me wouldn't make an objective bystander look my way and suddenly say to themselves, "If I ever experience severe kidney failure, I want that woman's kidney."
One by one, my test results at Mayo appeared in my online Patient Portal — almost before I could walk out of the buildings and get to the car. If you've ever had to wait a few days to get a test result, hoping your doctor's office would call, try the Mayo Clinic. You'll know your creatinine levels and HDL and LDLs and enzymes count within just a few minutes.  I had so many blood tests and urine tests I've never even heard of before.
After Monday's tests were completed for me, Lloyd and I grocery shopped at a place I'd heard of but never been — HyVee. It was a very nice store, and we bought salad fixings, chicken breasts, oats and pecans so I can make Muesli, Rainier cherries, which are better than Bing in my opinion, and our favorite ice cream, Haagen-Dazs Peanut Butter and Chocolate. Lloyd had never eaten that ice cream before meeting me, and now he's hooked. We buy a little pint once a month or so, sit together on the couch, and he eats the ice cream and gives me bites of the peanut butter chunks (my favorite part) when he digs them out. We drove home, put our groceries away, and enjoyed some down time working on a stupid, idiotic, ugly, ridiculous jigsaw puzzle for a while.
On Monday evening, Lloyd and I met Chris, Sharon and their children at Soldiers Field Memorial Park in Rochester, for some delicious Thai takeout food. We sat at picnic tables in perfect summer evening weather and had things like Pad Thai and Chicken Green Curry with Vegetables and Potstickers and Shrimp Fried Thai Rice. It was so nice to share laughter and to know that in a few days, Chris would have a new, healthy kidney. He has been on the brink of complete kidney failure for so long, we have prayed and friends have prayed for so long, it felt so wonderful to think about the wait and the wondering was over.
Lloyd and I waved goodbye to everyone, no hugs exchanged which makes me sad, and returned to our Airbnb. We watched some Netflix British Crack, then went to bed tired, knowing that my next day of appointments began early. We would have to be at Mayo by 7:20 a.m.
Chris's and my COVID test results showed up on our Patient Portals in the afternoon — both of us are negative, thanks be to God. We can proceed, and when each door opens, we step through.
More soon,