Verna and Justine – My Kidney Donation, Part 1
I thought I would try to keep a journal of my journey toward donor nephrectomy (kidney donation) for a few reasons. First, maybe someone else might be getting ready to donate a kidney someday, and would possibly Google it and find a friendly place here where they could learn what they might expect. Second, I want to document for myself the ways God worked in my life and in the lives of those I love, because there may come a time when details fade and I'll want to look back and feel in awe again. Thirdly, this is a way I can keep interested friends and family informed about what happens each day, rather than sending long and interruptive texts to a goodly number of people. Thank you for reading…

Sunday, August 2, 2020
Lloyd and I woke up early and were both so glad to see the hot, humid air that had blanketed our area for weeks had blown out. The central air has been on non-stop for longer than I ever remember. Lloyd opened the bedroom window to test the morning air, and the cooler, drier air rolled in. I ran around the house opening windows everywhere, and the fresh air was delicious. So delicious, in fact, we decided to take our time getting packed up for our trip to The Mayo Clinic, and go for a long bike ride instead.
Lloyd had ridden my new Rad Power e-bike enough times to like it a lot. He ordered his own, and we have had such a fun time going on Old People Bike Rides along the Lakewalk, down by the Aerial Bridge, and sometimes toward Brighton Beach right on Lake Superior.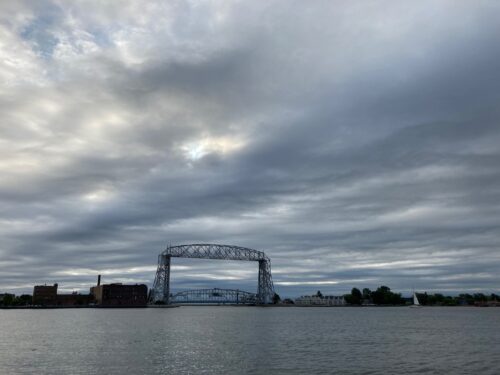 We got dressed and headed out before breakfast. As we rode along the lakeshore, the waves whipped up by the wind sounded exactly like the ocean. The birds were singing in the overhanging trees and I kept calling out to Lloyd who was riding ahead of me, "Isn't this beautiful? Doesn't this air feel heavenly?" I don't think he heard me, but I know he was thinking the same things.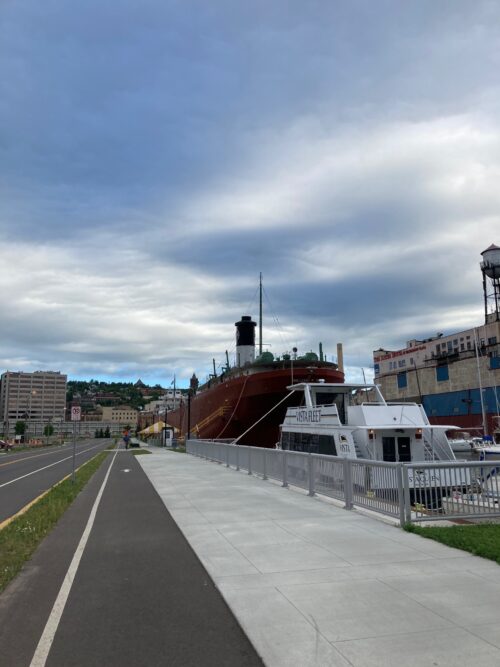 It sprinkled the tiniest bit just as we rounded the climbing curve near home (which means, miraculously, that we don't have any trouble pedaling up a steep hill anymore because we have e-bikes now!), and after we stored our bikes we thought Muesli for breakfast sounded good. Have you ever had Muesli? I make it at least once a week and it's so good. Plain, tart yogurt, dry rolled oats, shredded coconut, a little honey, raw pecans, cinnamon… Lloyd likes his heated, with raisins and a drizzle of maple syrup. I like mine cold.
Lloyd and I take turns asking the blessing before our meals. I'm a wordy Protestant, he's a concise Catholic, so we've both learned to appreciate and enter in to the other's way of praying. If it's my turn to pray, I usually just begin to tell the Lord what I'm thankful for that day — so much! A good night's sleep, another day of breath, a break in the weather, beloved children and grandchildren, mercy and forgiveness, and His provision of the good food in front of us. Then we always say the beautiful prayer Lloyd grew up with:
Bless us, Oh Lord,
and these thy gifts
which we are about to receive
from thy bounty,
through Christ, Our Lord.
Amen.
And after I memorized that prayer I thought, yes! These oats, these pecans, they are gifts. From His bounty. Through Jesus, our Savior. Think of that. Prayers I used to think were rather rote have become rich and meaningful to me these past couple of years.
It was Lloyd's turn to pray, and he also had some things to thank God for, but I was particularly touched when he said, "Thank you for another day, Lord, and thank you for our marriage." At this late stage of our lives (Lloyd is in his seventies and I am in my sixties, both of us are widowed after many years of marriage), it means something to me that my husband considers our relationship a gift to thank God for.
We filled the back of my Subaru Outback with our suitcases, overnight bag for the hospital, laundry basket full of things like books, laptop, Bose mini speaker, hair dryer, sanitizing wipes and house slippers, and a cooler full of favorite things and enough to get us by until we could grocery shop in Rochester.
Our four hour drive south was blessedly uneventful. We listened to quiet classical music on MPR and stopped at a Kwik Trip in Hinckley to go potty and stretch our legs. We also stopped at Union Cemetery in St. Paul to place flowers in the vase on the columbarium niche where Lloyd's wife's ashes are. Neither of us can believe it's been almost six years since RoseMarie and Michael died.
We were happy to find that our place in a residential Rochester neighborhood is clean and spacious and has everything we'll need for the next several days.
We are staying in a modern split level home we rented through Airbnb, and it's cheaper than most hotel rooms, yet we get a kitchen, laundry facilities, a deck to have our coffee on, a connected garage, and two bathrooms. And a comfy bed. And puzzles.
After we punched in the code on the door, carried all our stuff in and unpacked, we enjoyed a couple of episodes from the latest British detective series on Netflix. We ordered burgers and sweet potato fries from a place our Airbnb owner recommended, and had a quiet dinner together.
We went to bed fairly early since I was scheduled for several medical appointments at Mayo Monday morning.
So why is this post called Verna and Justine? Because I decided to name my kidneys ever since I've learned so much about them, how much they've done for me for over sixty years, how well they've served me. They are highly specialized in what they do (they remove wastes and extra fluid, help control blood pressure, make red blood cells, help keep bones healthy because they make a form of Vitamin D, filter 200 quarts of blood per day to make one to two quarts of urine, and more). I'm going to call my right kidney Verna (she's staying) and my left kidney Justine (she's leaving on Wednesday). There's a reason for each name, and whoever can figure out why I picked each one, wins a big prize.
It was so lovely to sleep with windows open, a chill breeze billowing the curtains out in the bedroom. I woke in the middle of the night feeling cold, but I pulled the covers close up over my neck and chin, and refused to get up to close the window. It was a welcome discomfort after all the tropical heat we've had in Minnesota this summer.
A kidney donation could be something that brings some understandable anxiousness, but so far I've felt peace. The thought of my son-in-law receiving a new kidney from a caring, younger, healthy, tall man in Colorado this week is what I honestly care about most. We don't know anything else about him, but I ask the Lord to bless that man in the Rockies, and to bless my son-in-law Chris as he prepares for all that's ahead. I ask our heavenly Father to bless my daughter Sharon as well, and their four children, because the whole family goes through a transplant, really. I ask God to bring them joy and health and hope and love and faith and patience and laughter and I could go on and on and on as most of you already know….
Justine's farewell journey has begun. Verna's hardest job ever is just around the corner.
More tomorrow,