"So long, Farewell, auf Wiedersehen, Good night!" — My Kidney Donation, Part 4
Wednesday, August 5th, 2020
I was up at 4:00 a.m. to shower for the second time with Hibiclens, and to make sure my overnight bag had everything in it. Flannel plaid nightgown, flannel plaid robe, washable slippers, underwear, toothbrush, socks, a couple of somethings to read. I left my four rings at home, and Lloyd had to help me get one of them off since my hands are getting arthritic and one of them only slid off with cold water, slippery soap, Lloyd's back and forth coaxing, and me squinching my eyes and gritting my teeth. On my left hand I wear my wedding ring (Lloyd, 2019) and my mother's wedding ring from 1940. On my right hand I wear my wedding ring (Michael, 1981) and my maternal grandmother's wedding ring from 1919. They're all plain gold bands of different widths.
Lloyd and I drove the ten minutes from our Airbnb house on Arctic Fox Drive, which my friend Ginny now calls The Foxy House, to the Charlton Building at the Mayo Clinic, where he dropped me off in the dark and I went in to be admitted. He was not allowed to wait with me, so I encouraged him to go home so he could rest, pace, do whatever he needed to there, rather than be cooped up in a one-room family waiting room for hours. The hospital texted him updates regularly.
I arrived at 5:35 a.m. and my surgery, the first of the day (and the only nephrectomy that day) was scheduled for 8:00 a.m. You leave your dignity and privacy at the door when you sign up for this. They did all the things they normally do for a surgery patient — made me undress and put on an awkward three-armed paper gown that took me two tries to get right, a turquoise hair covering which I put on with my bangs out, because some cuteness had to be allowed, non-slip socks, a wristband with my info on it, and I sat in a recliner in a small room and answered questions from a very kind nurse named Steve. He was envious that I was from beautiful Duluth and said he liked to hike and ride there as much as possible. We talked about ebikes and he asked questions about mine. I tried not to let my eyes well up with tears when I had to stand up in front of Steve and let him stick a large triangular padded bandage sort of thing above my bare butt and across my lower back so I wouldn't get bedsores during my hospital stay. Oh yah, I am so nonchalant about random men being eye to eye with my behind… "Noh beeg deel" as they say here in Minnesota in their most exaggerated Minnesota accents. Are you not familiar with a Minnesota accent? It's real. I've been told I have one now that I've lived here for almost forty years. Click here to see a short clip of what a lot of us hear almost every day.
Another nurse came to transport me on a gurney to the pre-surgical area. They covered me with warm blankets and got me settled in with Katie, my new nurse. By this time I was feeling a little anxiety and noticed my breathing was a little shallower, so I tried to remember to take deep, calming breaths as I answered for the hundredth time my name, birthdate, why I was there, who my emergency contacts were, if I was allergic to anything.
Soon Dr. Dilger, my anesthesiologist came in, and he was older and kind. He suggested I have a spinal anesthetic as well as a general, because with a spinal I have some pain relief after the surgery, and they give me less general anesthesia, which is a good thing. A "surgical fellow" came in and put my surgeon's initials – MP – on the left side of my belly with a black Sharpie. He asked if I had any questions and since I'd taken a pill a few minutes earlier for pre-surgery sedation, I couldn't think of any more things to inquire about.
It wasn't very long before another nurse told me she was taking me to the Operating Room, and as she wheeled me down a corridor to some elevators, up to another floor, then down another long, sterile corridor, I could see what looked like the multiple doors, one right after the other, to very futuristic space ships on my left, and she turned me feet-first into the door to OR80.
I had a knee replacement in 2012 and I remember the overhead lights and the general look and feel of an OR, but this one was more intense seeming. I would give lots of reasons except by this time I was slightly sedated and could hear a rapid beepbeepbeep and I asked, "Is that my heart rate?" to which a young man in scrubs replied, "Yes it is, we're going to give you something for anxiety," and I realized my body was going into an ohmygoshI'mgoingtodonatemyleftkidney reaction that was beyond my control. So maybe it was the adrenaline and/or cortisol that made me think the ORs at The Mayo Clinic looked more ORish than I'd expected, more hardcore, but that is the best I can do right now, my friends.
I was moved sideways from the gurney onto a stainless steel operating table that was so narrow I thought, "I'm definitely going to fall off of this while they're taking out my kidney," but in hindsight I'm pretty sure I didn't, because yesterday I Googled "nephrectomy surgical positions" and was so very, very sorry I did. My old and multiparous body was strapped down like that and laid out like that?  The words Oh.My.Gosh. just don't cut it.
I do not remember one thing about the two-three hours I was in the recovery room. I know I was given Propofol before my general anesthesia, and that drug causes a lack of memory for any events before and right after it's administered. It has worked well — those hours aren't just fuzzy in my mind — they are blank. The surgery took an hour and forty-five minutes.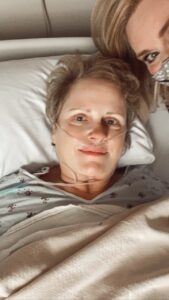 I was wheeled into my hospital room in the Transplant Center around 12:45 p.m., and Lloyd was there. Sharon came later after Chris was admitted, and she took this picture of us both. I like the photo filter she used, as it makes Old Lady Skin look more like Middle Aged Lady Skin.
Chris's donor in Colorado probably went into surgery early in the morning, and after his nephrectomy, his kidney was cooled, put on ice, and flown from Colorado to Minneapolis. Then a courier picked it up at the main terminal and drove it an hour south to Mayo in Rochester, and Chris's transplant team started getting him ready for his surgery in the late afternoon.
Today a kidney is transplanted into the lower abdomen, and the remaining two diseased kidneys are left in the body. Years ago they cut into the lower back, and it was a much more dangerous surgery and harder to recover from. Here's a graphic and you can see where the new kidney has been put in, just in front of the hip bone.
I was so thankful to have my surgery behind me, and kept praying for Chris's amazing, healthy donor in Colorado, and my recipient in Madison, Wisconsin.
I wasn't hungry at all, had complete feeling in my right foot and leg, and only a tingly sensation in my left foot and leg, as I waited for my spinal to wear off. It was good to visit with Lloyd and Sharon, and text with people faraway I love.
I could understand why I had the special pad on my lower back now, because I couldn't have turned on my side had I wanted to. My belly was alarmingly swollen, but I guess they poke three holes for various laparoscopic instruments, and a 4-5 inch vertical incision was made just below my navel where the surgeon reached in to bring out Justine, and they fill you up with gas while they operate, to give them room to look around and work in. Even though they try to suck the gas out before they close you up, apparently some stays in. That's my story and I'm sticking to it. My belly? It's just gas.
I'll share more about how Chris and I are doing in the next few days' installments, but this is the first picture I received of him after his new kidney had been transplanted. He looked younger than ever, and was resting peacefully.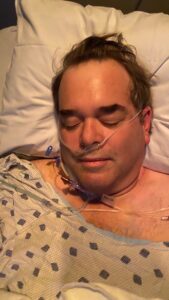 The journey for a transplant patient is much longer and more grueling than for someone like me who just donated a kidney.
There are weeks of testing and anti-rejection drug tweaking, and feeling wonderful and terrible and being totally at other peoples' mercy just to get through a day.
My nurses on the 10th floor of Rochester Methodist Hospital were fantastic — so knowledgeable, attentive and compassionate. My favorites were Katie and Emily.
The first time I got up to walk on Wednesday evening, I sat on the side of the bed while my nurse Thomas went to retrieve the walking podium patients use to take their first spins around the hospital floor. As a firmly cherished rule of life, I do not throw up or get nauseous much, so was dismayed and shocked to feel a hot wave of sickness sweep over me, and someone grabbed something just in time for me to be sick for about three minutes. Gahhh. Literally. Thomas told me it happens to every single nephrectomy patient. I wonder why that is. It made me feel weak and shaky, but grateful when the nausea passed and I could go back to bed.
And while a Foley catheter is not usually anyone's idea of a good time, I give it five stars for enabling a person to have a good night's sleep, with no urge to pee or having to make hunched-over post-surgery trips to the bathroom, and I didn't mind being catheterized one bit.
Apparently COVID means no flowers or even fruit bouquets, so my dear friend Su had this sent to me that first day. A candy bouquet! I shared some of it with the nurses and thought it was unique and fun. Thank you Su!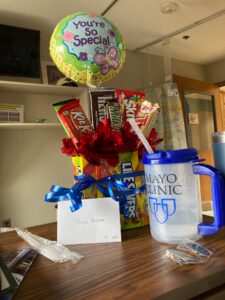 I'll share more about the following days in the hospital very soon. I'll tell you what little I know about Justine, settling into her new human in Madison. And I'll tell how I'm caring for Verna (my remaining right kidney) and coaxing her along to start upping her game for me now that Justine has left the building. Forever.
So really, I should not have included auf Wiedersehen in my blog title as I did above (from a song in The Sound of Music), because in German it means "until we see each other again." I will never see Justine again. I do have a picture of her, which I will share with everyone here when I feel you've all steeled yourself adequately.
Okay, Verna is telling me to end this post and rest awhile for now.
Until next time,