Green Macaroni and Cheese
(Reposted from the archives….have you tried this recipe yet?)
About twenty-five years ago a friend of a friend told me about a simple and unique (and more healthy) recipe for macaroni and cheese. I was intrigued by the ingredients and made it right away. It was pretty tasty, and I made it again, tweaking the simple recipe a bit until it was something we loved, and I've made it often ever since.
My daughters grew up eating this Green Macaroni and Cheese, and they still love it. I think Carolyn makes it for her family now and then. Even my grandbabies enjoy it, and some of them are fairly picky eaters. Sara introduced this dish to her best friend, and now Layla talks to her about "your mom's green macaroni and cheese."  (I'm pretty sure they talk about other things too, but I'm honored that smart, beautiful and accomplished young women think highly enough of even one creation of mine to make it a topic of conversation.)
I've received enough requests for this recipe that I thought I'd share it on the blog. It's simple enough to make, but there are a few putzy steps that can be better illustrated by photos than by me trying to write the recipe out on 3 x 5 cards. Anyone who knows me knows that a 3 x 5 card might be large enough for me to write my name and phone number on.
Julie's Green Macaroni and Cheese
Preheat your oven to 325 degrees.
So here's what you'll need for a large batch:
A cup of milk, 16 ounces of spinach nests pasta, 4-5 tablespoons of soy sauce (I use low-sodium but you can use the stuff that's brown liquid salt if you like), 2 containers of cottage cheese and some grated mozzarella cheese.
I have only been able to find these spinach nests at one store in our town, and it just so happens that last week when I went to buy some, they were gone and it didn't look like they were coming back any time soon. So I put in a request with the manager and we'll see if he does anything about my family's regular need for spinach nests. Not being one to wait for another person to hold my destiny in their hands, I did a little search online and found our beloved spinach pasta nests through Amazon. The case of twelve 16-ounce boxes of spinach nests arrived today.
If you can't find spinach nests where you shop, you could probably use other spinach pasta that isn't made into little circular nests. And I have made this recipe with multi-colored rotini pasta and it's yummy too. Play around with it until it's something your family likes.
This recipe will need a fairly large baking pan – I use my deep lasagna pan. I make a large recipe because at our house we basically feed the multitudes, and some of us around here love leftovers for our packed lunches.
If you don't have multitudes to feed, I would suggest you cut this recipe in half, and use a 9 x 13 baking pan.
Pour all the spinach pasta from a 16-ounce box into a large mixing bowl. See the cute little nests?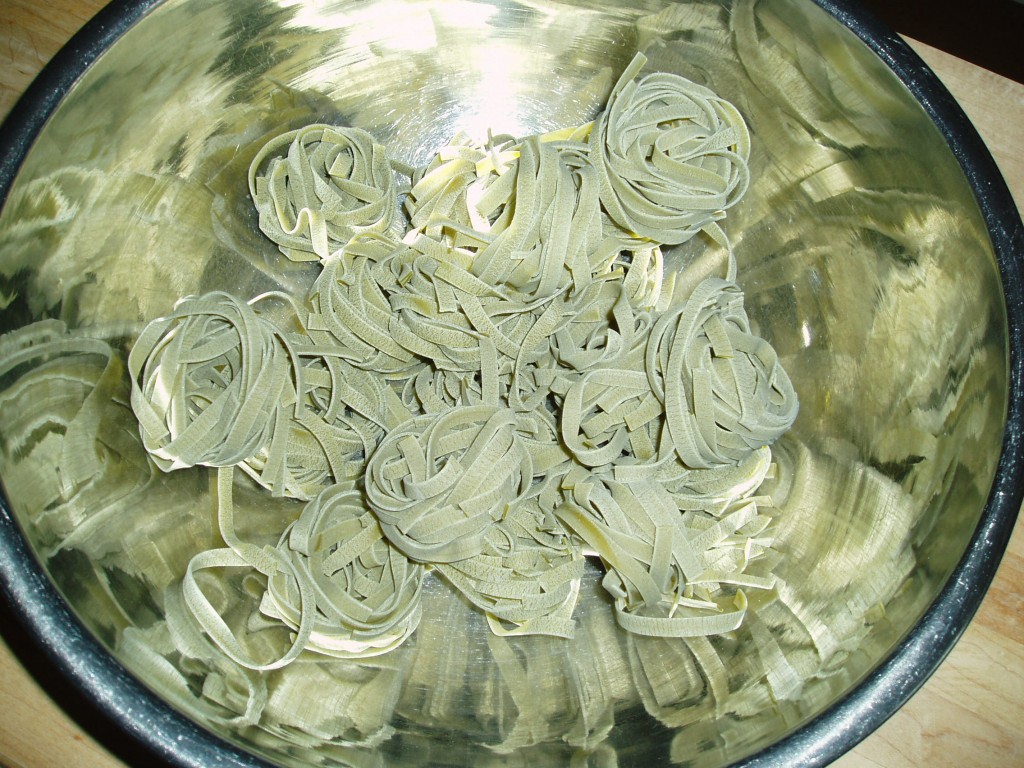 They look innocent enough, but they will cut your fingers into shreds if you try breaking them apart with your hands. Don't try it.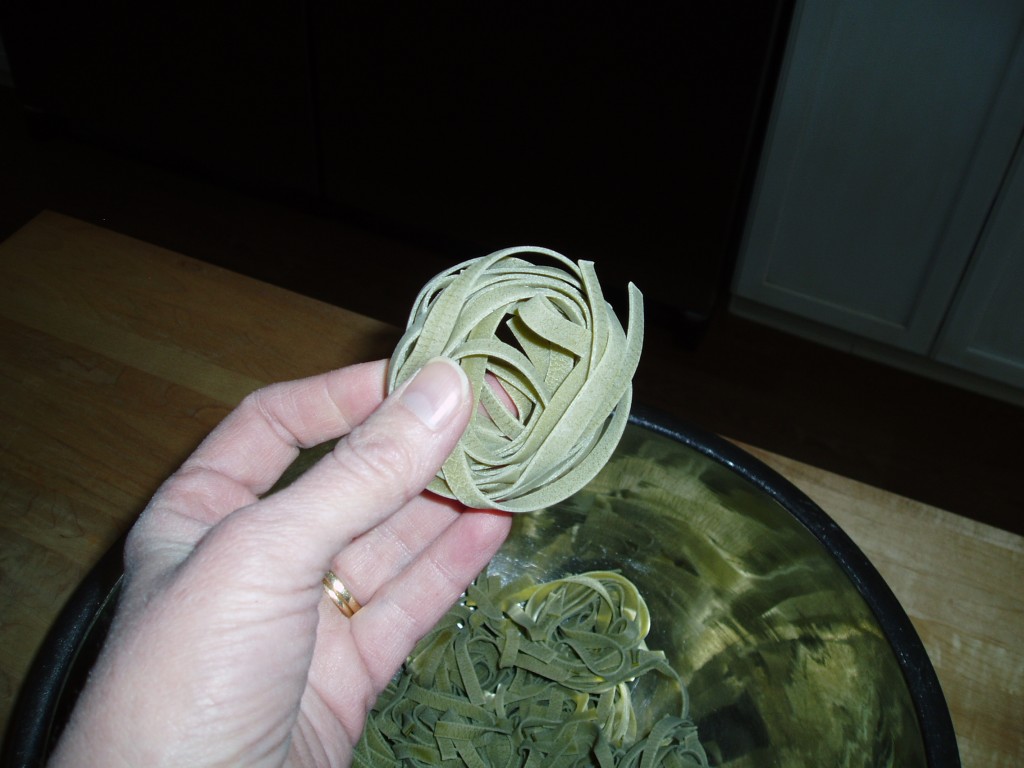 You'll need to break these nests up now. I use a metal measuring cup and just slowly crunch up the nests by pressing down on them in the bowl with the cup. If you have Miniature German Schnauzers with sensitive ears, they will probably run into the other room while you're crunching up your spinach nests in a metal mixing bowl.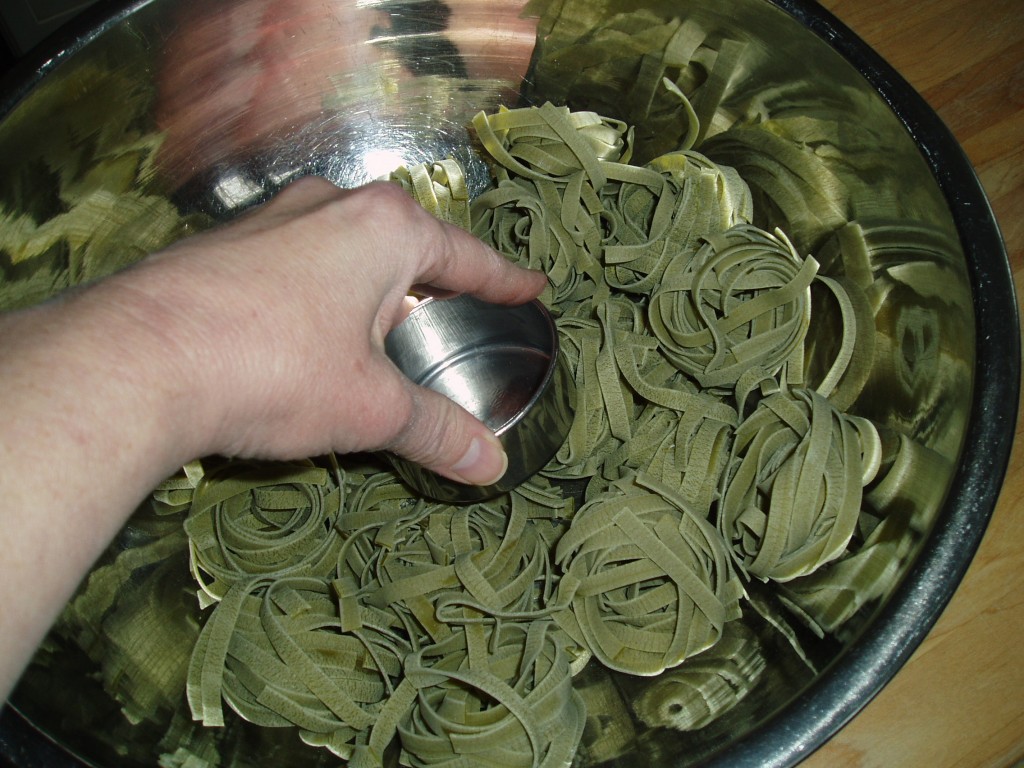 Just press and crunch until there are no more nests left – just bits of spinach pasta a couple of inches long.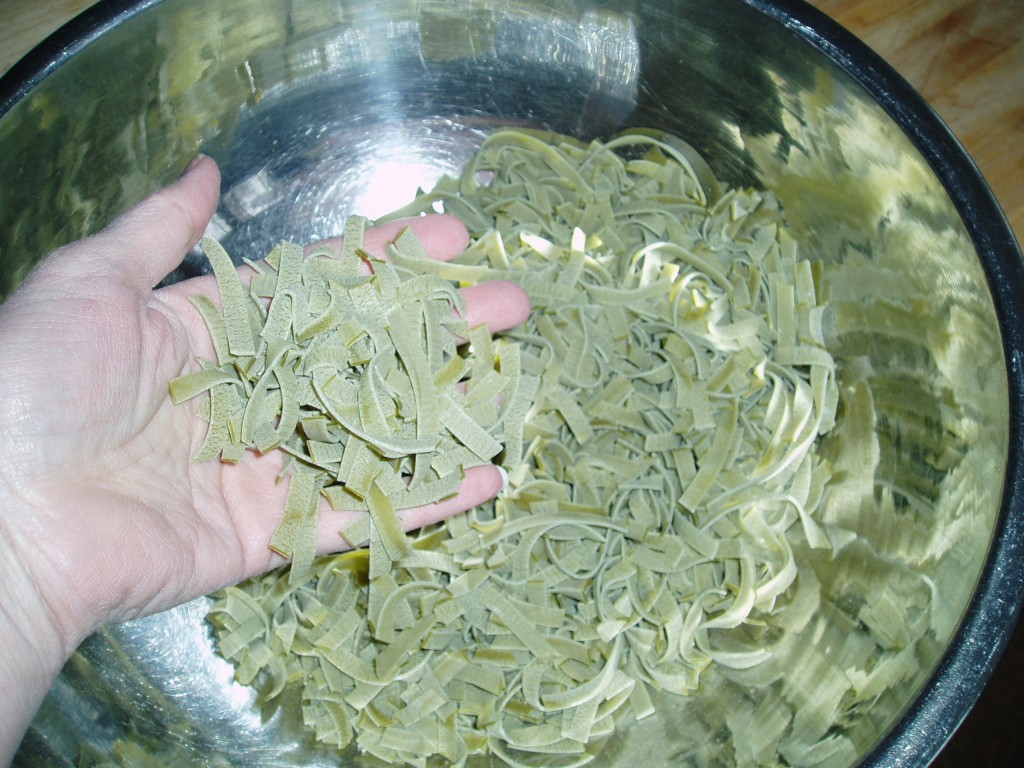 See? Like this. If you use a pasta that already comes in a bag and looks like this, you won't need to crunch and crunch it with a measuring cup and scare your dogs.
Now take two entire containers (24 ounces each) of cottage cheese, and dump it out onto the broken up spinach pasta. (Remember, if you want to make a normal-sized batch and are halving this recipe, you'll only need one 24 ounce container of cottage cheese, 8 ounces of spinach pasta, etc.)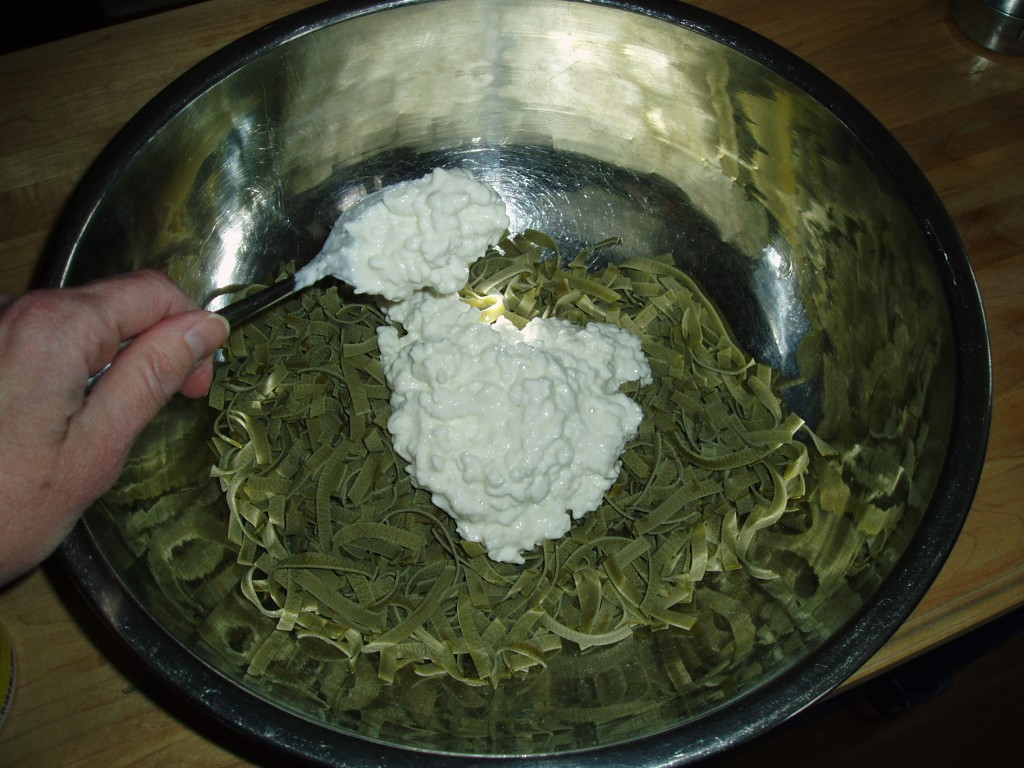 Be sure you get all of the cottage cheese out. You can use 4%, 2% or 1% cottage cheese, but I wouldn't recommend using skim.
Now comes the soy sauce. I like Kikkoman best.
Add four or five tablespoons of soy sauce to the cottage cheese and spinach nest pasta.
And now add one cup of milk. Again, you can use whole milk or 1% or 2%, but I don't recommend skim milk for this recipe. Pour the milk over the green mess mixture.
Give these four ingredients a good stir. You might be thinking, "This is awfully dry — how is this going to make a delicious, creamy macaroni and cheese dish?"  That's what I thought when I first made it too, but I promise you'll see how yummy it is soon.
I don't think this recipe would qualify for Better Homes and Gardens or Bon Appetit magazines, because it's too easy and it doesn't photograph well. But I think we all know someone who doesn't take a good picture who has a deep inner beauty that makes you completely forget about outward appearances. That's the way this Green Macaroni and Cheese is. It has a deep inner beauty.
Pour all this into a greased (I use Pam) baking dish.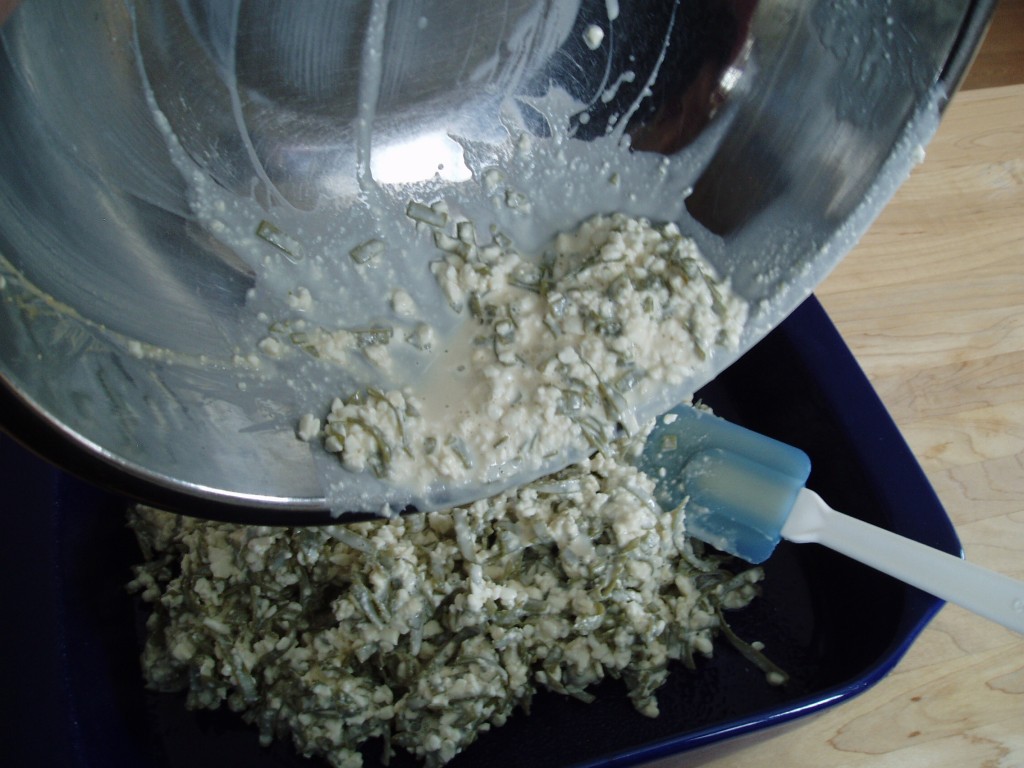 Be sure you scrape all the whey from the bowl too. You want all the liquid in there since the spinach nests aren't cooked before you put all this in the oven.
Here's how it looks spread evenly into my lasagna pan. Sara knows I like dark blue in my kitchen and gave me this pan a few years ago.
Bake this at 325 degrees and set the timer for 15 minutes. This will be the approximate halfway point, and you'll have to take out the not-quite-done pasta and give it a good stir.
Below, here's how it looks after about 15-20 minutes at 325. The pasta is softening up a little.
Now just stir it up a bit in the baking dish. Below, see the whey that the cottage cheese finally releases as it's stirred? It's pretty liquidy — just stir and fold, so all the dry bits of spinach pasta get covered with the whey. Experience has taught me that any little stray bits of pasta sticking up out of the liquid will get very dark and crisp, and will not taste very scrumptious.
We don't want our spinach nests going rogue on us.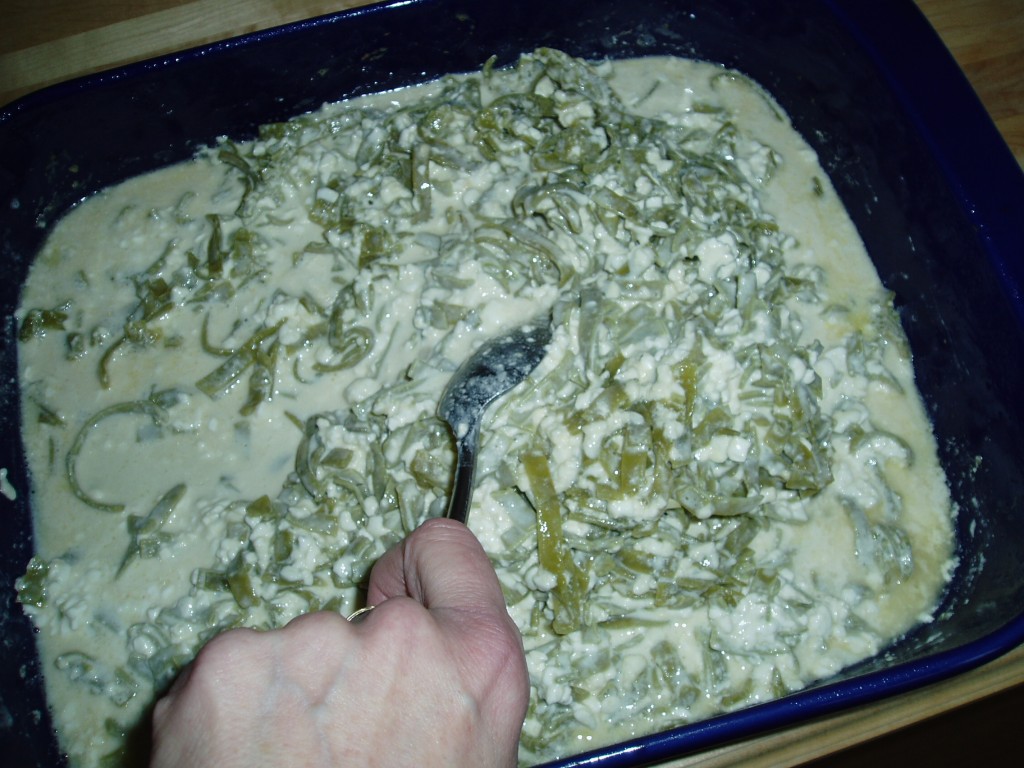 Stir those curds and whey, stir that pasta. This takes about a minute at the most.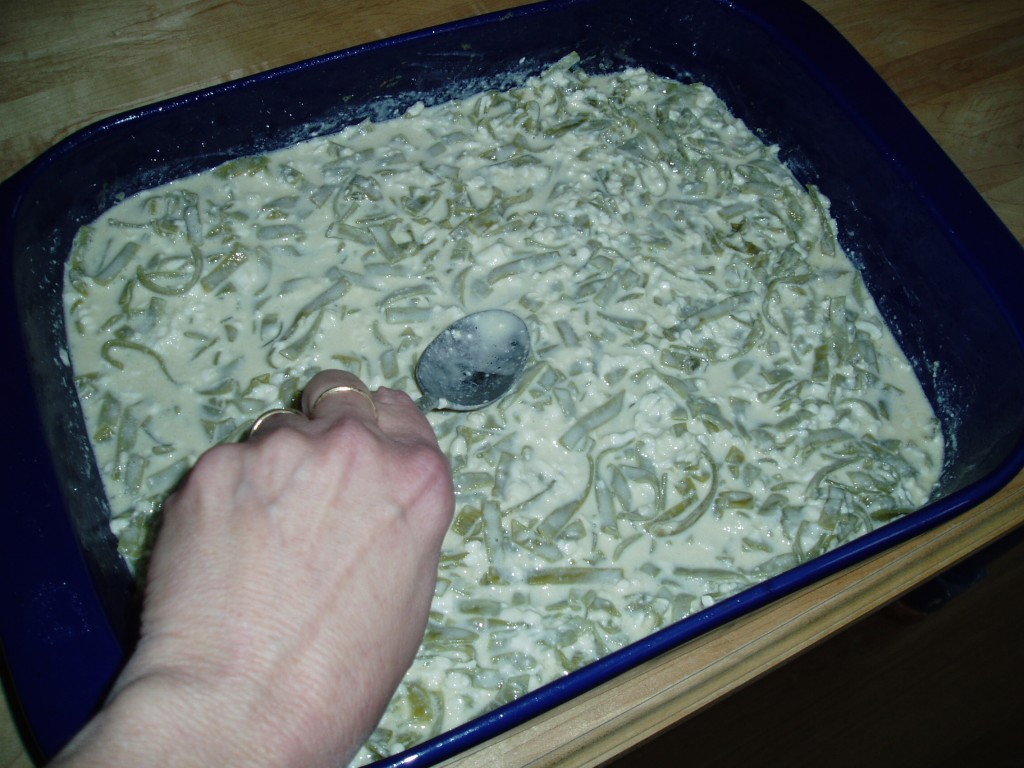 Now spread it out again, making it even with the back of your spoon. It's going back into the oven to finish baking. Set your timer again for about ten-fifteen minutes, and then pull it out again.
Here's the part that just takes a time or two of making this dish to understand or recognize. When you pull out the pan the second time, if there's still a lot of liquid and it hasn't been mostly absorbed by the pasta, stir it again and put it back in the oven. Keep watching it every few minutes until the pasta has absorbed the liquid. It should be moist, but not swimming in whey. You don't want to wait too long though – it will result in dry pasta, and you won't like this recipe and your grandchildren won't have a chance to try it.
I find that an oven thermometer is a very helpful tool. Even though my range is new and has two ovens, I leave an inexpensive oven thermometer in there all the time. One oven cooks a little hot and the other a little cool (yes, I've had the Sears guy out), and if your oven cooks at 375 when it should be 325, it could make a big ugly difference with your Green Macaroni and Cheese.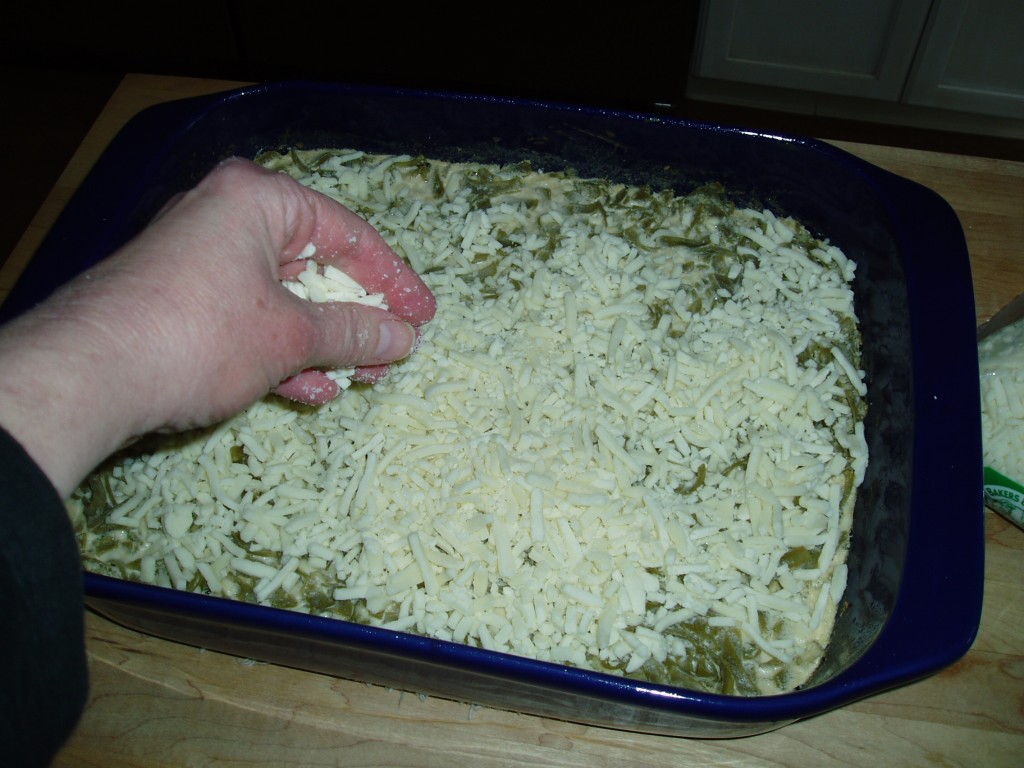 Once the liquid is mostly absorbed into the now-soft pasta, pull the pan out and sprinkle with grated mozzarella cheese. As much or as little as you like. We like a goodly amount.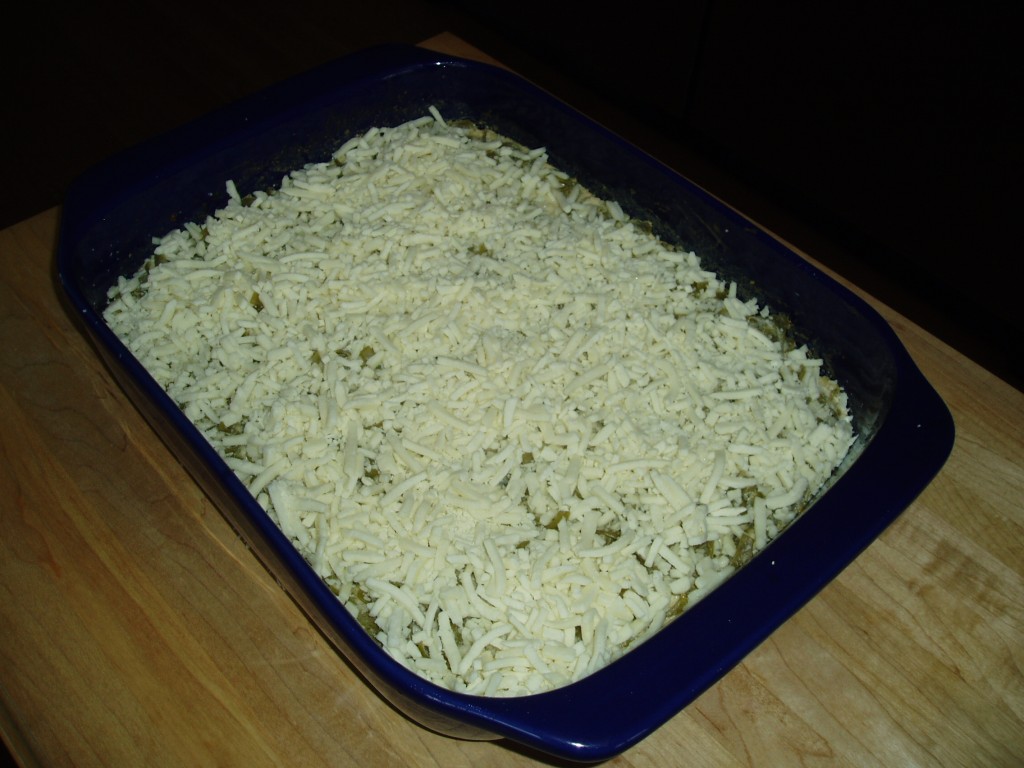 Above, here's what ours looked like today before I put it under the broiler.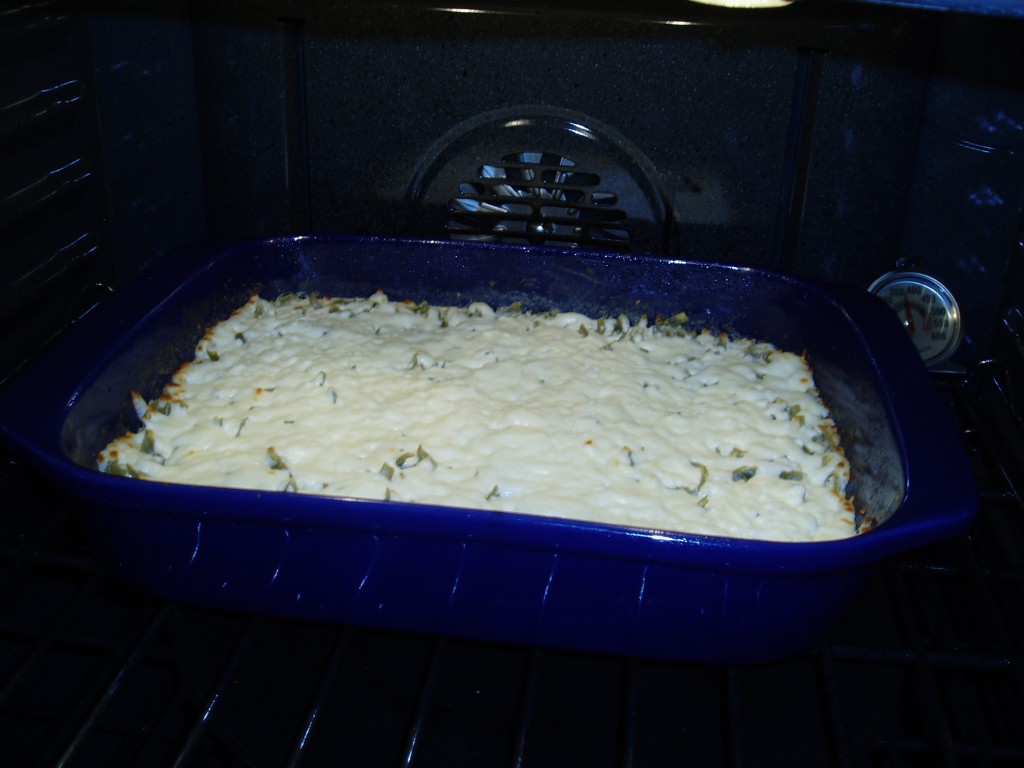 The final step: put the pan under the broiler and watch it carefully. Here's my first peek after about 3-4 minutes — nope, not yet!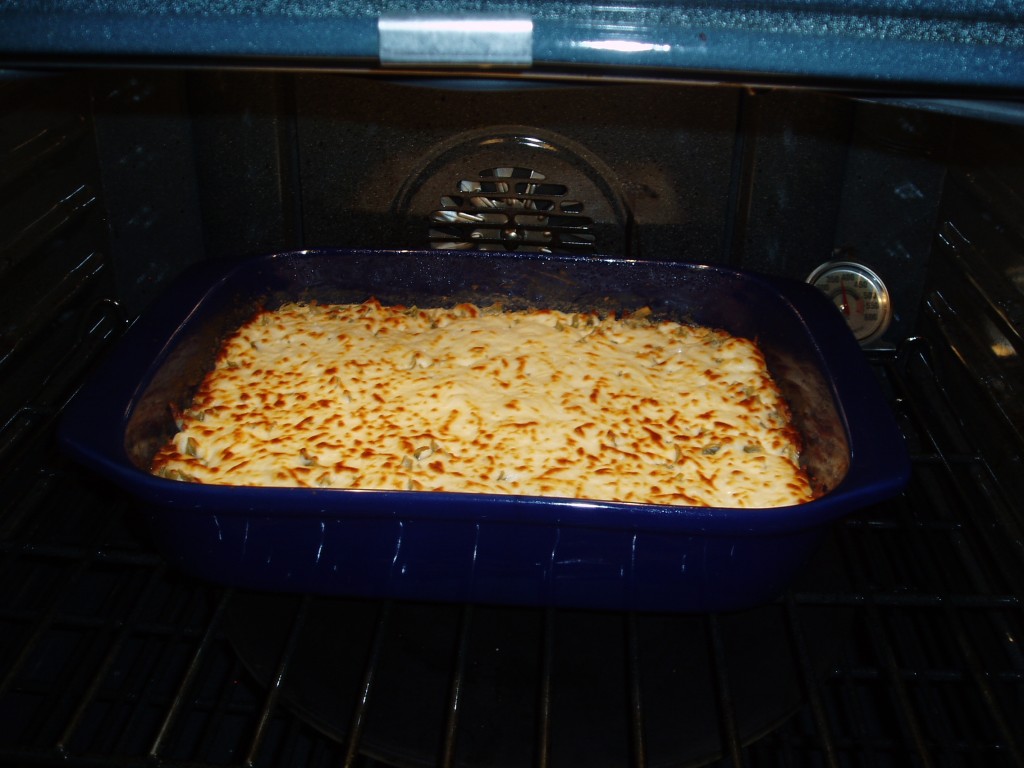 And here's my second peek after about 5 minutes — yep, this looks just right! It's ready to come out into the light of day again.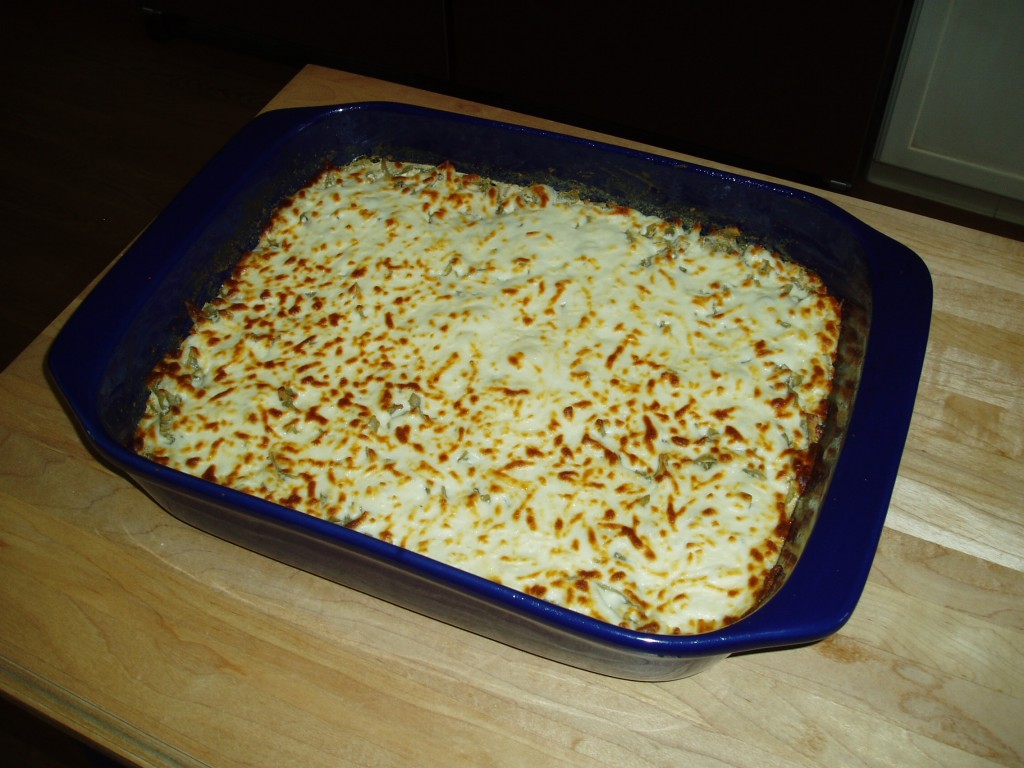 I let this sit for about 4-5 minutes before cutting it into squares and serving it on a small salad plate.
Can you see why I don't try to write this all down on a recipe card?  🙂
I hope you let me know if you try Green Macaroni and Cheese. It can be a side dish to whatever you're making for dinner, or it can be lunch itself with a nice Honeycrisp apple and a few carrot sticks.
This makes good leftovers too — just store it in an airtight container in the fridge, and warm it up in the microwave when you're ready to eat.
Now when I look at the other kind of macaroni and cheese we're all familiar with, it seems so foreign to me, so orange looking.
I'll let you know if the store manager calls me to say they're back to carrying my spinach nests again. But just in case they decide not to, I'm equipped for several months, at least.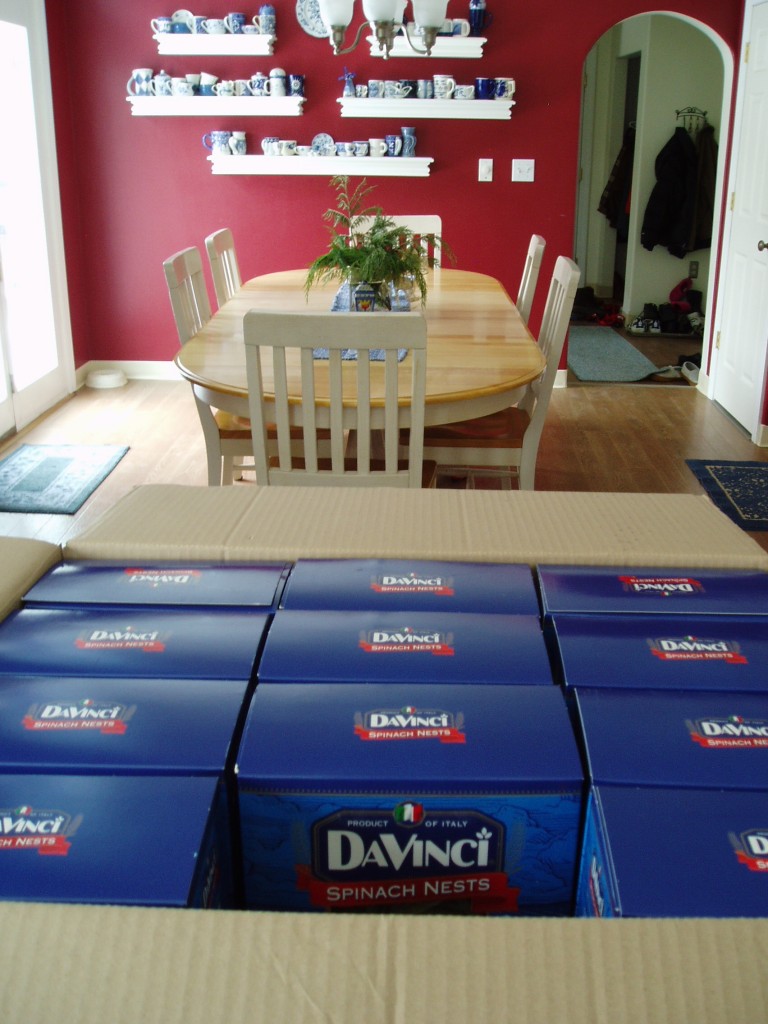 Green macaroni and cheese has definitely transformed our consumption of mac and cheese.
Blessings,