I was eight…he was sixteen
(Reposted from the archives….)
I was eight years old and growing up in Southern California when this picture of my husband Michael was taken during his junior year at Proctor High School. It was 1965 and he was sixteen. He grew up near a lake in northeastern Minnesota and loved to hunt and fish by the time he was ten.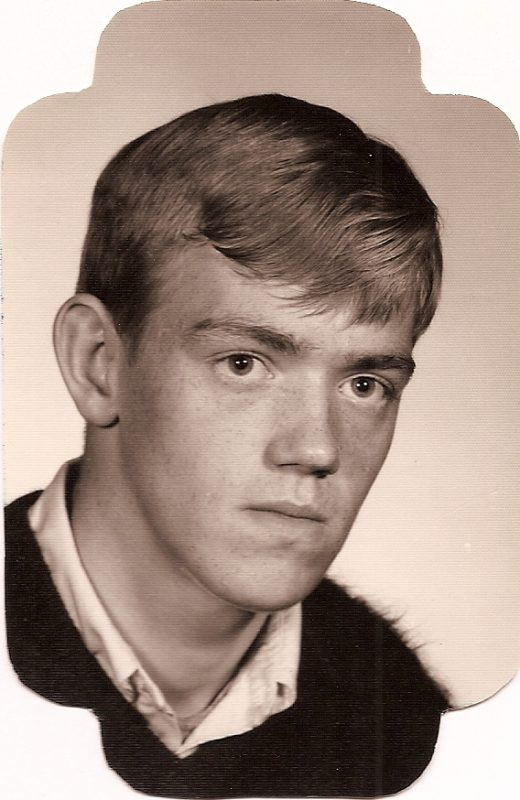 He joined the United States Marines two years after this photo was taken, and after boot camp when the boys men were asked to volunteer for the front lines in Vietnam, he courageously raised his hand.
Three days after arriving in Da Nang he had his first encounter with the carnage that would eventually become an almost everyday occurrence during his tour there. Three young Marines took a direct hit from an enemy mortar while they sat at a table eating their meal. Their bodies were completely blown apart. Michael was spared.
The next eighteen months were filled with days and nights that only his fellow Vietnam vets can truly comprehend. Trudging single-file through the jungles, sleeping very little, hardening their hearts in order to witness the destruction and do the killing the government required them to do, and watching close friends step on land mines just a few feet in front of them, was all part of a day's work. He did not have any sort of faith then, despite growing up with a devoutly Catholic mother. He wondered why so many died around him and he survived.
Michael was a muscular 192 pounds when he went to Vietnam, and came home fifty pounds lighter thanks to dysentery. When he was notified that his service in Vietnam was over and he returned to the States, he was not expecting the hurled tomatoes, the angry jeers and the "Go back, baby killers!" placards waiting for them at the Los Angeles airport. No one had debriefed them. He was not expecting that his parents would not want to hear about what he had experienced in Vietnam. He did not know that for years if a passing car backfired he would instinctively drop to the ground, or that he could never again handle being near strobe lights.
When Michael was sixteen, he couldn't have known that going to war was just around the corner, and he obviously couldn't have known that his future wife was eight years old and growing up in a decent but slightly unstable home in southern California. He probably didn't know that much of his entire life would call for bravery and strength. But God knew.
When Michael was thirty years old someone told him that Jesus was real, that He loved him and would change his life here on this earth and in the one to come. Michael believed the message with his whole heart and never turned back; His faith in Christ has been the central part of his life since 1978.
He and I "met" when I was twenty-three and he was almost thirty-two. We had only been in each other's company once before marrying in 1981. He did not know that marrying me and being a daddy to my two little girls would require strength and courage. Even though he would dismiss my saying this today, I know it has taken great strength to stick with me all these years. He has a backbone most men don't have. And he has humility and patience that I rarely see in anyone.
Four decades after his stint in the Vietnam war, Michael fights another enemy. This one stalks his brain, silences his speech, and stiffens his joints and muscles. This one has stolen pieces of his life and abilities, bit by ruthless bit. But he resists this enemy in the power and grace that Jesus gives him each day. He continues to be strong and courageous right in front of his family's eyes, and he is deeply loved and respected by us all.
(However, he is by no means a saint. Even though I wish to honor him here, he has an annoying trait or two that has tested my patience over the years, and I know he feels the same way about me. For example, Michael could very well be the male version of Sarah Winchester, a strange woman who kept compulsively adding on to her huge California house until the day she died. Michael has a penchant for continuous building projects as well, and recently built a "small" storage shed I call The Taj Mamichael in our backyard, much to my dismay surprise.)  🙂
When I was eight years old and reading my Nancy Drew books in my sunny pink bedroom, I had no idea that a handsome sixteen year old boy living in the north woods of Minnesota would someday be my husband. When I was ten years old and swimming every minute possible, I could not have known that a strong and courageous eighteen year old who would someday be my children's daddy, was steeling himself each day to face the horrors of war.
But God, who numbers our days and orders our steps, knew.
When I look at the photo of my husband when he was a junior in high school, I see the core of who he is today. Out of His great love, God preserved Michael's life for me and for our family. Out of His great power, God has made Michael a strong and courageous man to face the many challenges that life has presented to him.
6"Be strong and courageous, because you will lead these people to inherit the land I swore to their forefathers to give them. 7Be strong and very courageous. Be careful to obey all the law my servant Moses gave you; do not turn from it to the right or to the left, that you may be successful wherever you go. 8Do not let this Book of the Law depart from your mouth; meditate on it day and night, so that you may be careful to do everything written in it. Then you will be prosperous and successful. 9Have I not commanded you? Be strong and courageous. Do not be terrified; do not be discouraged, for the LORD your God will be with you wherever you go."   Joshua 1:6-9
All these years later, my strong and courageous husband is still teaching me by his example to be strong and courageous myself.
I have so much to learn, but I have a brave, handsome and kind teacher.
(Note: my husband Michael died on February 9, 2015. If you would like to read the account of how God met us and blessed us so unforgettably during the week of Michael's dying, please click here, and read that, and then the next posts in order…. there is one for each day, February 2 through February 9.)