Red Toile and Aqua Velvet
A while back I had my little office wallpapered with a dark red and cream toile. I don't know what it is about toile, but I've loved it for as long as I can remember. Once the wallpaper had been hung, I began to think about curtains for this room. I wanted something heavy so they would be warm and also give some privacy. I thought I would choose a taupe velvet, or if I was really daring, a deep cardinal red velvet. But the latter seemed too boudoir-ish to me, so I crossed if off my list pretty quickly. (Also, if you'd like to see what the room looked like when we first moved in on May 31st, you can click here.)
But then I started thinking about some posts my daughter Sharon did on color combinations and how opposite colors often really do look good together. If you'd like to see what she said and see some example photos, click here.
And one morning it came to me in a flash of inspiration: aqua or robin's egg blue curtains with my red and cream toile! A few people I told said, "Heh?" or, "Uhh, no" and some didn't get it. Some of you still might not think this looks good together, but I love it! The curtains are not a true green or a true blue. They're too dark to be called robin's egg, I think. So I'm just calling them my aqua velvet curtains. (Remember Aqua Velva? If you do, you're as old as me.) Maybe they're even a dark turquoise, I don't know.
My office is also our temporary guest room. We have two spaces in our new house that could potentially be very nice guest rooms some day, but for now when we have visitors, they stay in the office. I shut down all office operations and the room belongs to whoever comes to see us. It's large enough for a new queen-sized inflatable mattress (very comfortable), and a small nightstand, and it has closet space for folks to use too. You can click to enlarge these photos if you like.
Eventually I plan to hang some things on the wall but am still thinking about that. You have to be careful with toile.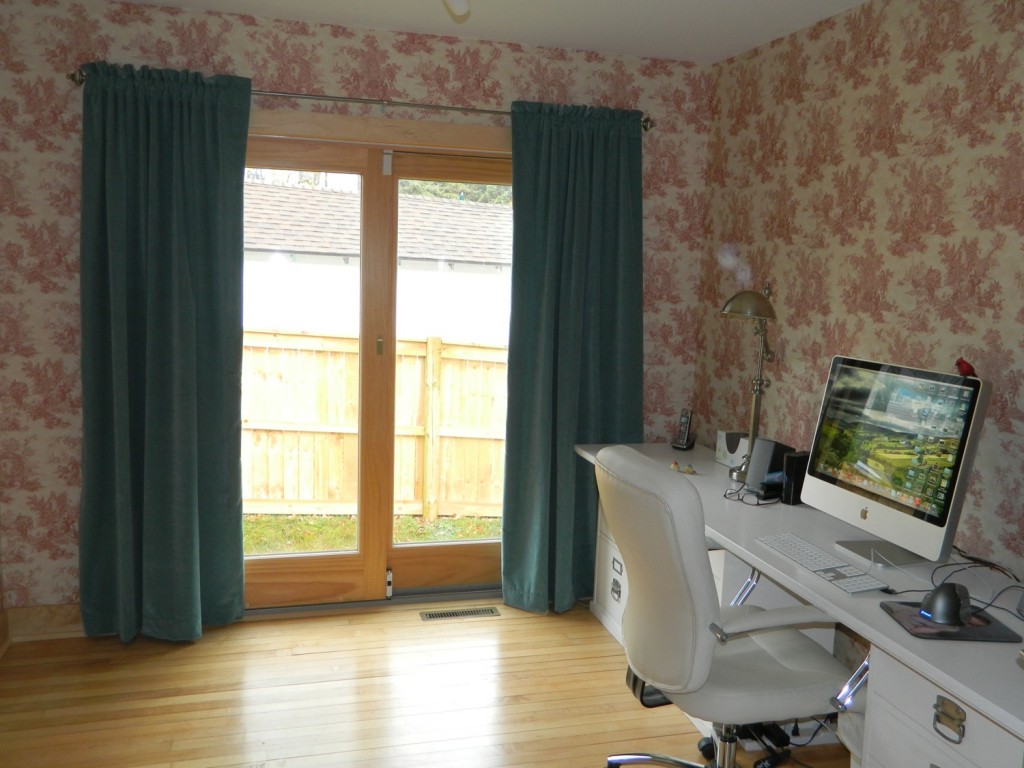 There are two good-sized closets in the office. The one on the right has delightful little cubbies and shelves for all my stationery needs — it helps me stay organized. Or semi-organized. The closet on the left is almost empty and anyone who comes to stay has a nice place to stow their stuff.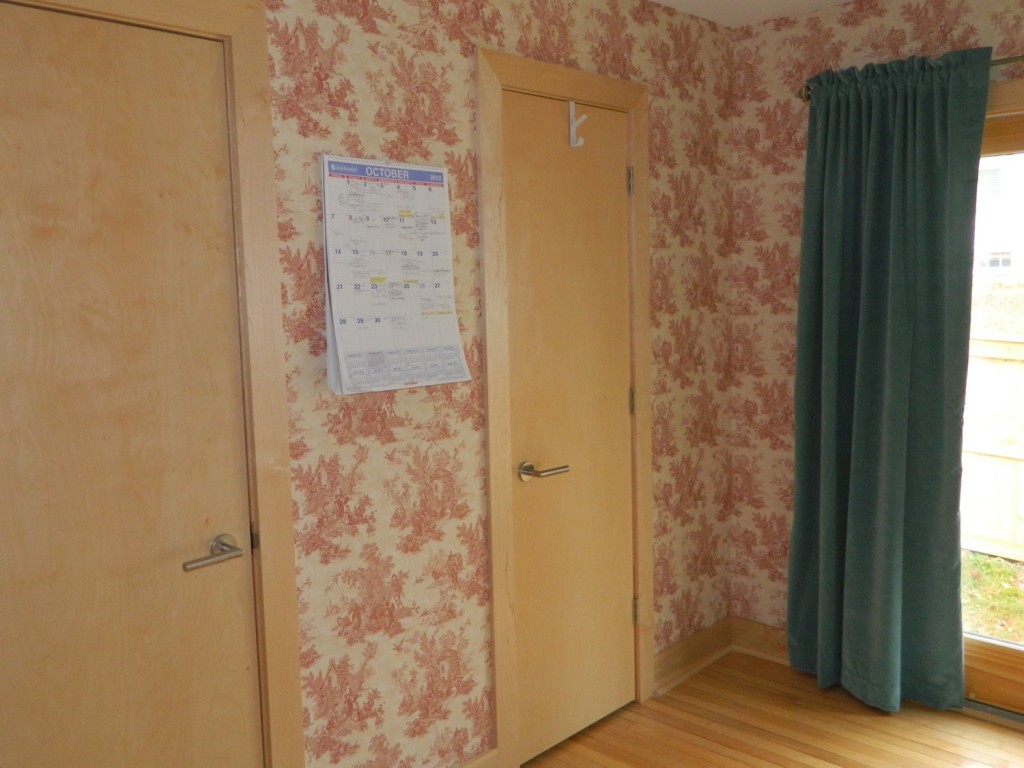 If you would like to come for a visit, we're ready for you! (As long as you're not one of those people who hates toile, gags at complementary colors paired together in decorating, or detests Minnesota. You probably would want to rethink your plans to visit us if any of the above are true.)
Putting up aqua velvet curtains in a red and cream toile office was definitely thinking outside the decorating box for me. I've always leaned toward being a matchy-matchy person. I think doing something unexpected like this just seems to go along with our lives in general these days. Sometimes things don't really fit, don't seem like they go together, are not your first choice, but you make do and search for beauty anyway.
This morning it's raining and how welcome it is after a summer drought! I sit in this office as I type this, and it's still dark out. I can hear the wind gusting right outside these closed velvet curtains and I know the last of the leaves on the trees will be carpeting the ground soon, and the bitter cold season of greys and white will soon be upon us. It will be time for more soups and stews, thick socks, candle-light, knitting, journaling, pondering and hunkering.
How do you like to spend your winter months? Do you do any hunkering and pondering when winter comes?