God's Love in Magenta and Cantaloupe
On Friday nights I always go to bed a little giddy because I know that, barring anything unexpected, I get to sleep in until 7:00 on Saturday morning. Picture me doing a little happy dance in my plaid flannel nightgown every Friday evening and you'll know how much I appreciate the extra hour and a half of sleep.
When Edith and Mildred woke up this morning (Saturday) and I could feel in my half-sleep that they were both sitting up on the bed staring patiently at me, I knew it was time to let them out. It was still dark out, but that didn't make any difference to me; I looked at the clock and it said 7:00 a.m. Yippee!
So we trotted to the kitchen, or at least they did, I put their bark collars on their little Schnauzer necks (still so sad to me, and if you don't know why we've had to recently purchase bark collars for them, click here for the heartbreaking story) and let them out. It was 28 degrees on our front deck (minus 2 Celsius) and because of that I would have scurried back in, but when I looked across the street to Lake Superior behind the houses you see below, I saw this: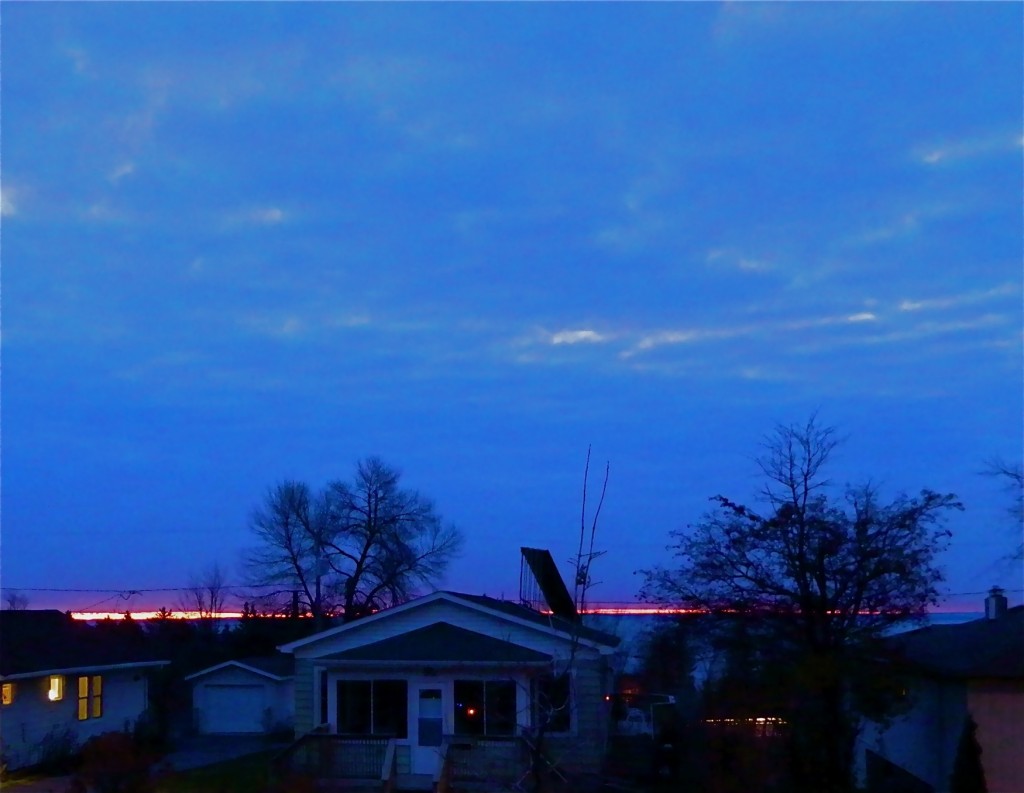 A brilliant line of magenta and cantaloupe, just above the horizon of Lake Superior, under the low hanging periwinkle clouds….the sun coming up in our part of the world. I wish the picture would convey how glowing, how neon, the colors looked.
I wrapped my arms around myself to keep warm, and stood there and stared for a few minutes while Edith and Mildred sniffed in circles where a skunk had walked in our yard during the night.
"If you ever want to be reminded of the love of the Lord, just watch the sunrise." 
~~Jeannette Walls, Half Broke Horses.
I can't think of a time when I wouldn't like to be reminded of the love of the Lord.
I'm so thankful to have witnessed His reminder this morning….