Fifth Grade Cool
This photo was taken by my father when my best friend Denel and I were in the fifth grade at Workman Avenue Elementary School. It was Easter season and we were ten years old.
Denel and I had just returned from Sunday School and we were holding the remainders of our ice cream cones from Baskin Robbins, which was right across the street from the church.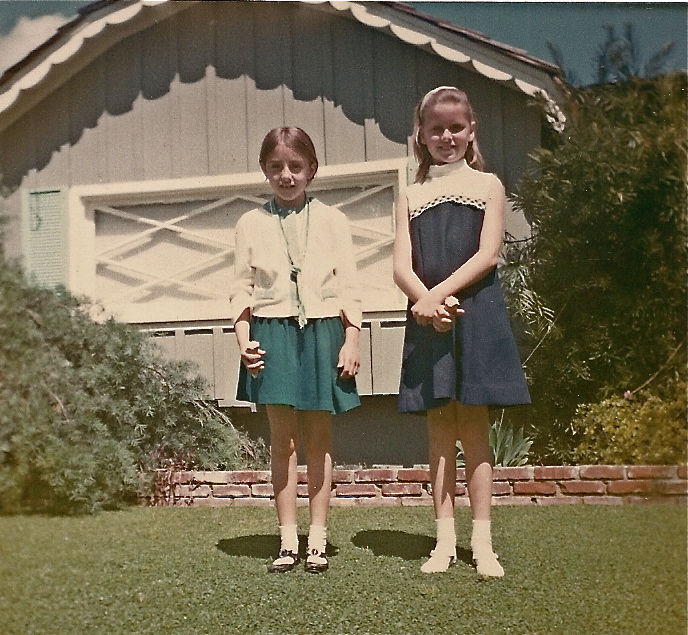 We were standing in the front yard of my house (that's the garage window behind us) on Eckerman Avenue in West Covina, California. By this time Denel and I were starting to care about cool. Denel's cool factor was much greater than mine; notice the knotted beads? Remember those? My sleeveless linen dress had a double-breasted navy blue and white checked matching coat that went over it. My mother liked classic, tailored clothes, and nice shoes. I had white patent leather, black patent leather, red patent leather, navy leather, tennis shoes, boots, sandals, penny loafers, and others.
I remember being obsessed with this song, and playing it over and over and dancing in my room. Oh, ho, what a visual memory that brings. My cool factor was still fairly low.
Three years later I was wearing bell bottoms, cropped tops, platform sandals and had discarded my plastic headbands and grown my hair quite long.
We have just learned that another big storm is headed our way, with a forecast of up to eight inches of snow. This has been one of the snowiest Aprils on record for us.
And I am still unwell, and will be going to the doctor Wednesday morning.
What a motley post this was. I was just walking by the office to go make a cup of tea, saw the computer there, and thought I'd sit down to say hello to you.
How old were you when your cool factor started kicking in?