One Year In Gilead
We have been in our new house near the lake now for one year. We moved in on May 31, 2012, slept on an inflatable mattress among the boxes and bags of clothes, and froze that first night. When we got up the morning of June 1st I realized that I could have turned the furnace on, but apparently in all the jumble of moving that simple act didn't occur to me.
The move was hard in many ways. It represented the changes that have come to our lives these past few years. But I love it here. The only thing that would make it better would be to tear down all the houses across the street from us so we could have an unobstructed view of Lake Superior, but I don't think I'll pursue that option.
Our bedroom is a haven. Our bathtub is unbelievable. Our kitchen is efficient. Our living room is bright and welcoming. Our basement is not basementy. Our laundry room is one foot from our bedroom. Our office has the toile wallpaper I love. And our dining room has a bit of a view of the largest (by surface area) freshwater lake in the world: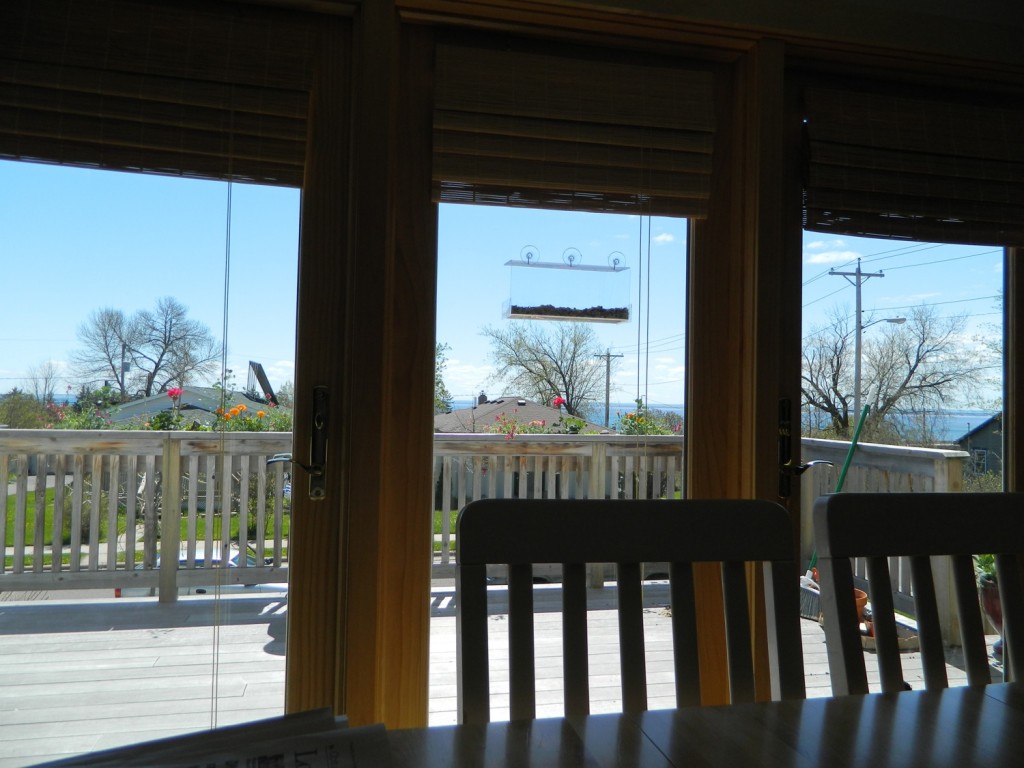 You can click to enlarge these if you like.
Over the weekend, Sara planted some full-sun-exposure flowers in the boxes on our front deck railing, and the bees have already found them. Yesterday I sat on the deck for a long while, knitting a winter scarf (ha!), watching the bees dance from bloom to bloom, and listening to the summer sound of lawn mowers in our neighborhood. If you look closely you might be able to see a little Schnauzer.
If we lived in England, we would properly name our house like they name their houses there. I love that. In America we don't christen our homes and land like they do in the UK, but if we did, I would put up a sign so people could see that we have lived for one year at Gilead. Do you know the old hymn? Click here if you'd like to hear.
There is a balm in Gilead
To make the wounded whole
There is a balm in Gilead
To heal the sin-sick soul
Sometimes I feel discouraged
And think my work's in vain
But then the Holy Spirit
Revives my soul again
Don't ever feel discouraged
For Jesus is your friend
And if you lack of knowledge
He'll ne'er refuse to lend
If you cannot preach like Peter
If you cannot pray like Paul
You can tell the love of Jesus
And say, "He died for all."
My English friend Ember helped me pick the name Gilead, and when I again ponder the lyrics of this hymn, I can't think of a better choice. It's appropriate for so many reasons. 🙂
How thankful I am that we have a home! I realize there are beloved servants of Christ all over the world who call shacks, prison cells, and sidewalks their home. I can't even find words to speak about that. I don't understand. But I can give thanks for what God has given me, and I do that this morning with all my heart.
And I thank you Lord, that you have given your Son for all of us who need a balm in Gilead….
Thank you so much for stopping by this little corner of the web, friends. I hope your week is blessed!