Four Sevenths of My Heart
My daughter Carolyn just sent me this photo of four of my seven precious grandchildren. It was taken this last summer, when Carolyn, her husband Jeremy and their four children drove to Maryland to visit my oldest daughter Sharon, her husband Chris and their three children.
From left to right, Mrs. Nisky (age 4), E-boy (age 5), Mr. McBoy (age 6) and Pearlie (age 6). Of course these aren't their legal first names, but if you know me, you know their names already.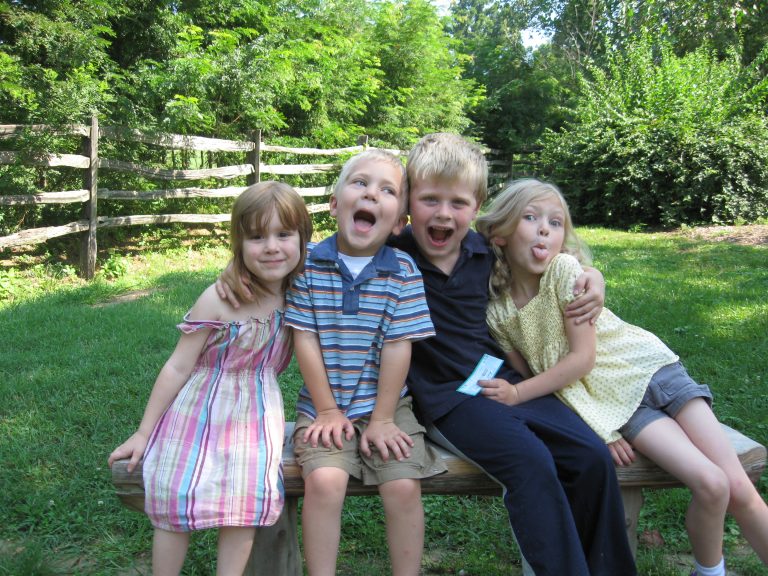 As I sit here in my office and feel the 24 degree below zero cold seep through the windows and walls, and watch the wind whip the bare branches of the trees and bushes outside, this sunny photo warms my heart. I love their goofiness. I love their innocence. I love that they are cousins. I love that they look so much like my daughters. I love that they also look so much like their fathers. I love their voices. I love who they are. I love who they will be. I love the God who blessed our family with these children. I love them with my whole heart. I love them with my life.
Today on this Thankful Thursday, I thank my heavenly Father for my grandchildren. These are four of the seven…4/7 of a grandma's heart.
Can you think of anything today that you're grateful for? Would you be willing to share?  The sixty-fourth person to comment will win a mediocre prize. 🙂