Mr. McBoy
September 30, 2008 | My Joys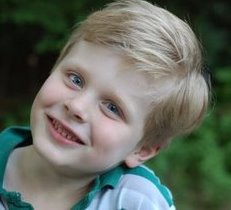 Look at that face.  If you didn't smile when you looked at my firstborn grandson, then I'll be over with your bolus dose of Zoloft after I finish writing this post.
C. is 6 years old and is in the first grade.  He is the oldest child of my oldest child. And his father is an oldest child too.  If you've read my previous post on the Long-Femured Women in my family, you might guess that since C. is the offspring of an LFW and a very tall dad, he is a big boy, much taller than most of his age-mates.
Mr. McBoy has the most endearing, husky little-boy voice.  He is all muscle.  He has a contagious laugh.  He is a good story-teller, who always manages to work a little-boy dragon into his tales.  He knows who our current president is: Washington Bush.  He is confident, smart and friendly, and has no trouble introducing himself to new people.  We have called him Felix (for Felix Unger from The Odd Couple), because he sometimes has persnickety preferences that are unusual for a little boy.  He's active and enjoys the outdoors, but hates getting dirt on his hands. He is certain that he has superhero powers.
He watched the women gymnasts in the Olympics this year and when they propelled themselves so high into the air and did amazing round-offs and walkovers, he exclaimed, "It's like a MIRACLE!"  He then nonchalantly informed his mother that if he were in the Olympics his sport would be running, because he is already "one of the fastest runners in the world."
About me, he commented to his father, "Daddy, Grandma really likes God and Jesus, doesn't she?" He is sweetly affectionate. He tells me on the phone that he loves me and misses me, and will soon come to my house to stay a week with Grandpa and Grandma.  Years ago he asked what the red birds on his family's Christmas tree were called, and could only remember them as "birdinals".  Today the creek in our back yard is named Birdinal Creek because of that word he unknowingly made up.
Mr. McBoy loves to do anything with his daddy.  They do man things together, like hiking, going to Daddy's workplace and buying pickles.  He thinks he is the boss of his two little sisters.  He is very competitive and wants to win at all costs, whether it involves a game of UNO with his Grandpa who lives in Missouri, or a battle he's creating on his bedroom floor with his army guys.
He resembles and walks like his daddy, but he has been painted from his mama's palette – he has her hair and skin color and light eyes.
When C. was a baby he used to hold both his chubby little fists in the sign-language letter "E" position and wave them around in tight little circles.  We knew he was signing to us: "Excellent! Extraordinary! Enthusiastic!", because after all, that's what he was. And is.
I am proud and happy to share about my excellent, extraordinary, enthusiastic firstborn grandson.  I love him so.